Mikko and Mac lighting it up for Avalanche
Linemates Nathan MacKinnon and Mikko Rantanen have recorded points in each of the first nine games of the season for Colorado, and the play of hockey's most unheralded but perhaps best scoring duo is why the Avalanche are 6-1-2, Frank Seravalli writes.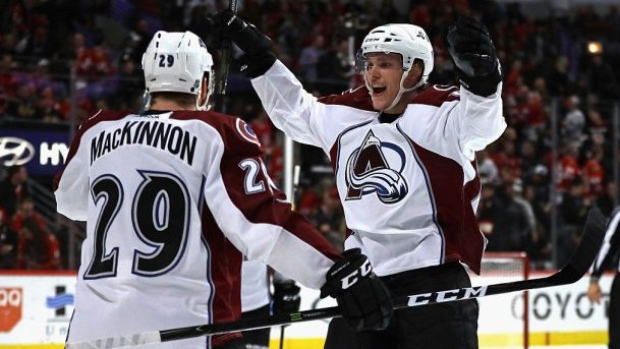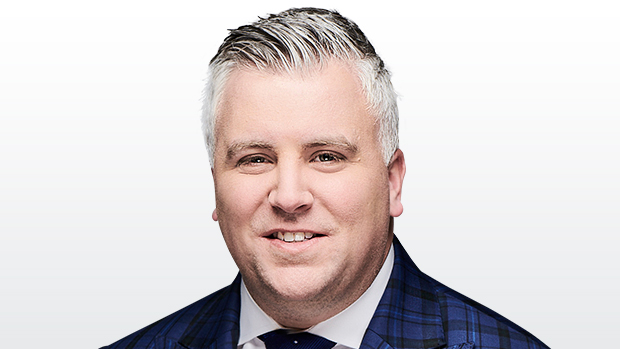 PHILADELPHIA — When you think of the NHL's dynamic duos, the usual suspects come to mind:
Nikita Kucherov
and
Steven Stamkos
,
Mark Scheifele
and
Blake Wheeler
,
Evgeny Kuznetsov
and
Alex Ovechkin
.
Maybe it's
Jamie Benn
and
Tyler Seguin
or
Brad Marchand
and
David Pastrnak
.
Nathan MacKinnon
thinks he knows why it isn't him and
Mikko Rantanen
, hockey's most unheralded but perhaps best pair.
"I think because we're in Denver," MacKinnon said Monday. "If [Rantanen] played in New York, people would be talking about him a lot more. He's one of the best wingers in the league already. I mean, he put up [84] points at 20 years old and no one really talks about him."
Mikko and Mac have snapped everyone to attention with their blazing start to the season for the Colorado Avalanche (6-1-2).
"We wanted to prove that we are a good team and that we weren't just lucky last year," Rantanen said. "We've just kept going right where we left off."
Rantanen, who turns 22 next week, is now tied with
Auston Matthews
for the league lead in points (16) and paces the pack in assists (12). MacKinnon is tied for second in goals with eight and is third in points with 15.
MacKinnon and Rantanen made history Monday night, tying a franchise record with each of them scoring at least one point in each of Colorado's first nine games to start the season.
(Oh, and the third member of their line ¬–
Gabriel Landeskog
– was just named the NHL's first star of the week after pacing the league with six goals in three games.)
Since the start of last season, only four duos – Kuznetsov/Ovechkin (6.0), Malkin/Kessel (5.8), Kucherov/Stamkos (5.5) and Marchand/Pastrnak (5.5) – have produced more goals per 60 minutes in all situations than MacKinnon and Rantanen (5.4), according to TSN colleague Travis Yost.
That's more than a full goal per 60 minutes more than Winnipeg's Scheifele and Wheeler (4.3), for instance. Their line has accounted for 20 of Colorado's 33 goals scored this season.
"It's rare to have chemistry like that," MacKinnon said. "I don't think there's any wondering what we're going to do with the puck. We're trying to dominate every night."
MacKinnon said it helps to know that coach Jared Bednar "is going to leave us alone." He had too many linemates to count in his first few years in the league.
Bednar, 46, has taken it one step further with what he called his "triple threat" line and engages and involves the three millennials to help evolve their games. It's maybe one reason why Bednar, the third-youngest coach with the league's youngest roster, is a good fit for the group – he understands coaching young players today is just different.
"They're hungry for more information," Bednar said. "They're dangerous every night. You try to feed them more information that can help them so they're even more dangerous and better defensively."
Bednar said that means gathering feedback from his stars on what works and doesn't on the power play, understanding what they feel is going well.
"Those guys have a lot of input," Bednar said.
Bednar said he facilitates regular "complete line meetings with them instead of the full team." MacKinnon and Rantanen in particular have all-world skill, but Bednar said their drive and hunger for more is the common thread that ties them together.
"We get them sitting down as a line and communicating things that they might not have on their own," Bednar said. "They're intelligent players and I find players like that, that are really driven to succeed, are looking for that information. I think it's just not being satisfied when they're producing – they're still looking at ways in which they can improve.
"We want to try and spur that conversation as much as possible, because they're playing 21 to 22 minutes a night – a third of the game – and we want to make sure they're communicating before, during and after the game."
Bednar said earlier on Colorado's Eastern swing that Rantanen, the 10th overall pick in the 2015 entry draft, is just starting to scratch the surface. Landeskog predicted Rantanen is "going to be a stud in this league for a long time." MacKinnon said he thinks Rantanen has "gotten way better, even from last year."
"I think he's just gotten smoother," MacKinnon explained. "He wasn't clumsy, but he's a big guy at a young age in this league. He's 6-5 and 225. He looks like he's skating better. He's more comfortable, I think just his mind is more at ease. He's confident and knows he can do it."
Their goals/assists numbers would indicate MacKinnon and Rantanen have a classic playmaker-finisher relationship, but Rantanen was knocking on the 30-goal door last season. He is coming off a two-goal night in Philadelphia on Monday. Rantanen said he focused on his skating and balance this summer in Finland, not his scoring.
"He's just so dominant," MacKinnon said. "He eats up a lot of tough ice down low, takes a lot of pressure off of me. I'm grateful that he has both great vision and finish. It's fun playing with a guy like that. He makes me better, he does things that I don't do."
Bednar does not seem surprised to hear the chatter around MacKinnon and Rantanen pick up around the league. Having what he called the "privilege" to watch them play every night over the last couple years, he's also wondered what has taken so long.
MacKinnon heard the doubters, recognized that maybe the pundits wanted proof last year wasn't just a fluke run for the Avalanche, who finished dead last in 2016-17. They're making believers now, off to an incredible start.
"You see every prediction. I get it, for sure," MacKinnon said. "But we have belief in our team that we're better than people realize. Mikko is a special player. Once we make the playoffs, you'll see more of Mikko."
Contact Frank Seravalli on Twitter: @frank_seravalli