Mitchell, Stampeders hold off Blue Bombers
Rookie receiver Lemar Durant scored his first CFL touchdown and quarterback Bo Levi Mitchell threw for more than 300 yards and ran in a major as the Calgary Stampeders held off the Blue Bombers for a 25-23 victory on Friday. The win boosted Calgary's league-leading record to 10-3. Winnipeg fell to 3-9.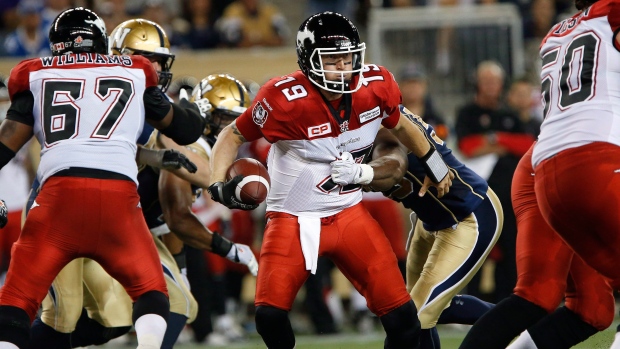 WINNIPEG - Bo Levi Mitchell didn't view a 25-23 victory over the struggling Blue Bombers on Friday as a case of the first-place Stampeders losing their touch.
The Calgary quarterback took the close call as an example of how the CFL-leading club can pull out a win in a tough contest.
"We did play good football out there," said Mitchell, who ran eight yards for a touchdown and completed 27 of 35 pass attempts for 333 yards with one TD and one interception.
"It was a tough game. It was gritty. Guys were chirping the entire time. When we had to, we made plays to win the game... But I'd rather make sure that we leave it up to us rather than leaving it up to them to kick a field goal to tie it."
The Bombers (4-9) squeezed the score to 25-22 with under two minutes left after Troy Stoudermire ran a punt back 40 yards.
That helped set up Matt Nichols' six-yard TD pass to Rory Kohlert in the end zone, followed by Cameron Marshall's run for the two-point convert with 1:54 to go.
The Bombers started marching down the field and had a chance to tie the score, but were hurt by a procedure penalty. They ended up having to settle for a single when Lirim Hajrullahu's 50-yard field-goal attempt went wide right with 39 seconds left.
"As kickers we get excited, especially in a situation like that," Hajrullahu said. "You like to see where the ball is going.
"And I think from mechanics, I just looked up too quickly and didn't finish properly and that was the difference in about a yard outside the post. So not much you can do about that."
Nichols, who was sacked five times, finished 18 of 28 for 234 yards with two TDs and no picks in front of an announced crowd of 23,113 at Investors Group Field.
Calgary (10-3) rookie receiver Lemar Durant scored his first CFL touchdown off a nine-yard reception and kicker Rene Paredes ran his field-goal streak to 21 in a row by connecting from 32, 27 and 10 yards. Rob Maver had a pair of punt singles.
Mitchell's TD run at 5:12 of the third quarter was aided by a 33-yard catch from Marquay McDaniel, who finished with nine receptions for 159 yards.
In his second game back from injury, Stamps running back Jon Cornish rushed 16 times for 94 yards after losing some yards because of the Bombers' swarming defence, which sacked Mitchell twice.
"I thought we did a good job, but the truth is we never should have been in that situation," Cornish said. "We just need to finish."
Winnipeg also got TDs off a 42-yard catch by Darvin Adams and a three-yard run by Marshall. Hajrullahu made both his converts.
The defending Grey Cup champions led 8-7 after the first quarter and the game was tied 14-14 at halftime.
Winnipeg quickly went from bad to good in the first quarter.
Stoudermire, filling in for a temporarily injured defensive back Johnny Adams, intercepted Mitchell's second pass of the game, but it was nixed by a Bombers pass-interference penalty.
Stoudermire soon grabbed a tipped Mitchell pass and three plays later, Nichols hit Adams for the TD at 4:28 for the 7-0 lead after the convert.
The Bombers conceded a single three minutes later for Calgary's first point.
"It's bittersweet. I'm very happy with the way I played, but at the end of the day, we still lost a game and we've got to get ready for next week (against Edmonton)," Stoudermire said.
The Stampeders took the lead late in the first quarter after Durant capped an eight-play, 79-yard drive with his TD catch at 13:43.
"This is the first real game that I got something big on offence," said Durant, who hails from Vancouver.
"I had some big plays, but a touchdown I've been waiting for that so I was happy to do that."
Stampeders defensive backs Joe Burnett and Adam Berger and linebacker Juwan Simpson were injured. Head coach and GM John Hufnagel said he didn't have an update on the trio.