Mix of international and local talent headline Northern Arena Knockout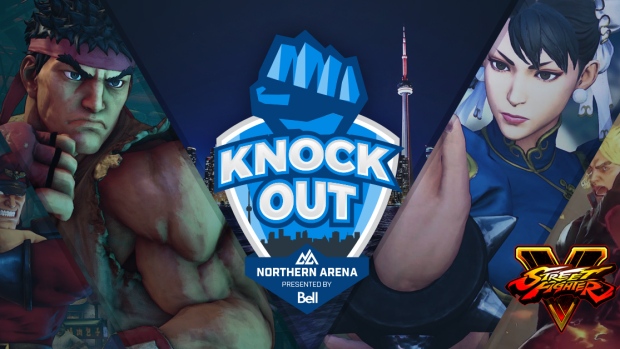 It's about to be their toughest test yet.
After a series of qualifying events and tournaments, 16 elite Street Fighter V players will battle it out for a $30,000 prize pool when the Northern Arena Knockout 2017 tournament presented by Bell gets underway this Thursday at the Bell Media Studios in Scarborough, Ont.
Featured in the competition is a mix of local talent and international gaming professionals.
One of those professionals is American Justin Wong of Team Echo Fox. Wong, an invitee for Knockout, has been a professional gamer for more than 15 years, so there isn't much he hasn't seen.
This year alone, Wong has three wins and 13 top-10 finishes in Street Fighter V tournaments around the world, including a third-place finish in Brooklyn this past Sunday. He doesn't plan on changing anything ahead of Thursday.
"Since I have been competing for so long it's pretty normal. There are some very good players in this lineup," Wong said. "I must say that if I play perfect I have a good chance of coming out on top. I will be using my time to study matchup videos of my opponents to try and gain the edge that I need to seal the deal."
Wong is coming in with a clear head. For the last two years, he's been splitting his time between gaming and working full-time at Nvidia – a corporation that designs graphic processing units for video games.
He quit a short time ago to concentrate on gaming.
"I was doing it for two years and I think I was ready to go back into full-time pro gaming. It was very hard to balance the two but now I feel good that I can give it my all," he said.
While Wong and may be one of the favourites heading in, up-and-comer Andrae Brown of Montreal is looking to establish himself with some of the top Street Fighter V players from around the world.
Nicknamed Drae Yomi Games, he secured one of four qualifying spots for Knockout after finishing second out of a 128-player field at the Northern Arena CNE Open in August, losing to Elias Tsidku in the final round. Brown also finished fourth at the Northern Fights National Finals in June.
Yomi is the Japanese word for reading and in the context of Street Fighter, it refers to the ability to read an opponent's mind and counter an attack.
"Often times when a player is believed to have predicted the opponent's move and is able to counter it, we will say 'The read!' This is something I have become very good at in my years of playing and so I thought it would be fitting," Brown said.
Since the 29-year-old has had success lately, he's looking to keep the momentum going Thursday.
"My approach is generally the same from tournament to tournament. I always simplify it this way: If I'm strong I will win. If I don't, there is more work to be done. This philosophy keeps me focused on the task at hand," he said
Brown's friend Henry Oung from the Montreal Street Fighter scene helped him train for the event and summed things up concisely following their last session.
"You are ready," Oung said.
The final qualifying event was held in Japan with one seat up for grabs, hosted by Knockout participant Yusuke Momochi – currently ranked as the ninth highest Street Fighter V player in the world. Knockout's last seat will be occupied by Japan's Tsubasa Nishizaka.
While $12,000 goes to the winner, a remaining $18,000 will be distributed among seven other players. Second place will receive $7,500 and third place will take home $4,000.
Here is a full list of competitors:
Atsushi "Yukadon" Fujimura - Invited
Yusuke "Momochi" Momochi - Invited
Du "Nuckledu" Dang - Invited
Arman "Phenom" Hanjani - Invited
Justin "JWong" Wong - Invited
Bryant "Smug" Huggins - Invited
Sean "IMSTILLDADADDY" Dench - Invited
Kenneth "KBrad" Bradley - Invited
Martin "Marn" Phan - Invited
Chris "ChrisG" Gonzalez - Invited
Kevin "Di3minion" Landon - Invited
Tsubasa "AFG" Nishizaka - Qualified
Elias "L.E.D" Tsidku - Qualified
Adrian "Sin" Sin - Qualified
Andrae "Drae Yomi Games" Brown - Qualified
Ryan "Orangeman" Thomas - Qualified
A live stream of the event will be available at twitch.tv/northernarena, starting at 5:00 p.m.