MLB bans former Braves GM Coppolella for life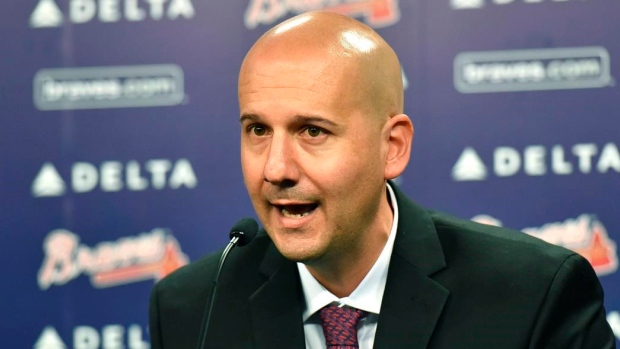 MLB Commissioner Robert Manfred announced on Tuesday that former Atlanta Braves general manager John Coppolella has been banned for life as a result of the team's circumvention of the international signing bonus pool.
The Braves have been prohibited from signing prospect Robert Puason, a 14-year-old prospect who verbally agreed to sign with the team during the 2019-20 signing period, when he's eligible to sign; will be prohibited from signing any international player for more than $10,000 during the 2019-20 signing period, which is the first signing period in which the Braves are not subject to any signing restrictions under MLB rules; and the Braves' international signing bonus pool for the 2020-21 signing period will be reduced by 50 per cent. Former Braves special assistant Gordon Blakeley was also handed a one-year suspension and may not perform services for any MLB club during his suspension.
"My office completed a thorough investigation into violations of Major League Rules by the Atlanta Braves. The Braves cooperated throughout the investigation, which was conducted by MLB's Department of Investigations," Manfred detailed in a statement issued on Tuesday. "The senior Baseball Operations officials responsible for the misconduct are no longer employed by the Braves. I am confident that [chairman] Terry McGuirk, [vice chairman] John Schuerholz, [general manager] Alex Anthopoulos and their staffs have and will put in place procedures to ensure that this type of conduct never occurs again and which will allow the Club to emerge from this difficult period as the strong and respected franchise that it has always been."
These sanctions stem from the inflation of signing bonuses to five international players during the 2015-16 signing period.
The Braves signed five players in 2015-16 to contracts with signing bonuses lower than the bonuses the club agreed to provide to the players and instead provided additional bonus money to those players by inflating the signing bonus to another player who was exempt from their signing pool because he qualified as a "foreign professional" under MLB rules.
Had the Braves signed the five players to contracts containing their actual bonuses, the team would've exceeded their international signing bonus pool by more than five per cent and would have been restricted from signing any players during the next two signing period for contracts with bonuses greater than $300,000.
"As a result of the 2015-16 circumvention, the Braves were able to sign nine high-value players during the 2016-17 signing period who would have been unavailable to them had the Club accurately accounted for its signings during the 2015-16 signing period," Manfred added in his statement. "These players were Juan Contreras, Yefri del Rosario, Abrahan Gutierrez, Kevin Maltan, Juan Carlos Negret, Yenci Pena, Yunior Severino, Livan Soto and Guillermo Zuniga. In addition, the Braves entered into additional 'package' agreements in 2016 and 2017 in which they signed Brandol Mezquita, Angel Rojas and Antonio Sucre for reduced amounts, and provided additional money to those players' agents by signing other players affiliated with their agents to contracts with inflated bonuses."
In order to remedy the situation, Manfred released all nine of players from their contracts with the Braves and declared free agents eligible to sign with any other MLB team.
Coppolella resigned as Braves' general manager on Oct. 2 amid the MLB's investigation.