MLB Statistically Speaking: Hard to replace Gordon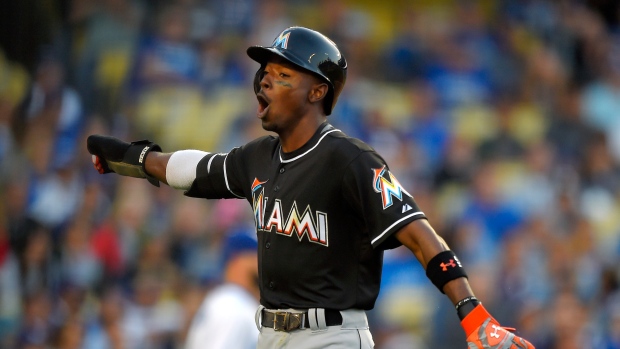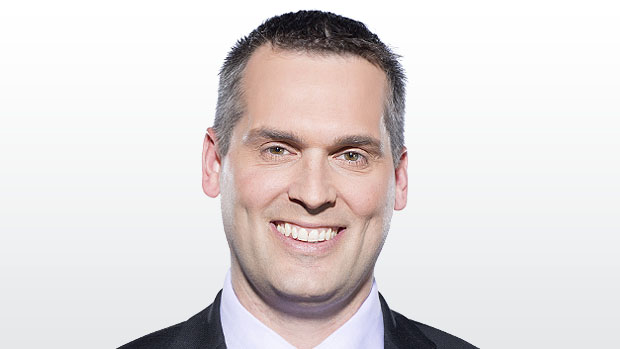 Miami Marlins second baseman Dee Gordon was suspended for 80 games last week, the latest to be caught by the league's PED testing.
Gordon has been the best base-stealer in the game, and his absence from the Marlins lineup could cost them as much as a couple of wins (above replacement) in half of a season.
The top base-stealers since the beginning of the 2014 season:
STOLEN BASE LEADERS FROM 2014-2016
That's a good indication of just how far ahead of the class Gordon is in that particular category, so he's not easy to replace.
For fantasy owners, the best options at second base to replace Gordon, that are still available in more than half of TSN leagues include:
Jed Lowrie, Oakland – The veteran infielder isn't hitting with any power (0 HR, .367 SLG) and is getting lucky (.359 BABIP), but he's an everyday player who is currently hitting over .300. Owned: 21.0%
Cesar Hernandez, Philadelphia – He's already been caught stealing four times in six attempts, after being caught five times in 24 attempts last season, so he's not up to speed yet, but if you're searching the waiver wire for a stolen base threat, Hernandez has that in his game. Owned: 8.7%
Chase Utley, Los Angeles – The 37-year-old is a long way from what he produced in his best days, and is boosted by a .338 BABIP, but he's hitting .286 and has scored 13 runs in 23 games. Owned: 18.0%
HEROES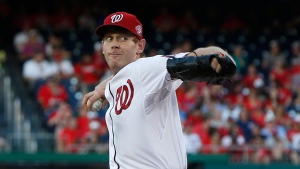 Logan Forsythe, 2B, Tampa Bay – Over the past dozen games, he's hitting .444 with a 1.293 OPS, raising his OPS on the season to 1.011, ranking second among second basemen behind Houston's Jose Altuve.
Michael Conforto, LF, N.Y. Mets – Even after taking a 0-for-5 Sunday, the 23-year-old outfielder has hit .417 with a 1.200 OPS in the past nine games and, despite having to fight for playing time, he's one of nine outfielders to have 15 runs and 15 RBI.
Victor Martinez, DH, Detroit – The 37-year-old can still hit, his batting average climbing to .350 and OPS up to 1.072. Those aren't sustainable, because he has a .348 BABIP, but he's hitting for more power, with the highest flyball rate of his career.
Stephen Strasburg, SP, Washington – Coming off an injury-marred campaign, and heading into his walk year, the 27-year-old is performing like an ace (4-0, 2.25 ERA, 1.00 WHIP, 40 K, 36 IP), throwing more sliders and fewer curveballs than in previous seasons.
Steven Matz, SP, N.Y. Mets – The 24-year-old rookie was rocked in his first start of the season, but has allowed two runs, while striking out 21, in 19 1/3 innings since.
ZEROES
Michael Brantley, LF, Cleveland – Coming back from a shoulder injury, the Indians outfielder was finally activated last week, but then went 2-for-17 (.158 AVG) in his first five games.
Adrian Gonzalez, 1B, Los Angeles – The consistent veteran slugger is mired in a 0-for-20 slump over the past seven games.
Patrick Corbin, SP, Arizona – The Diamondbacks southpaw has been hit hard in his past couple of starts against Pittsburgh and St. Louis, respectively, allowing 11 runs (including four home runs) with five strikeouts and six walks in 11 2/3 innings.
David Price, SP, Boston – He's undefeated (4-0) and has a career-best strikeout rate, but the new Red Sox ace has been getting hit far more easily than expected, and has allowed 23 earned runs in 30 2/3 innings (6.75 ERA) over his past five starts.
VITAL SIGNS
Huston Street, RP, L.A. Angels – A strained oblique has sidelined the 32-year-old closer, giving Joe Smith the role in the meantime.
Scooter Gennett, 2B, Milwaukee – The Brewers infielder has shown surprising power early in the year, with eight of his 16 hits going for extra bases, but he's on the DL with a strained oblique. Veteran Aaron Hill is sliding over to second, with rookie Colin Walsh getting that playing time in at third, while Gennett is out.
Jorge De La Rosa, SP, Colorado – A strained groin has landed the Rockies' lefty on the DL. Eddie Butler has been called up from Triple-A, where he had a 4.09 ERA and 1.55 WHIP in four starts.
Travis d'Arnaud, C, N.Y. Mets – The Mets will be without their starting catcher due to a rotator cuff strain, opening up regular playing time for Kevin Plawecki, the second-year major leaguer who has a .514 OPS in 11 games.
Chris Bassitt, SP, Oakland – The A's right-hander may be facing Tommy John surgery after suffering a torn elbow ligament. He's certainly out of the lineup long-term, and the A's have called up a couple of starters – Jesse Hahn and Sean Manea – to fill out the rotation. Hahn, 26, had a 2.04 ERA with a 1.42 WHIP in four starts at Triple-A, while Manaea had a 1.50 ERA and 1.11 WHIP, with 21 strikeouts in 18 innings through three starts.
Miguel Montero, C, Chicago Cubs – A back injury has put the Cubs' veteran catcher on the shelf, leaving David Ross to handle the bulk of the catching duties. Ross has hit well (.267 AVG, .851 OPS) early in the season, but has been offensively limited, hitting .189 over the past three seasons.
SHORT HOPS
Orioles closer Zach Britton is out, though it remains to be seen for how long, with a sprained ankle. Darren O'Day is likely to get save opportunities as long as Britton is sidelined…The Braves have called up veteran utility man Emilio Bonifacio. He's not much of a hitter, but can steal some bases if he gets playing time…The Rockies activated CF Charlie Blackmon after a couple of weeks on the DL, sending Brandon Barnes to Triple-A…The Tigers promoted 23-year-old SP Michael Fulmer, a 2011 first-round pick. He had a 4.11 ERA and 1.37 WHIP, with 20 strikeouts in 15 1/3 innings in three starts at Triple-A…A pleasant surprise for the Brewers last season, posting a 3.77 ERA and 1.28 WHIP in 21 starts, Taylor Jungmann was sent down after he was shelled (0-4, 9.15 ERA, 1.94 WHIP) in five starts.
FANTASY FOCUS
Most added players that are still available in more than half of TSN leagues.
Odubel Herrera, LF, Philadelphia – Suddenly an on-base machine (.449 OBP), the second-year outfielder is hitting .301 and has four stolen bases to go with 15 runs. Owned: 46.6%
Chris Carter, 1B, Milwaukee – Mashed a pair of home runs Sunday, giving him seven on the season, to go with a .278 average and 1.026 OPS. The battle for Carter is cutting down strikeouts as he has 27 in 79 at-bats. While that's high, it's still the lowest per-at-bat rate of his career. Owned: 49.9%
Tanner Roark, SP, Washington – Back in the Nationals' starting rotation this season, the 29-year-old hasn't missed a beat, posting a 2.03 ERA and 1.19 WHIP, but his strikeout rate is way up, as he has 30 in 31 innings. Owned: 48.1%
Jose Berrios, SP, Minnesota – One of the top pitching prospects in baseball, the 21-year-old struggled in his first major-league start, but has a 2.82 ERA and 1.04 WHIP, with 106 strikeouts in 95 2/3 innings in 16 career starts at Triple-A. Owned: 38.8%
Scott Cullen can be reached at scott.cullen@bellmedia.ca