MLB Rumours: Blue Jays making play for Syndergaard
MLB trade season is in the eleventh hour, with the deadline fast approaching at 6pm EST on August 2. Here are the latest rumours and chatter ahead of Tuesday evening.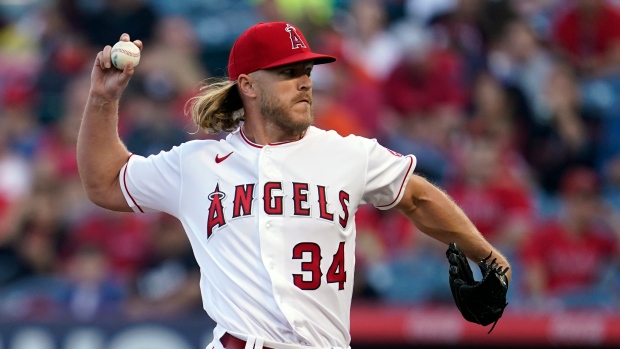 Blue Jays eyeing Thor?
The New York Post's Jon Heyman reports that the Toronto Blue Jays are making a play to bring back starting pitcher Noah Syndergaard. The 29-year-old was originally drafted by the Blue Jays in the first round of the 2010 MLB Draft before being traded to the New York Mets as part of the package for R.A. Dickey in 2012.
Syndergaard has a 5-8 record with a 3.83 ERA and 64 strikeouts in 15 starts with the Los Angeles Angels this season. He signed with the Angels as a free agent after missing all of the 2020 season and pitching just two innings in 2021 following Tommy John surgery. Syndergaard was an All-Star in 2016, when he posted a 14-9 record with a 2.60 ERA in 218 strikeouts in 183.2 innings.
MLB Network's Jon Morosi says the Philadelphia Phillies and Atlanta Braves are also involved in talks for Syndergaard.
---
Multiple teams jockeying for top spot in Soto

sweepstakes
ESPN's Jeff Passan and New York Post's Jon Heyman agree: the San Diego Padres are still the favourites to land Washington Nationals' outfielder Juan Soto.
The 23-year-old lefty, whose career on-base percentage of .426 ranks first among active players with at least 2000 plate appearances, is thought to be causing a logjam in trade action so far.
Meanwhile, The Athletic's Jim Bowden has reported the St. Louis Cardinals have offered a package including two young major leaguers: outfielder Dylan Carlson and infielder Nolan Gorman.
Additionally, the Los Angeles Dodgers have reportedly become much more aggressive lately, as per Bob Nightengale.
At this time, it seems to boil down to the Padres, Cardinals and Dodgers, with the New York Yankees lurking. All eyes are on the Nationals and GM Mike Rizzo.
---
Royals acquire Weaver from Diamondbacks
The Kansas City Royals have acquired starting pitcher Luke Weaver from the Arizona Diamondbacks in exchange for third baseman Emmanuel Rivera, according to multiple reports.
Weaver, 28, has posted a 7.71 ERA in 12 games with Arizona this season. His best season came in 2018, while with the St. Louis Cardinals, when he recorded a 2.94 ERA with 69 strikeouts over 12 starts.
Rivera, 26, has played 63 games with the Royals this season, hitting six home runs and recording 22 RBI to go along with a .237 batting average.
---
Red Sox make three moves Monday
The Boston Red Sox made several moves on Monday afternoon, dealing catcher Christian Vazquez to the Houston Astros and acquiring outfielder Tommy Pham from the Cincinnati Reds.
The Red Sox acquired a catcher to replace Vazquez on the major-league roster, trading reliever Jake Diekman to the Chicago White Sox in exchange for former Blue Jays catcher Reese McGuire.
---
Astros have acquired outfielder Mancini from Orioles, outfielder Siri to Rays in three-team trade
The Houston Astros have agreed on a trade to acquire outfielder Trey Mancini from the Baltimore Orioles. Additionally, the Tampa Bay Rays are receiving outfielder Jose Siri from the Astros.
All told, the Rays are receiving Siri from Houston, Houston is receiving Mancini from the Orioles and RHP Jayden Murray from the Rays, and Baltimore is receiving RHP Seth Johnson from Tampa Bay and RHP Chayce McDermott from Houston.
Johnson is scheduled to have Tommy John surgery after going on the injured list recently.
Mancini, who is 30 years old this year, has hit to a .268 batting average with 10 home runs and 41 runs batted in this season, in 92 games.
He missed all of the 2020 season while receiving treatment for stage three colon cancer.
Originally drafted by the Baltimore Orioles in the eighth round of the 2013 MLB June Amateur Draft, he made his debut for the team in 2016. In 701 career MLB games, Mancini has a .270 batting average with 117 HR and 350 RBI.
---
Yankees acquire rookie reliever Effross from Cubs
The New York Yankees have acquired right-handed relief pitcher Scott Effross from the Chicago Cubs, as per Jack Curry of YES Network.
In return, the Yankees sent right-handed pitcher Hayden Wesneski, their seventh ranked prospect as per MLB Pipeline.
Effross, who is 28 years old, was drafted by the Cubs in the 15th round of the 2015 MLB June Amateur Draft, and debuted with the team last season.
He has appeared in 47 games this season, with a 2.66 earned runs against and 50 strikeouts in 44 innings.
Injuries to relievers Michael King and Shane Greene created a weakness on the roster which this trade helps address.
In 67 career MLB games, Effross has a 2.91 ERA in 58.2 innings with 68 strikeouts.
---
Brewers trading star reliever Hader to Padres
As per ESPN's Jeff Passan, the Milwaukee Brewers are trading four-time All-Star relief pitcher Josh Hader to the San Diego Padres.
In return, the Brewers are receiving major league closer Taylor Rogers, left-handed pitching prospectr Robert Gasser, outfield prospect Esteury Ruiz and major league right-handed pitcher Dinelson Lamet.
Hader has a 4.24 earned runs against with 59 strikeouts in 34 innings this season, his sixth in the major leagues.
The 28-year-old left-hander was drafted by the Orioles in the 19th round of the 2012 MLB June Amateur Draft, and was traded twice before debuting with Milwaukee in 2017.
In 269 career MLB games, Hader has a 2.48 ERA with 541 strikeouts in 316.1 innings pitched.
---
Brewers may not be done - catcher Narvaez coming up in trade talks
After trading All-Star reliever Josh Hader, teams are still in talks with the Brewers about 30-year-old catcher Omar Narvaez.
Narvaez was an All-Star in 2021 for the Brewers, and will be a free agent at the end of this season.
In 59 games thus far, he has a .235 batting average with four home runs and 18 runs batted in.
The native of Venezuela is in his seventh major league season, after starting his career with the Chicago White Sox in 2016. He has a .263 batting average with 51 home runs in 575 career MLB games.
---
Tigers' Chafin drawing interest from many teams
The Athletic's Ken Rosenthal has reported that the New York Mets and Chicago White Sox are the frontrunners looking to acquire left-handed reliever Andrew Chafin from the Detroit Tigers.
The 32-year-old signed a two-year deal with the Tigers this offseason, but can opt out after this season. He has a 2.53 earned run average with 39 strikeouts in 32 innings this year.
Originally drafted in the first round of the 2011 MLB June Amateur Draft by the Arizona Diamondbacks, he debuted with them in 2014 and spent 7 seasons with the team before being traded to the Chicago Cubs in 2020.
Chafin has also spent time with the Oakland Athletics. In 449 career MLB games, the Kettering, Ohio native has a 3.24 ERA with 394 strikeouts.
---
Phillies in on outfielders around the league
According to Jon Heyman, the Phillies are actively pursuing defensive help in the outfield, with the Oakland Athletics' Ramon Laureano being the top prize.
Laureano is likely the best defensive outfielder on the market, though his low salary for the season ($2.45 million) will make him hard to pry from the Athletics.
Additionally, teams are likely to be wary of dealing for Laureano considering his injury history: in five major league seasons, his high for games played is 123, and he has played more than 90 games just once in those five campaigns.
---
Padres looking at '11 or 12' players
As the San Diego Union-Tribune's Kevin Acee reports, the San Diego Padres are in on 'eleven or twelve' players across the majors; this includes, most importantly, Juan Soto.
All things told, the Padres have been mentioned in talks regarding Chicago Cubs All-star catcher Willson Contreras, Cubs outfielder Ian Happ, Angels RHP Noah Syndergaard and Cubs relief pitcher David Robertson.
Everything seems to revolve around the Padres because of their wealth of high-level prospects - some of whom have graduated to the major leagues this season. like left handed pitcher Mackenzie Gore, and some who are nearing the top of prospect lists, like outfielder Robert Hassell III.
Currently 57-46 and holding the second of three wild card slots, the Padres are positioned to be major players in the next 24 hours.
---
Braves acquire Adrianza, designate Cano for assignment
The Atlanta Braves have completed a trade with the Washington Nationals, sending minor league outfielder Trey Harris in exchange for infielder Ehire Adrianza. In a corresponding move, the Braves designated second baseman Robinson Cano for assignment.
Adrianza, who is 32-years-old, is hitting .179 with no home runs in 31 games in this, his 10th major league season. The Venezuela native was originally signed by the San Francisco Giants and debuted for them in 2013.
He played 109 games for the Braves in 2021, where he was used as a second baseman, third baseman, shortstop, left fielder and centre fielder at various times.
In 605 career MLB games, Adrianza has a .240 batting average, 21 home runs and 180 runs scored.
---
Brewers acquire Bush from Rangers
The Milwaukee Brewers have acquired reliever Matt Bush from the Texas Rangers in exchange for infielder Mark Mathias and LHP Antoine Kelly, according to The Athletic's Ken Rosenthal.