By the numbers: Votto's prolific on-base streak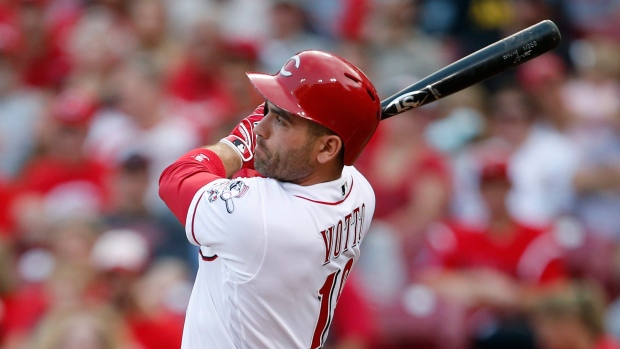 One of baseball's best hitters is quietly closing in on a record held by one of the game's all-time greats.
Cincinnati Reds' first baseman Joey Votto drew three walks and scored one of the Reds' two runs in their win over the Cubs on Tuesday, extending his streak of reaching base safely (via hit, walk or hit-by-pitch) at least twice to 20 straight games, tying the second-longest streak in the modern era (since 1900).

Longest streaks of reaching base twice or more in a game (Since 1900)
Player
Games
Season

Ted Williams, Boston Red Sox

21

1948

Joey Votto

, Cincinnati Reds

20

2017*

Pete Rose, Philadelphia Philies

20

1979

Barry Bonds, San Francisco Giants

20

2004
*Current streak
During the streak that started on July 26, Votto has reached safely 55 times in 90 plate appearances for a .611 on-base percentage over his last 20 games, but that's remarkably not even his highest total in a 20-game stretch. In 2015 he reached safely 59 times in a 20-game span.
The 33-year-old has played in all 120 games for the Reds so far this season, batting .316/.448/.600 with 31 home runs and 83 RBI. He leads the Majors in on-base percentage (.448), on-base plus slugging percentage (1.048) and walks (98).
Playing for the lowly Reds, the Etobicoke, Ont. native is often overlooked for his accomplishments, but the 2010 National League MVP is consistently one of the best offensive players in baseball.
His plate discipline is unmatched (1.61 walks per strikeout -- no other player in baseball has a rate above 1.00) and even when teams try to outmatch Votto with an urothodox shift, as Chicago Cubs' manager Joe Maddon did on Monday, Votto still managed to smack a double down the first base line.
In only two of his 11 Major League seasons has he not reached 20 home runs or batted over .300 and only three where he hasn't reached 80 RBI.
Votto's offensive abilities, although not as traditional, still transition him from not only one of the best offensive first baseman in the Majors right now, but best ever.
Votto's career on-base percentage is a staggering .4268, ranking 12th all-time, putting him behind only the likes of Williams, Babe Ruth, Lou Gehrig, Barry Bonds, Rogers Hornsby, Ty Cobb, Jimmie Foxx, Tris Speaker and three players who haven't played baseball in over 100 years. That is incredibly elite company.
Detractors will say that simply getting on base via a walk isn't very glamourous, but the five-time All-Star's 31 homers are on-pace to surpass the 37 he hit during his MVP run seven seasons ago.
And come this offseason, Votto might have a second MVP to add to his mantle.