MLSE to acquire the Toronto Argonauts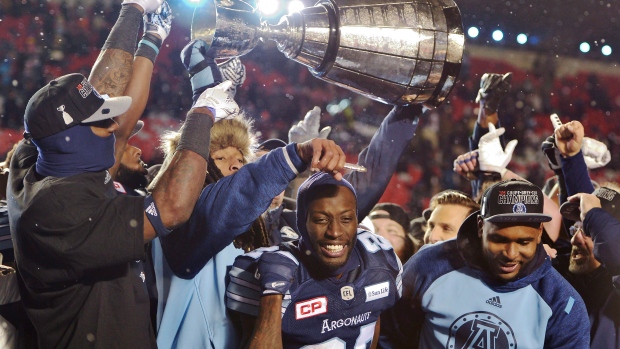 TORONTO — Maple Leaf Sports & Entertainment, which already owns the Maple Leafs, Raptors and Toronto FC, is adding the CFL's Argonauts to its portfolio.
MLSE announced Wednesday it has an agreement to buy the Grey Cup champions.
There was already some cross-ownership. MLSE chairman Larry Tanenbaum's holding company, the Kilmer Group, jointly owned the Argonauts with Bell Canada.
Plus the Argos play at MLSE-operated BMO Field, home to the newly crowned MLS champion Toronto FC.
"Under its current ownership, a transformed Argonauts football club enhanced its presence and fan base in Canada's largest sports market and ultimately marched to the CFL championship," MLSE president and CEO Michael Friisdahl said in a statement. "We look forward to building on the Argos' strong momentum as we welcome the team to the leading provider of sports and entertainment experiences in Canada."
The sale is expected to close in January 2018, according to MLSE.
Approval from the CFL board of governors would not seem to be a problem
"On the heels of a stunning Grey Cup showdown with the Calgary Stampeders that highlighted the sheer excitement of Canadian football, we're thrilled that the Argonauts will be joining the MLSE roster," CFL commissioner Randy Ambrosie, said in a statement. "We welcome MLSE to the CFL and look forward to working with them to further enhance the experience for Canadian football fans."
Founded in 1873, the Toronto Argonauts are North America's oldest continuously operated professional football club.