#MondayMustRead: Benn looking like a reincarnation of Lindros
Dallas Stars captain Jamie Benn is playing with a mix of skill, physicality and ability to bull-rush the net that is nearly unmatched in today's NHL, TSN Senior Hockey Reporter Frank Seravalli writes.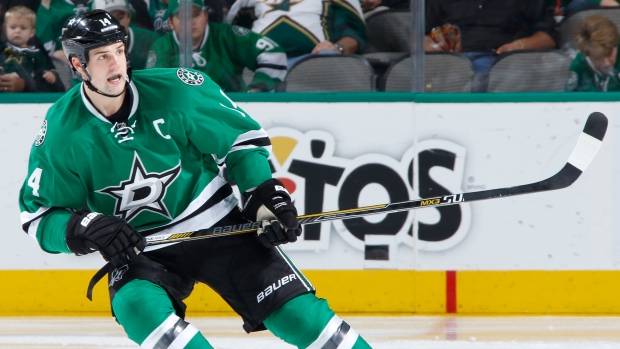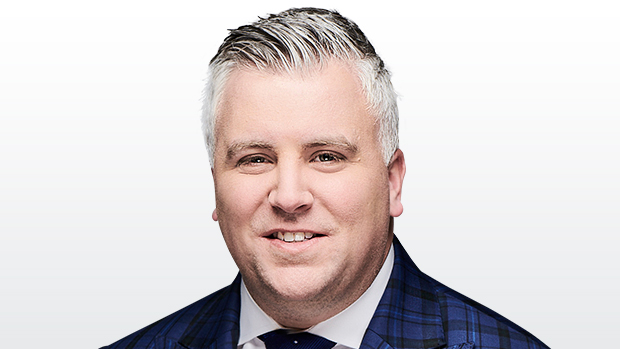 Jamie Benn grew up watching and idolizing fellow British Columbia native Joe Sakic.
Recently, the Dallas Stars' captain has looked a lot more like a reincarnation of Eric Lindros in his prime. Benn might not have Lindros' pure speed, but he does have the same mix of skill, physicality and ability to bull-rush the net, a combination nearly unmatched in today's NHL.
Just ask Canadiens' defenceman Jeff Petry after Benn railroaded him with a clean hit on Saturday night. Benn's thunderous hit forced a turnover, which resulted in an assist on Tyler Seguin's goal by the time Petry could barely get to his feet again.
Benn, 26, leads the NHL with 22 goals in 33 games this season. Since returning with a gold medal from the Sochi Olympics with Team Canada in 2014, Benn has racked up 157 points in 132 games. No player other than teammate Seguin is within 19 points of him over the last two seasons.
Interestingly, the Stars discovered Benn - a standout baseball player - playing for the Tier II Victoria Grizzlies in the BCHL in 2006-07, the same year Lindros was finishing out his career in Dallas. They couldn't have known then that as a fifth-round pick, Benn would someday grow into a similarly dominant role, without the hoopla of a generational talent.
"I only get to see highlights of him much of the time, but I watched every minute last Olympics and I was extremely impressed," Lindros wrote via text on Sunday. "It's too bad I don't see Dallas more often. He's a great player."
Though Lindros was right-handed, the way Benn flipped this puck from backhand to forehand as he did on Saturday night in traffic was something to marvel.
Lindros said he had "no idea" how his speed would compare to Benn's, but the belief is the rest of today's NHL has caught up to a level closer to where Lindros was skating in the 1990s.
"Today's game is completely different with the rule changes," Lindros wrote. "That said, I think he would have excelled had he played in the 90s. (He's a) stud!"
The scary thought for the rest of the NHL is that Benn has improved in every full season in the NHL: starting with 41 points in 2009-10, rising to 56, 63 and 79 before hitting 87 last year. He is on pace for 109 points this season. The comparisons will continue to stream in for Benn, but Lindros may be a keeper. They even tape their sticks in the same unique way.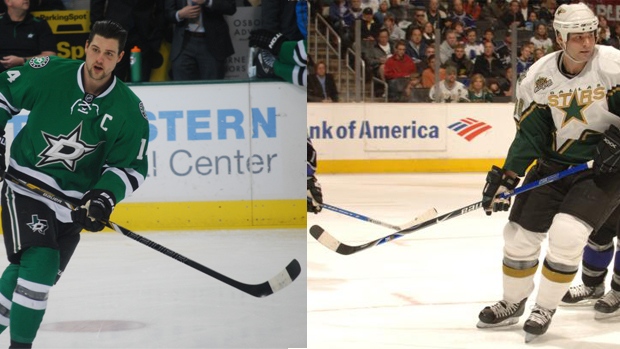 Penguins' GM Jim Rutherford admitted Sunday what everyone has been thinking watching him in Pittsburgh: He is feeling the heat. "I would say these last three weeks have been the toughest on me in my career, for me to handle personally," Rutherford told the Pittsburgh Tribune-Review. Rutherford almost sounded as if he was giving Penguins' ownership a reason to part ways: "As for an exit strategy, I don't have one. As long as I've done it and where I am in life, I can go today. But the one thing I've never been in my life is a quitter. Somebody may tell me it's time to go, and if they do, that's fine. But as for me, quitting is not in my DNA, and it wouldn't be the right way to teach my son how to live his life."
What was in the water in Gotham on Nov. 25? The Rangers and Canadiens met that night at Madison Square Garden in an early season "Clash of Titans." Top two teams in the East, top two netminders squaring off. Both held five-point leads in their division that morning. Everyone is reeling since that night, when neither Carey Price nor Henrik Lundqvist finished the game: Price re-aggravated his leg injury in the second period, while Lundqvist was yanked after allowing a five spot to Montreal. The Canadiens are 2-7-0 since Nov. 25; the Rangers are 3-7-2. Price hasn't skated since. Lundqvist, 33, was pulled again on Sunday night for the fourth time in 11 games. TSN's Hart Trophy pick that week at the quarter pole, Lundqvist has allowed four or more goals in six out of those 11 starts. He is 2-6-1 with one no-decision and a .889 save percentage. "I don't really have a good explanation," Lundqvist told reporters after Sunday night's loss to Washington. "I have to look at my own game. I can't look at the team game. I have to be better. I know that. We all know that."
The Nashville Predators were one of the teams who inquired with Edmonton about the price of Ryan Nugent-Hopkins prior to the roster freeze. For Nashville, it's the same story: the Preds are a gifted defensive team, but thin up front and down the middle. If the Stanley Cup playoffs began today, Nashville would face Dallas in the first round. That probably wouldn't end well for them. Life is about to get tougher for the sputtering Predators, too. It's been more than a month since Nashville won back-to-back games - and the Predators have enjoyed the NHL's fifth-easiest schedule this season, according to hockey-reference.com. Starting on Dec. 29, nine of Nashville's next 14 games will be against Central division opponents. They are 8-9-4 since playing their first divisional game on Nov. 5.
You could make the argument that the Oilers have missed Oscar Klefbom has much as Connor McDavid. Without Klefbom, Edmonton has lost three in a row after opening December with six straight wins. They've allowed an average of five more shots per game without him and one more high-danger scoring chance against, according to war-on-ice.com. Oilers GM Peter Chiarelli seems to be in no rush to make a move - with Nugent-Hopkins or anyone else. Why rush? His players' values were at an all-time low last month. Plus, McDavid has been skating for more than a week now. Klefbom will be back soon. It could be a very interesting spring in Oil Country if the Oilers can just hang on for the next month or so in the Pacific Division. They were already in a playoff spot last week. Remember: Edmonton hasn't had both Jordan Eberle and McDavid in the lineup together for a game this season.
One team to keep an eye on when the NHL roster freeze expires on Dec. 28: the Philadelphia Flyers. Defenceman Mark Streit is expected to be ready to be activated from long-term injury on Dec. 27. That would leave the Flyers with eight blueliners. The Flyers don't want to send down Shayne Gostisbehere - the fastest NHL player ever to score three overtime goals (17 games) - but GM Ron Hextall didn't rule that out. Gostisbehere is the only waiver-exempt defenceman, and the Flyers don't want to risk Brandon Manning or anyone else to claim. It seems unthinkable, considering the Flyers have earned a point in 13 of his 17 games, but Gostisbehere may be Hextall's only option on defence. "We've got too many defencemen," Hextall told reporters Saturday. "That's the reality. It's a good problem to have, but we do. We'll wait and see how it plays out. We'll have to make a move. We'll wait and see what happens."
Former Canucks assistant GM and capologist Laurence Gilman gave an interesting peek into contract negotiations on TSN 1290 in Winnipeg last week. Gilman said Feb. 29's deadline shouldn't be sneaking up on anyone given the Jets' contract struggles. "To begin with, a good general manager prepares and is thinking about these things all year long," Gilman said. "It should never get to a point where you reach a point of no return, that you didn't see well in advance. A GM and a staff, there will be constant dialogue - and the owner will be involved, too - about what the plan is and where you're at. It isn't simply a matter of where you get to a certain point in time and we haven't been able to get this guy signed, we're going to have to trade him and get assets."
With Willie Desjardins under fire last week, the Canucks have a strong potential candidate in the organization already. Travis Green, 45, has turned heads around the NHL working with the AHL's Utica Comets. Green led the Portland Winterhawks to a WHL title in 2012-13, then pushed the Comets to the Calder Cup final last spring. Canucks' president Trevor Linden, GM Jim Benning and Desjardins stopped in Utica last Wednesday night. Desjardins offered praise of Green, telling the Utica Observer-Dispatch: "Travis and his staff have done a great job with these guys. You look at where guys were last year when they were here and how far they've come. I feel pretty confident with the guys that have come up."
To assist with coach's challenges, the NHL expects to have cameras installed along the blue lines in at least one arena before next month's all-star break. The system will need comprehensive testing to judge whether it's helpful before being rolled out around the league. The initial plan is believed to include one camera on each side of both blue lines, plus an overhead camera. It's a significant technological undertaking: cameras must be integrated to each team's dressing room replay system and to Toronto, then to each station in the NHL's hockey operations "war room." As we wrote last month, cameras in goal posts didn't provide enough clarity to aid video replay for potential goals scored since they were often obscured by goaltenders. The NHL wants to make sure these cameras don't run into the same issue. Coaches have been challenging offside plays more frequently in December - nearly one out of every two challenges in December compared to one out of every four in October and November. More camera angles were requested during this month's Board of Governors meetings because television cameras are not located uniformly throughout each building and not all provide decisive views of blue lines.
All 30 head coaches, including Pittsburgh's Mike Sullivan, have now challenged at least one call. What we've learned: San Jose's Peter DeBoer can't get enough. DeBoer (2-for-8) personally accounts for nearly 10 per cent of the entire league total. Winnipeg's Paul Maurice and Philadelphia's Dave Hakstol are the only two coaches without a blemish on their record; both are 1-for-1 in the challenge department.
Frank Seravalli can be reached at frank.seravalli@bellmedia.ca.