#MondayMustRead: Finishing last guarantees little in draft lottery
TSN Senior Hockey Reporter Frank Seravalli takes a closer look at the draft lottery, Sidney Crosby's MVP chances and some unanswered questions surrounding a potential expansion draft in his Monday column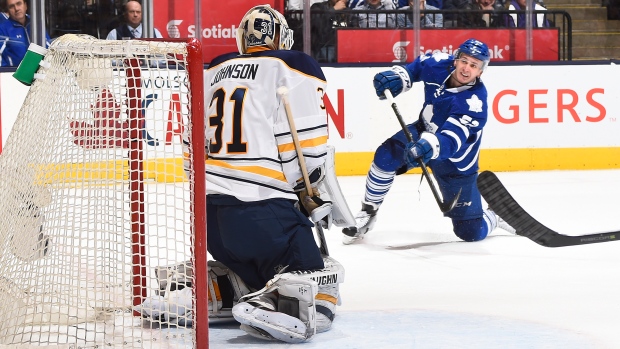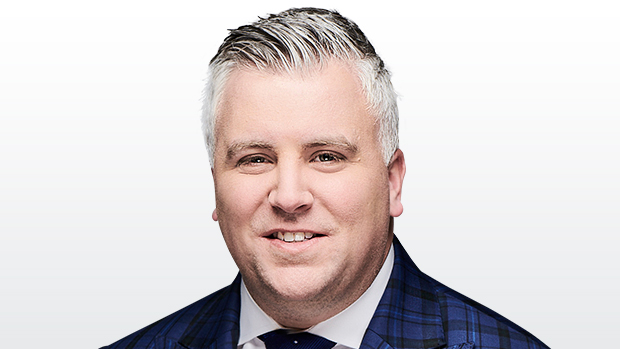 It has been 17,857 days since the Toronto Maple Leafs last won the Stanley Cup.
Officially eliminated from Stanley Cup playoff contention on Friday night for the 10th time in 11 seasons, the only numbers that matter are the ping pong balls leading up to April 30's Draft Lottery.
The Maple Leafs have the worst points percentage in the NHL - even with four games in-hand on the 29th place Oilers. That gives the Leafs the best odds at the moment to pick first in June's draft: a one in five shot.
But the NHL's new lottery format - with three separate draws for the top three picks - doesn't exactly reward the team that finishes last. That's why the NHL didn't delve into discussions about limiting the number of repeat lottery winners at last week's GM meetings in Florida, allowing these new odds to play out.
This new system will give Toronto (or the 30th place team) basically a 50-50 shot to pick inside the top three. That's it.
In other words, the Maple Leafs would have almost an equal chance at picking fourth as they do grabbing one of the top three spots. Last year, with one draw for the first pick, the last place team had an 80 per cent chance to picking second - and could slide no lower than second.
According to data supplied to teams by the NHL, the 30th place finisher's probabilities are:
No. 1 pick: 20 per cent
No. 2 pick: 17.5 per cent
No. 3 pick: 15 per cent
No. 4 pick: 47.5 per cent
As Halifax-based mathematician Micah Blake McCurdy explains, the team which finishes dead last can pick no lower than fourth, and is "in fact most likely to do so than to pick in any one other spot."
And the 24th through 30th place finishers, are "more likely to fall at least one spot in the draft than to move up." That's bad news for the Leafs, Oilers, Jets, Canucks and Flames.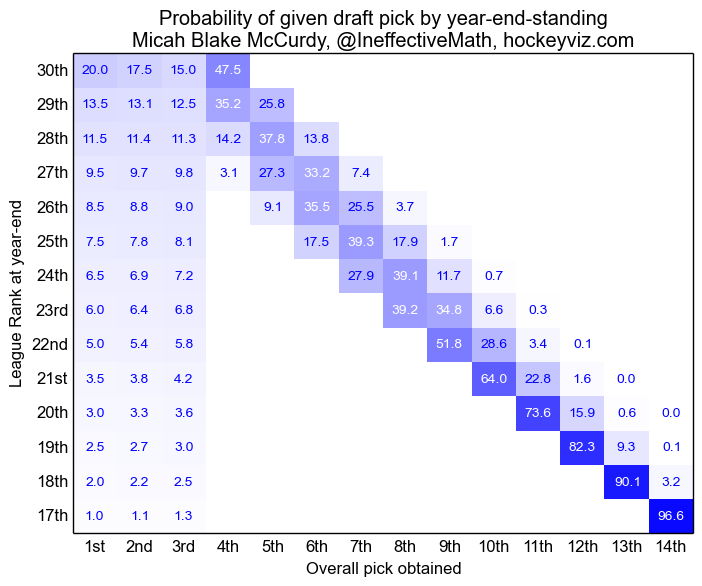 Sidney Crosby's candidacy for a third Hart Trophy gained traction over the weekend, as the Penguins leapfrogged the Rangers and Islanders for second place in the Metropolitan. Pittsburgh is 5-0-0 since losing Evgeni Malkin to injury. Crosby's season-high point streak climbed to 12 games; he is now third in NHL scoring with 76 points. Yet, any Hart consideration would seem to ignore the first quarter of the season, when his dismal play helped cost coach Mike Johnston his job. Crosby was an average player (at best) during that time span, ranking 152nd in league scoring. He has been nothing short of awesome under Mike Sullivan, but shouldn't the Hart Trophy belong to the MVP of the whole season?

The NHL has not yet made a decision on whether teams will be allowed to trade players and/or picks to an expansion team in exchange for a guarantee to not select certain unprotected players. In 2000, the Sharks traded two players and four picks to the Wild and Blue Jackets to ensure Evgeni Nabokov would not be picked. The Sabres also traded Jean-Luc Grand-Pierre, Matt Davidson and two fifth-round picks to guarantee both Dominik Hasek and Martin Biron would be safe. Such trades would seem to go against the idea of icing the most competitive expansion roster possible, but they were allowed in each of the previous three drafts (1998-2000). Then again, it worked out pretty well for Nashville in 1998, acquiring Kimmo Timonen from Los Angeles for agreeing not select Garry Galley.
Last week's potential expansion draft format revelation left more questions than answers. Do players entering the third year of their entry-level deal require protection? (Our understanding is yes.) Will players with no-move clauses be eligible to be picked? The NHL's position on that is, yes, the CBA does not specifically mention those clauses protecting from an expansion draft. This still needs to be bargained with the NHLPA. Interestingly, NHL deputy commissioner Bill Daly told the New York Post on Sunday, "no matter where we go with no-moves, they would never be 'exempt from the process.' " In other words, each player holding a 'no-move clause will eat up one of 10 or 11 protected slots per team. That would hurt a team like Minnesota, for instance. The Wild would protect Ryan Suter or Jared Spurgeon anyway, but what about a guy like Jason Pominville? He will turn 35 in 2017. His protection could mean another valuable asset exposed.
We will see a lot of roster jockeying this summer with GMs preparing for an expansion draft. Players who will likely be unprotected will be traded. Free agents will be signed to two-year deals to pad rosters with exposable players. But will we also see certain players, particularly with no-movement clauses, bought out this summer to avoid expansion draft wrangling? Exactly 51 players with no-movement clauses have a contract for 2017-18, according to GeneralFanager.com. Columbus defenceman Fedor Tyutin is an interesting case. The Blue Jackets already couldn't find a taker for him at last month's trade deadline. Buying him out this June would save nearly $3 million in cash in the long haul, and prevent a no-move headache the following summer. Anaheim's Kevin Bieksa, Minnesota's Pominville, Columbus' David Clarkson and even Winnipeg's Toby Enstrom could generate similar questions this summer. And what about long-term injured players like New Jersey's Ryane Clowe? Will the Devils need to protect him?
One other big question: What will the NHLPA win from this expansion draft negotiation? It will be something. In exchange for going to the 3-on-3 All-Star tournament format, the NHLPA bargained for one five-day break in every team's schedule from January through March next season. The NHLPA is concerned about teams honoring no-move clauses and protecting entry-level players. With the expansion draft, the NHLPA is believed to be interested in talking about the pension plan for players, as well as the entry draft age.
Lost in the shuffle among tremendous rookie seasons: Robby Fabbri. Since the All-Star break, Fabbri is tied for the Blues' lead in scoring with 17 points in 21 games, matching Vladimir Tarasenko and Jaden Schwartz. Fabbri, 20, now has 16 goals and 19 assists for 35 points in 67 games. Two things stand out: 27 of Fabbri's 35 points are at even-strength in just 13:19 of ice time; and unlike Jack Eichel, Connor McDavid or even Shayne Gostisbehere, Fabbri was forced to carve out his spot in a deep, veteran-laden lineup. It's easy to see how he did with plays like this one on Saturday night in Vancouver, starting the rush, getting it back from Paul Stastny and threading a beautiful pass through the middle to Troy Brouwer for an easy tap-in:
Could Jets draft pick Kyle Connor take the Jack Eichel route: straight from college to representing Team USA at the World Championships? Connor, 19, is already likely to follow Eichel as the second straight freshman to win the Hobey Baker Award. But with 35 goals and 34 assists for an NCAA-best 69 points in 36 games at Michigan, Connor will receive consideration depending on the players available to Team USA. Team USA's men's national team will be managed collectively by David Poile, Ray Shero, Dale Tallon, Stan Bowman, Dean Lombardi and Don Waddell. Last May, Eichel collected seven points in 10 games, helping the U.S. to bronze in Prague, about a month before being drafted 15 spots ahead of Connor.
No doubt, Saturday's loss to the Penguins was a blow to the Flyers' playoff chances, but losing goaltender Michal Neuvirth on Sunday for the final three weeks of the regular season was piling on. Neuvirth, 27, was excellent in Wednesday's win over Chicago. He is fifth in the NHL in save percentage (.925) and worked in perfect tandem with Steve Mason. Navigating the remaining workload for Mason will be the tricky part for coach Dave Hakstol. The Flyers have four back-to-back sets remaining, beginning Monday night in Brooklyn, and new backup Anthony Stolarz hasn't played a minute in the NHL. Any game, even against Columbus or Arizona this week, makes for a pressure cooker debut. If there is any solace in the Flyers' schedule, it's that the second game of their final three back-to-backs will be on level ground, since the Penguins, Maple Leafs and Islanders also will have played the night before.
Kael Mouillierat scored a definite goal of the year candidate for the AHL's Wilkes-Barre/Scranton Penguins on Sunday afternoon. His lacrosse-style goal may be even more impressive than Mike Legg's original behind-the-net flip for the Univ. of Michigan in 1996 because Mouillierat did it on his backhand. Mouillierat, 28, scored a similar goal with the Bridgeport Sound Tigers last season.

Contact Frank Seravalli on Twitter: @frank_seravalli