#MondayMustRead: Frustration bubbles to the surface in Pittsburgh
In his #MondayMustRead, TSN Senior Hockey Reporter Frank Seravalli looks at just what is going wrong for the Pittsburgh Penguins.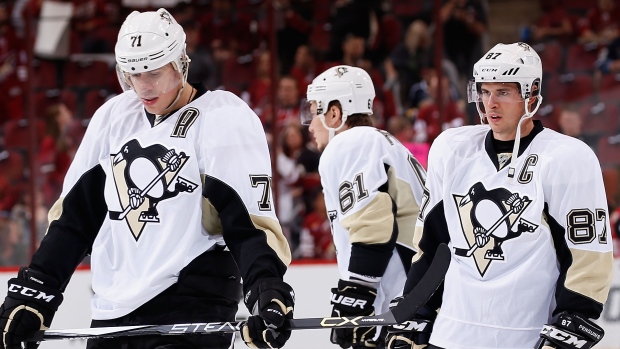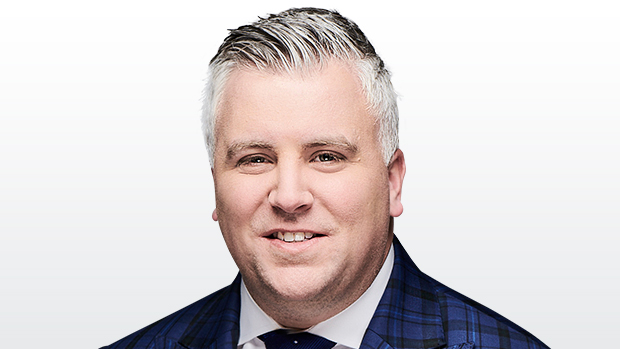 Whatever discontent has been simmering in Pittsburgh during the first two months of the season bubbled to the surface on Saturday night, after a 4-0 loss in New Jersey.
Normally soft-spoken Evgeni Malkin raised eyebrows when he voiced his concerns post-game. All quotes below are exactly as spoken, as to not put any words in his mouth.
"We not play right," Malkin said, in audio posted on the Penguins' website. "We not work hard right now. I know it's tough, but we're mad at each other. We need to just stop, look in the mirror, and start working. We not work."
Two separate times in the interview, Malkin referenced that the Penguins are "mad at each other." Malkin attempted to clarify those quotes on Monday after Penguins' practice.
"It's a little bit not what I want to say," Malkin told reporters. "It's not mad at each other. We're a pretty tight team. It's not like me and Sid or whoever [are mad at each other]. It's just the game. We don't like how we play."
Sidney Crosby also said Malkin was misunderstood. "He meant we are frustrated," Crosby told reporters Monday.
Either way, the Penguins (10-7-0) have never seemed happy - or even on the right page this season, not even after ripping off nine wins in a 10-game stretch from Oct. 15 to Nov. 6. No sense of accomplishment, or that the Penguins had righted the ship after a 0-3 start, emanated from their locker room.
That might be because even when the Penguins were winning, they seemed to be doing so on the back of goaltender Marc-Andre Fleury, with little offence and turnover-ridden defensive zone play. Only two of those wins were against quality competition: in overtime against Nashville and in Washington on a night in which they were badly outplayed for 50 minutes.
"It's not only goals. It's bad penalties, turnovers. It's not play right in systems," Malkin said Saturday. "It's not just on the goalie. Yeah, it's always better if you score. But we can score and play right and not make bad mistakes."
The wins piling up only seemed to mask the underlying issues, which have reared their head in the last four games.
Pittsburgh's offence is 27th in the NHL and their power play is ranked 27th. Coach Mike Johnston separated Crosby and Malkin onto different units on Saturday. Crosby is playing at a 43-point pace for the season and has been kept off the scoresheet in 12 of 17 contests. Newcomer Phil Kessel is compiling points at a rate which would make for his worst season in eight years.
The Penguins are also 24th in high-danger scoring chances allowed per-game, according to war-on-ice.com. Fleury's sterling .931 save percentage has bailed them out.
"I don't think we've put together a full game here for a while," Crosby told the Pittsburgh Tribune-Review on Saturday. "You're flirting with danger when you're doing that. You do that, and you end up losing two in a row pretty quick."
Nearly a quarter of the way into the season, the Penguins are already on the edge of the Eastern Conference wild card standings. General manager Jim Rutherford did not build this roster intending to flirt with the playoffs.
All indications are Rutherford does not want to fire Johnston. The Penguins have already depleted most of their organizational depth to try and win now; they don't have any first-round picks to trade for help. And Malkin's initial comments may be hinting at a deeper, underlying problem in the locker room that bears watching.
"If we have more confidence, we'll start to play better," Malkin said. "But right now, we're mad at each. We not believe any more. We're not happy. But it's beginning of the season - a good time to stop and move forward."
Will any contract be more of a bargain over the next seven seasons than the deal for John Klingberg in Dallas? Klingberg, 23, is locked up for six more years at just $4.25 million AAV. It is one of two "undervalue" contracts other agents are talking about. Nick Bjugstad's six-year, $4.1 million AAV pact in Florida is the other. It's hard to blame any player for signing for that kind of security, but Klingberg is making Jim Nill look like a genius: he has been sensational with 20 points in 18 games. Klingberg finished with 40 points in 65 games last year in the final year of his entry-level deal. Bjugstad netted 43 points last year in the final of his rookie contract. One other player from that 2010 draft class also has a pretty "team friendly" deal: Montreal's Brendan Gallagher is signed through 2020-21 at $3.75 million AAV.
What makes Klingberg so special to watch? Coach Lindy Ruff is hugely beneficial to Klingberg's development. He allows Klingberg's creativity to flow. Mistakes will happen, but Ruff is willing to accept them along with the spin-a-rama blind backhand passes that often turn into goals. It's why Klingberg moved around so often - from Sweden to Finland and back - before coming to the NHL, trying to find the optimal setting and coach for his style. It works in Dallas. Watch the game-tying goal setup by Flyers defenceman Shayne Gostisbehere on a ridiculous move (off his backhand) on Saturday night. The important part is what coach Dave Hakstol told Gostisbehere before sending him out to start 3-on-3 OT: "The coaches told me it's time to do what I do," Gostisbehere said. "That's my comfort zone. Just try and make plays." Every coach has a different level of risk tolerance, but dynamic players like Klingberg and Gostisbehere are best when given carte blanche.
Detroit's Justin Abdelkader is only the second forward to sign a seven-plus year deal for under $5 million AAV since the 2012-13 lockout, according to GeneralFanager.com. The other is Marian Gaborik (seven years at $4.875 million). Deals of that term usually only go to team "drivers" or defencemen. Abdelkader's career-high in points prior to last year's total of 44 was 28 in 2013-14. Yes, the Red Wings looked like a different team when Abdelkader returned from injury for the playoffs last spring, but Abdelkader turns 29 in February. That deal might not look so pretty when he's 36.
Matt Duchene's name in trade rumours stole much of the buzz in Colorado last week, but keep an eye on Semyon Varlamov. The Avalanche are believed to be fielding offers on him. Reto Berra is expected to make his fifth straight start on Tuesday in Toronto. Berra, 28, leads the NHL in save percentage (.953) and goals-against average (1.50) with a minimum of seven starts. He also has a tremendous nickname: "Berra-cade." Colorado is high on Calvin Pickard, 23, who had a .932 save percentage in 16 NHL games last year. Varlamov, 27, has three years remaining at $5.9 million AAV. Varlamov has struggled this season, but he's also been hampered by a groin injury. He is on injured reserve until at least Tuesday, which also gives Colorado roster flexibility while Gabriel Landeskog is suspended.
Are this year's Flames in the same boat as last year's Wild? They need a Devan Dubnyk. Calgary has a league-worst .884 save percentage. They've given up at least 10 more goals than any team in the NHL not named Blue Jackets. Columbus is now 6-5-0 under John Tortorella after their 0-7-0 start. That probably has more to do with Sergei Bobrovsky's recently reappeared confidence than anything else. Bobrovsky has accounted for all six wins with a 6-3-0 mark and .923 save percentage since his horrific start. Just spitballing, but Varlamov makes perfect sense in Calgary when healthy - maybe even in a dollar-for-dollar deal since the Avalanche are hankering for a top-four defencemen.
The back injury to June's projected No. 1 pick Auston Matthews is beginning to raise eyebrows. Matthews, 18, hasn't played since Oct. 25, sitting out three consecutive games wrapped around an 11-day break in the schedule. His agent, Pat Brisson, labeled Matthews on Sunday as "day-to-day," but this injury seems to be a little more serious than that. Matthews has seen a specialist in Europe already. So far, Brisson said they are not considering having Matthews return stateside to be medically evaluated. "He is in good hands," Brisson said via email. "We are being careful." That's understandable. Swiss games are important for his draft stock, of course, but the biggest upcoming test for Matthews are the world junior championships in Helsinki next month. When healthy, Matthews has been as good as advertised, with 16 points in 14 games against grown men.
Speaking of Switzerland: SC Bern and coach Guy Boucher strangely released a statement last week saying Boucher will not be back next season. There are still more than four months left in this season. Boucher cited family reasons for not returning to Bern next year. Boucher, the former Lightning coach who nearly became the next coach of the Maple Leafs last summer, does not have an "out-clause" in his contract with Bern to come to the NHL this season. It's worth wondering, though, whether Bern would be amicable now to letting Boucher leave if an opportunity presented itself, considering he won't be returning anyway.
Concussion Counter: Carolina's Ryan Murphy is the 16th NHL player to sustain a concussion this season. Two players - Ottawa's Clarke MacArthur (Oct. 14) and Anaheim's Simon Despres (Oct. 16) - have both been out for a month. Best wishes to North Bay Battalion forward Zach Bratina, 19, who was forced to retire from hockey last week due to concussions. Bratina was on the radar of a few NHL teams this fall after being named CHL player of the week and to the OHL's Canada-Russia series roster. It can't be easy to be forced to walk away at such a young age.
Flames goaltending prospect Jon Gillies is dealing with a lingering hip issue that may require surgery. Canucks prospect Thatcher Demko underwent surgery for a similar hip ailment last season and he's rebounded at Boston College for seven shutouts in 10 games this year. Calgary acquired goalie Kevin Poulin from Tampa Bay as minor-league insurance in exchange for "future considerations." It got me thinking about the best players traded for "future considerations." It's tough to top Larry Murphy from Toronto to Detroit in 1997. The Hall of Famer went on to win two more Stanley Cups and play four more seasons. Kris Draper went from Winnipeg to Detroit in 1993, too. The future consideration in the Draper deal was actually $1. The Kings also traded Kimmo Timonen to Nashville for futures on the day of the 1998 Expansion Draft to ensure the Preds would not select vulnerable Garry Galley. Who had a better career: Galley or Timonen?
There appeared to be considerable interest in forward Chris Wagner, who was claimed off waivers by Colorado from Anaheim on Sunday. Wagner, 24, doesn't have a point in 20 NHL games, but he was praised by head coach Bruce Boudreau for being one of Anaheim's best forwards in training camp. The Ducks are probably kicking themselves for the waiver claim. If they sent him back to the AHL prior to playing Friday night's game, he would not have required waivers.
Frank Seravalli can be reached at frank.seravalli@bellmedia.ca.