#MondayMustRead: Leafs trades set rental prices
With the salary cap expected to remain relatively flat, the value of high draft picks and prospects - who can contribute to the lineup on inexpensive entry-level contracts - is higher than ever, TSN Senior Hockey Reporter Frank Seravalli writes.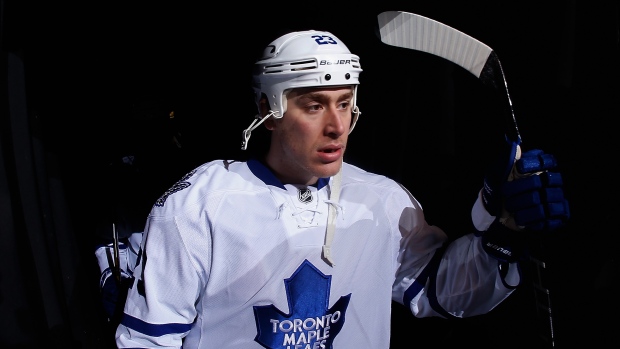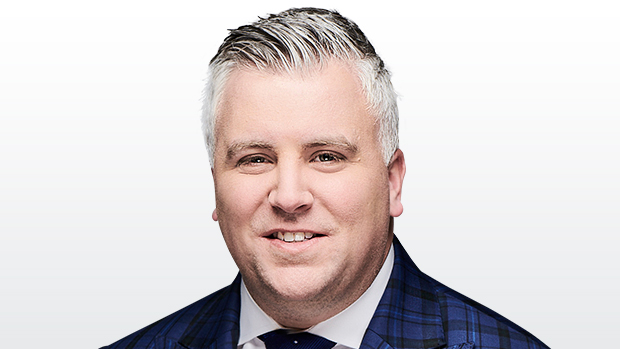 That sound you heard earlier Monday morning was Jim Benning, Brad Treliving and Peter Chiarelli jumping around in their offices when they heard the return Lou Lamoriello received for Roman Polak and Nick Spaling on Monday.
The Maple Leafs raked in two second-round picks and agreed to pay the salary of forward Raffi Torres in exchange for Polak and Spaling, two pending unrestricted free agents.
The Canucks, Flames and Oilers all have rentals potentially on the move.
With two trades in the last 24 hours, the Maple Leafs helped set the market for rental players in the final week leading up to the trade deadline. And after Sunday's relatively meager yield for forward Shawn Matthias, Lamoriello's latest deal only aids his Canadian counterparts (and the Leafs) for trades to come.
The return for Polak and Spaling dispelled the notion in hockey circles that next Monday would finally be the deadline where GMs will be saved from themselves, with rentals fetching significantly smaller returns than we've seen in years past.
With the salary cap expected to remain relatively flat, the value of high draft picks and prospects - who can contribute to the lineup on inexpensive entry-level contracts - is higher than ever.
"That's the most important currency there is because of the new economic realities," a Western Conference executive told TSN Hockey Insider Pierre LeBrun recently.
This year's market correction, then, was likely to be the value of each rental player dropping by a round or two in draft pick value. That may still happen, but Monday set that aside for now.
Each deadline, there are more cautionary tales against rentals.
Last year, Washington gave up a second and third-round pick for 28 games from 32-year-old pending UFA forward Curtis Glencross. He couldn't catch on with an NHL team this season after joining the Avalanche and Maple Leafs on tryouts in training camp.
Shawn Matthias, 28, brought back a fourth-rounder and low-grade prospect Colin Smith on Sunday. (The Avalanche are at the 50-contract limit and had to send one player to Toronto to make the deal work.) Matthias is one year removed from scoring 17 even-strength goals while averaging just 13 minutes of ice time per night. He had six goals and 11 assists in 51 games for the Leafs this season.
With slightly better numbers on a better team, Matthias might have yielded a second-round pick. Chris Stewart went from Buffalo to Minnesota for that exact price last year - at nearly the same age, with similar statistics.
The trouble in gauging the market is that most GMs are not focused on a pick that may or may not pan out four years from now - the lack of picks will be somebody else's problem if they don't produce wins in the short term. San Jose GM Doug Wilson surely fell in that category. The heat was on Wilson to ensure they make the playoffs. Polak and Spaling will help.
At least two or three players will deliver a first-round pick in the next week. Braydon Coburn (Tampa Bay), Andrej Sekera (Los Angeles) and Antoine Vermette (Chicago) did last year. The biggest correction, though, should have been in the second round.
What does that market look like this week? Here are draft pick valuations of a few potentially available rentals from two scouting sources on Sunday:
First Round
LW Mikkel Boedker, Arizona
RW Loui Eriksson, Boston
LW Andrew Ladd, Winnipeg

Second Round
D Dan Hamhuis, Vancouver
RW Jiri Hudler, Calgary
D Roman Polak, Toronto [TRADED]
RW Teddy Purcell, Edmonton
D Kris Russell, Calgary
C Eric Staal, Carolina
LW Kris Versteeg, Carolina

Third Round
D Evgeny Medvedev, Philadelphia
RW P-A Parenteau, Toronto
D Justin Schultz, Edmonton
RW Radim Vrbata, Vancouver
RW Dale Weise, Montreal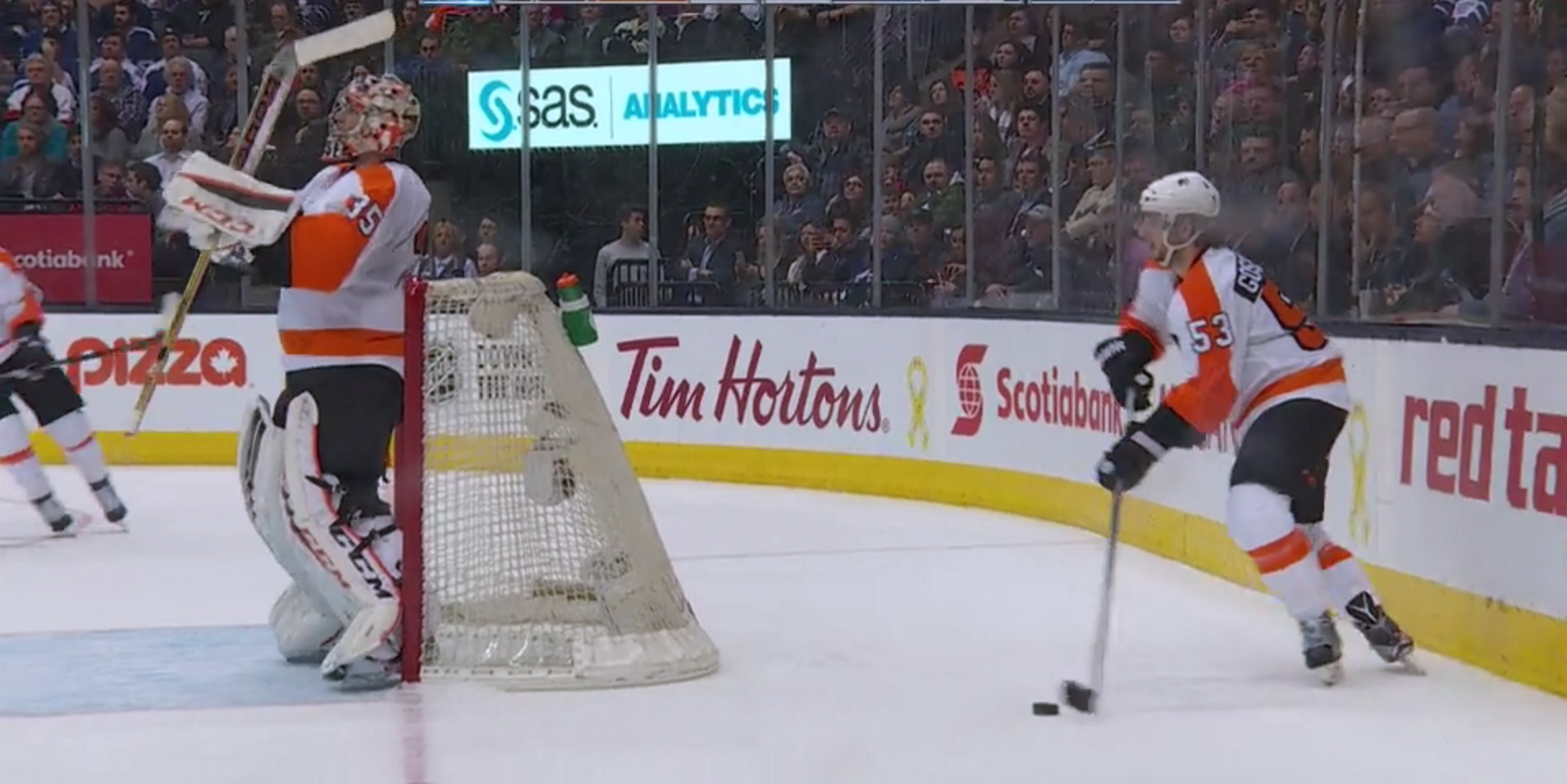 With so much focus on his shot and vision, Shayne Gostisbehere's footwork is what has propelled him into the Calder conversation. See his feet in the above photo? Gostisbehere, 22, has a unique pivot move in his arsenal that aids in deception and provides limitless direction on the ice. He chuckled when asked about it on Sunday. Flyers fans are calling it "The Mohawk" because his skates are perfectly in line with each other as he pivots. Gostisbehere says he picked it up from current Florida Panthers skills coach Paul Vincent when he began working with Vincent as a 14-year-old during summer camps in Massachusetts.
Vincent, who helped the Blackhawks to the Stanley Cup in 2010, calls it a "stare step." You can't help but stare at it. Others have referred to it as the "10 and 2," with players' skates positioned like hands on a clock. Either way, it is Vincent's brainchild. Working with the Lightning in 2000, Vincent visited the Tampa Bay Buccaneers practice one day with current Minnesota Wild interim coach John Torchetti. He noticed that NFL defensive backs hardly ever cross their feet in drop-backs defending players. Similarly, basketball players shuffle their feet on defence. He tried to translate that to the ice.
"I've spent 14 years tweaking it, but Shayne really worked on it and incorporated it into his game. He's a gifted skater," Vincent said. "The point of it is to never let yourself get trapped. You can go in any direction moving like that."
That brief stutter-step also puts the fear of God in defencemen on the rush. Using a strong skating base - his sister, Felicia, was a world class figure skater - Gostisbehere said the goal is to keep his hips completely open. He can do it on the fly, flipping back and forth as he moves up the ice.
Vincent said a lot of other players are beginning to copy the move. Duncan Keith is doing it more and more. Alex Petrovic is good at it; Aaron Ekblad occasionally does it. Jeff Skinner and Vladimir Tarasenko regularly use it off the rush.
Brian Leetch is the only NHL defenceman with a longer point streak than Gostisbehere's current 15-game run since 1987-88. Leetch reeled off a 17-game streak in 1991-92. Only three rookies have ever put together a longer point streak (Paul Stastny [20], Teemu Selanne [17] and Peter Stastny [16]) - and they were all forwards.
Vincent has a theory on why Torchetti has changed the Wild in short order. "He lets his players play," Vincent said. "Way too many coaches today try to stifle players. John isn't so rigid with his system." Torchetti is a longtime protégé of Vincent. Taking over for Mike Yeo, Torchetti hinted Sunday his biggest task was not Xs and Os related. He had to build up confidence again in players like Thomas Vanek and Jason Pominville - not reinvent the wheel. "Just work with them a little bit on the side, one-on-one, just trying to create that feeling that we're going to count on you," Torchetti told reporters Sunday. "Those are the guys building that confidence moving forward that should be really quick fixes actually because they've done it before. It's not like I'm a taking the guy that's only averaged maybe five goals a year." Nine days ago, Yeo was fired after the Wild lost for the 13th time in 14 games. They've won four in a row now, no bigger tire inflator than a 6-1 shellacking of Chicago on Sunday in front of 50,426 outdoors in the Home of Hockey. Go figure.
As of Monday morning, the NHL said a hearing date has not yet been set for Dennis Wideman to appeal his 20-game suspension to neutral arbitrator James C. Oldham. One is not expected to take place before Wednesday. Wideman, 32, will have missed his 11th game by then. You can practically see the steam shooting from Brian Burke's ears all the way from Calgary.

The Maple Leafs could become just the fifth team to enter a draft with 12 or more picks since the NHL cut back to seven rounds in 2005, according to GeneralFanager.com. Remember: Toronto owes Detroit and New Jersey each a third-round pick as compensation for Mike Babcock and Lou Lamoriello, so the Maple Leafs could well opt to pay that debt in June, thus reducing that number. (In fact, the Maple Leafs can send New Jersey back their original third-round pick, which Toronto acquired from Pittsburgh in the Phil Kessel deal.) It's easy to see the impact that number of picks had on those franchises. Seven of Florida's 13 picks in 2010 are in the NHL this season: Erik Gudbranson, Nick Bjugstad, Quinton Howden, Alex Petrovic, Connor Brickley, Joonas Donskoi (San Jose), and John McFarland. Ditto the Islanders from 2008: Josh Bailey, Travis Hamonic, Matt Martin, Jared Spurgeon (Minnesota), Aaron Ness (Washington), Matt Donovan (Buffalo), and Kevin Poulin (Tampa Bay). The Islanders (13 picks in 2006) and Blackhawks (12 picks in 2005) mostly whiffed in other big drafts, but the theory holds true that more picks are just more cracks at an inexact science - with the hopes of finding a Niklas Hjalmarsson (fourth round) or Andrew MacDonald (sixth round).
Unless Rolf Nilsen no longer owns the team, the odds are stacked against an OHL team playing in Flint next season. Here's why: Flint will likely hold six of the first 45 selections in April's OHL Priority Selection, including two in the top five. And, as one agent asked Sunday: "What person in their right mind would send their son or client there?" The Firebirds are on track for the third-overall pick based on the current standings. They will get a compensatory pick inside the top five since last year's third-overall pick, Ryan McLeod, refused to report. Then they have their own second-round pick. McLeod was traded for another one (Sudbury), plus another compensatory pick and their own third-rounder. There is the potential for the Firebirds to trade those picks for future picks, but Flint will have a tough time fielding a team based on the exodus that's about to happen after the season. OHL commissioner David Branch conceded on Thursday that getting players to report to Flint will be tough. "That's going to be one of the real challenges," Branch said. "That's one of the questions. I don't have an answer yet." He'll have to find one quickly, with the Priority Selection taking place in less than 50 days on April 9.
Where would the Bruins be without Brad Marchand? Marchand is having the best season no one is talking about, hitting the 30-goal plateau for the first time in his career on Saturday - and doing it in just 54 games. Marchand, 27, has 15 goals in his last 16 games to slide into a tie for fourth in the league in goals. Plus, Marchand's on-ice antics are still as legendary as ever:
ICYMI: Captain Serious joined Twitter on Sunday and Jonathan Toews quickly lived up to his nickname, chirping teammate Andrew Shaw for tweeting on a game day.
Toews collected more than 75,000 followers in his first 15 hours on the social network, leaving other teammates jealous.
Enjoy the run up to the deadline, everyone.
Frank Seravalli can be reached at frank.seravalli@bellmedia.ca