#MondayMustRead: Rare contract cap credit raises Cowen's value
The final year of Senators defenceman Jared Cowen's contract can be bought out in June at a net result of a rare salary-cap credit, making him attractive to teams facing potential overage penalties.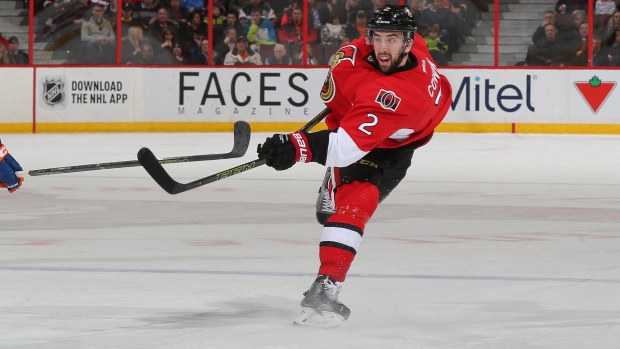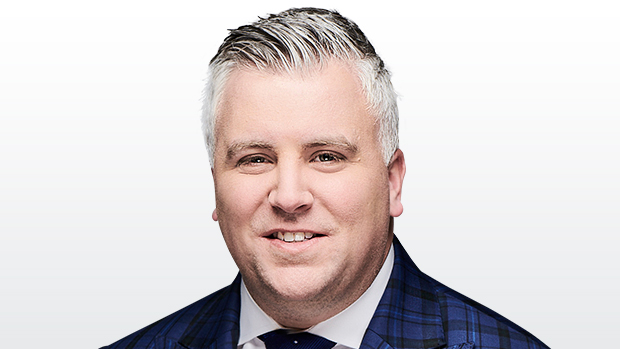 The Ottawa Senators have been peddling defenceman Jared Cowen for the better part of a calendar year, but Cowen's stock will be on the rise before the Feb. 29 trade deadline no matter how he plays on the ice.
That's because Cowen's contract will be a particularly valuable asset for a specific set of teams this offseason.
If Cowen is bought out of the final year of his deal in June, the net result will be a rare $650,000 salary-cap credit for next season, which could help a team cover potential overage penalties paid out from this season.
An overage penalty is applied to next season's salary cap when a team paid performance bonuses in contracts but did not have room under this season's cap.
Nine teams carried an overage into this season, ranging from $90,000 to $969,000. It means that a team like Chicago, for instance, started this year $750,000 in the hole on the $71.4 million cap because of an overage penalty.
According to GeneralFanager.com, there are 10 teams this season that are on track to start next year with an overage, and that's if only 50 per cent of their performances bonuses are realized.
To use the Blackhawks as an example, rookie Artemi Panarin could well hit all of his $2.6 million performance bonuses, leaving the cap-strapped Blackhawks with a hefty carryover for next year. Teuvo Teravainen could also hit for $850,000.
Detroit, Pittsburgh, Washington, Vancouver, Calgary, Edmonton, Florida, Tampa Bay and the New York Rangers are teams with similar potential issues.
For those teams, acquiring Cowen and then buying him out would get them closer to starting next season on level ground. The difference would mean a roster spot on most clubs.
Cowen is the only player on the market who would serve a dual purpose for a firm playoff team. He could serve as an important insurance policy on the blueline for a postseason run.
Cowen, who turns 25 today, has averaged 17 minutes per game in his last three contests, filling in for the injured Marc Methot. They are his first games since late December.
The Senators don't intend to give Cowen away, as Senators' GM Bryan Murray still views him as a capable NHL defender when used properly. A buyout is seemingly only an attractive option for an acquiring team, since there is no cap benefit for a budget team like the Senators who aren't near the limit and have no chance of an overage.
Cowen is in this unique situation because of his age and contract structure. Since he is under 26, his buyout would cost one-third of his salary remaining instead of two-thirds like most other players. He is also due $4.5 million in 2016-17, higher than his $3.1 million salary cap hit, which creates the credit.
According to GeneralFanager.com's archives, Cowen's buyout would represent just the fourth salary-cap credit since the cap was instituted in 2005 - and by far the most valuable. The buyouts of Nathan Gerbe, Alexei Yashin and Cody Hodgson all resulted in salary-cap credits for a year, but their credits never really made news because the rest of the years of the buyout were so punitive.
In Cowen's case, a team would spend $750,000 in real dollars for each of the next two seasons, in exchange for a $650,000 credit in 2016-17 and a $750,000 hit in 2017-18. Considering we already know the salary cap won't rise much (if at all) for next season, we've seen teams spend a lot more money in retained transactions in exchange for less salary cap flexibility than Cowen would provide.
The prospect of no Canadian teams in the Stanley Cup playoffs for the first time since 1970 means the April 16 draft lottery might be the most-watched event for hockey fans north of the border this season. But don't get your hopes up. Most of the Canadian teams are stuck in no-man's land: not good enough for the playoffs but not bad enough for high lottery picks. According to HockeyViz.com's Micah Blake McCurdy, five of the seven Canadian teams have a better than 50 per cent shot to both miss the playoffs and not select in the top five of the 2016 draft. He calls it a "sadness" chart. McCurdy's model, considered an accurate predictor in hockey circles, simulates the rest of the season based on past performance and advanced statistics and also accounts for the new draft lottery odds. The number is low for a team like Edmonton, who has strong odds to again win a lottery for one of the first three picks. The percentage increased for Ottawa on Sunday, since a win brought them a bit closer to the playoffs, but also further from the lottery.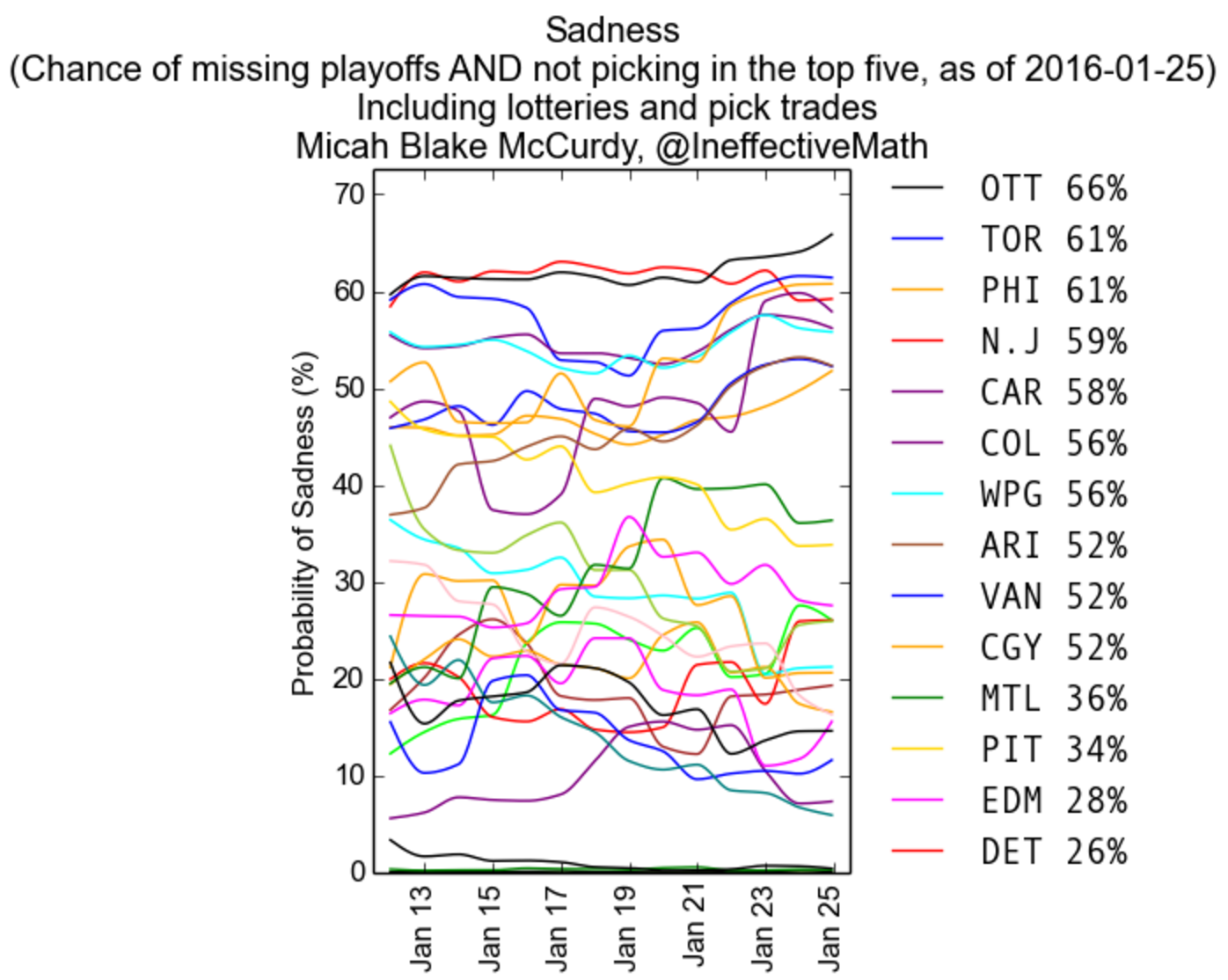 The Kings are praying Sunday's top-shelf overtime winner will jumpstart Marian Gaborik. It was his first goal in 2016, snapping his third skid of at least seven games without a point this season. Prior to Sunday, newcomer Vinny Lecavalier played more minutes than Gaborik in five out of the last six games. Head coach Darryl Sutter warned he would be taking ice time away. "I'm trying to help him through it," Sutter told the Los Angeles Times last week. "We need him to get hot." Gaborik, 33, has nine goals and nine assists for 18 points in 48 games. His goal and point production this season is half his career average. Lecavalier, by the way, scored his fourth goal in nine games as a King - with 12.8 seconds left to push the game to overtime. It was the ninth game-tying goal in the final 25 seconds of regulation this season.
Little word has leaked out from last week's NHL executive committee meeting in New York, but deputy commissioner Bill Daly said via email Monday that "work remains ongoing" in the expansion process. Daly refuted a report in Sunday's Seattle Times that the 10-member executive committee "recently shelved expansion decisions until March, maybe April," citing concerns about the Canadian dollar. The NHL has reiterated over and over again that Seattle - which still has done nothing to bring their arena situation into focus - is not part of this expansion process, despite claims the league is stalling to wait and see what develops there.
The latest escrow withholding from NHL player paycheques was set at 18 per cent for the quarter, better than the 22 per cent some agents had feared. That money is taken off the top of player salaries and held until the fall to ensure a proper 50-50 revenue split with owners, with no guarantee players will be reimbursed. For Shea Weber, this season's highest-paid player at $14 million, the difference between 18 per cent and 22 per cent escrow is an extra $140,000 in his pocket this quarter. It's about $5,700 for players near the league minimum salary.
Jaromir Jagr is $1.5 million richer after playing his 45th game of the season on Saturday, triggering a games-played bonus in his contract. That brings his guaranteed salary for 2015-16 to a total of $5 million and his career earnings north of $130 million. He can earn an additional $200,000 this season for hitting set point plateaus and $205,000 if the Panthers win two playoff rounds - the latter of which seems infinitely more possible now than it did when he signed the deal last April. Florida romped on both of last year's Stanley Cup finalists by a combined score of 9-2 on back-to-back nights over the weekend. Contract talks have not begun yet between Jagr and the Panthers on an extension. Jagr, who turns 44 in three weeks, told reporters Saturday that he plans to attend this week's All-Star festivities in Nashville. Whether he plays in the actual All-Star Game remains to be seen, amid speculation that Jagr preferred to bow out.
Congratulations to Boston College coach Jerry York, who became the third man in North American hockey history - at any level - to reach 1,000 wins on Friday night. Hall of Famers Scotty Bowman (1,244 NHL wins) and Brian Kilrea (1,193 OHL wins) are the only other coaches to surpass 1,000 victories. Stop and think about that for one second. It's a remarkable number, considering York's teams have never played more than 47 games in any season. Minnesota's Don Lucia has the best shot among active NCAA coaches to hit 1,000 wins - and he'd have to coach 13 more seasons at his current win pace to get there. Chicago's Joel Quenneville is 213 wins away at the NHL level. York, 70, deserved more recognition for his accomplishment than he received - but that's his style. "I have always been a front-windshield type guy, always looked at what's next," York told the Boston Globe. "I don't reflect back a lot. Otherwise, I would crash the car pretty quick."
By the way, York named his all-time roster's starting lineup from his three career coaching stops: forwards Johnny Gaudreau (BC), Brian Gionta (BC), Dave Taylor (Clarkson), defencemen Rob Blake (Bowling Green) and Brooks Orpik (BC), and goaltender Cory Schneider (BC). Pretty, pretty, pretty good.
Frank Seravalli can be reached at frank.seravalli@bellmedia.ca.