Montreal Alouettes Season Preview
Get ready for the CFL season with TSN.ca's Team Previews. Check out roster breakdowns and season outlooks from CFL on TSN analysts. We'll roll out a new team each week day. Today, the Montreal Alouettes.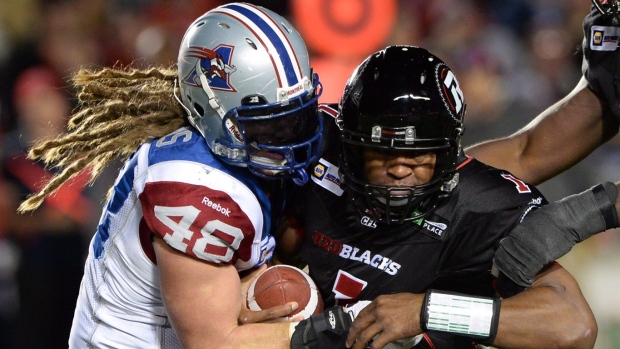 Als hope they're as good on the field as on paper
Head Coach: Tom Higgins
GM: Jim Popp
| Record | Offence | Defence |
| --- | --- | --- |
| 9-9 | 294.5 (8th) | 324.1 (4th) |
If the Alouettes are as exciting on the field as they are on paper, it could be a really fun year in Montreal.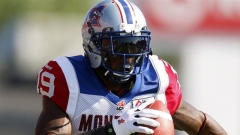 The list of notable names vying for playing time on the Als roster include holdovers Josh Bourke, John Bowman, Chip Cox, and Bear Woods, and newcomers Brandon Bridge, Nik Lewis, Khalif Mitchell, and Fred Stamps.
Of course the team is currently also without household names Michael Sam and Chad (Ochocinco) Johnson, who have both spent time with the Als but are currently at home with standing invitations to rejoin the team in training camp. Basically there's no shortage of story lines in Montreal this season.
But the one position absent a notable name is quarterback; the position Als fans enjoyed the most notable name for more than 15 years not so long ago in Anthony Calvillo.
While all the other big names will surely help, Montreal's success this year is pinned more on Jonathan Crompton than anyone else. After taking over halfway through last year, Crompton showed promise in leading the Als out of the East Division basement and into the playoffs.
Crompton likely hasn't made anyone forget Calvillo, but he's shown enough to have the team confident they can compete in the East.
Duane Forde's Canadian Content
With three of the first thirteen picks in the 2015 Draft, the Alouettes landed arguably the two best stand up defensive players available in DB Chris Ackie and LB Nick Shortill, as well as big offensive tackle Jacob Ruby.
The best part is that the Als possess so much Canadian depth that they don't need any of them to play immediately. In fact, Ruby was selected with a pick Montreal acquired in exchange for starting guard Ryan Bomben, who became expendable with the off-season arrival of 2011 draftee Philip Blake. Blake and Ruby join an all-Canadian offensive line that is anchored by tackles Josh Bourke (seven-time East Division All-Star) and Jeff Perrett (2014 East Division Most Outstanding Offensive Lineman).
Their O-Line depth has meant that free safety/linebacker Marc-Olivier Brouillette has been Montreal's only National starter on defence, with Ackie and Shortill adding to an already deep Canadian talent pool behind him.
With Mike Klassen returning from injury and 2013 draftee Jesse Joseph joining the club after exhausting his NFL options, the Alouettes may have the flexibility to start a National on D-Line, or the seventh homegrown starter could remain a receiver, with Sam Giguere inked as a free agent. Grade: A
Matt Dunigan's Quarterback Analysis
Have the Alouettes finally found Anthony Calvillo's replacement in Jonathan Crompton?
In short, I like Jonathan Crompton (Tennessee) and his gunslinger mentality. He became an Alouette in Week 2 of last year and found himself smack in the middle of a real messy coaching and QB situation. Crompton did what all QBss should do, he seized his opportunity by trusting his instincts, eyes and teammates.
From Week 6 on, Crompton didn't flinch in the spotlight. In fact, he actually played his best football when the heat was cranked up and the games were on the line. He provided a talented but failing team with a much needed shot of confidence and hope. It was a spectacular turnaround.
Now with a new offensive coordinator in Kurt Schonert and the offensive reigns in his hands, a new challenge presents itself: the pressures, expectations, and all the little things of being the guy from Day 1.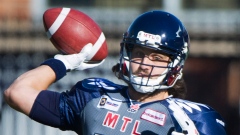 How do you handle that? Year after year, GM Jim Popp finds talented players; this year is no different! As he did last season, Crompton needs to trust those players assembled around him, execute the system (which will be in place, unlike last year), trust his eyes (go through his progressions), and rely on his instincts to take over when things break down.
Don't underestimate that his predecessor, Anthony Calvillo, is now on the coaching staff. Much talk was directed towards having Jeff Garcia in the fold last season, warranted or not (who knows?) I know that Schonert is the guy calling the shots this year and that says everything. Put AC (receiver coach) and Ryan Dinwiddie (running backs coach) in the mix and I like the environment Crompton will be learning in. Full analysis
Farhan Lalji's Draft Analysis
No matter what CFL GMs want fans to believe, there IS a bias against Canadian QBs. The excuses range from, "they're not good enough" to "if we draft them, there is too much pressure to play them." The one place where there is clearly no bias is Montreal. From Jesse Palmer to Kyle Quinlan and Kyle Graves, Jim Popp is the one GM in the CFL who will offer a legitimate opportunity and make an investment, if he believes the player can play.
The latest QB to get that chance is Brandon Bridge, taken in the fourth round, much higher than many thought he would be selected. With Michael Sam in the fold, Bridge has been able to slide into training camp as a secondary story. He has shown in practice that he has the size, speed and arm strength to excel in any league. But can he be accurate and consistent enough to play the most important position in team sports? We'll soon find out, but one way or another, this is the one place the decision will be based on his own merit.
As for the top of the draft, after trading away Ryan Bomben earlier in the day,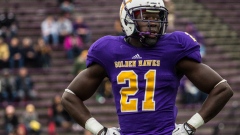 GM Jim Popp continued to add to his stable of linemen in the pipeline. Popp believed Jacob Ruby was the most pro-ready of the linemen available, and while he won't be needed to start, Ruby has shown the coaches that if he's needed to play right away at left tackle, he can.
The Als top pick in the draft, defensive back Chris Ackie from Wilfrid Laurier taken fourth overall, was clearly the most coveted non-lineman in the draft. And while many believe he has the tools to be a ratio-changer early in his career, he is behind because of an early contract holdout. A hamstring injury to Andrew Lue has forced Ackie to accelerate his learning curve at both the safety and corner spots.
| Round (Pick) | Player | Pos | College |
| --- | --- | --- | --- |
| 1 (4) | Chris Ackie | DB | Wilfrid Laurier |
| 1 (8) | Jacob Ruby | OL | Richmond |
| 2 (13) | Nick Shortill | LB | McMaster |
| 3 (24) | James Bodanis | OL | Michigan State |
| 4 (31) | Brandon Bridge | QB | South Alabama |
| 4 (36) | Alex Charette | WR | Guelph |
| 5 (40) | Mikhail Davidson | WR | Montreal |
| 6 (48) | Quinn Lawlor | DL | BYU |
| 7 (57) | Anthony Coady | DB | Montreal |
Paul LaPolice's Scouting Report
GM Jim Popp liked his football team from last year as he re-signed or extended 18 players this off-season.
Look for the offence to improve with Crompton getting reps in training camp as a starter and being behind the centre from Week 1. They need to establish more rhythm on offence and not rely so much on big plays.
There will be times when the defence can't win the game; all eyes will be on Crompton to see if he can win when the game is on his shoulders.
Read LaPolice's full analysis here
East: Redblacks, Argonauts, Alouettes, Tiger-Cats
West: Blue Bombers, Lions, Roughriders, Eskimos, Stampeders