Moore looking to secure fourth-line role in second stint with Leafs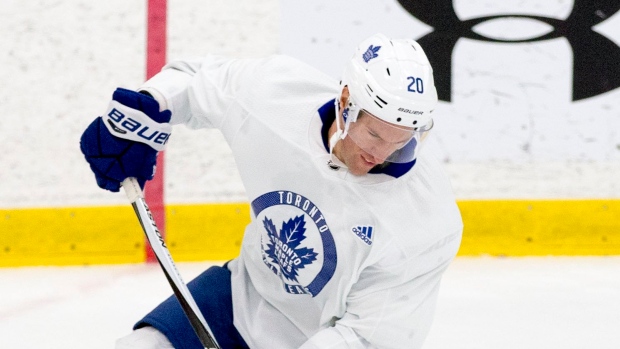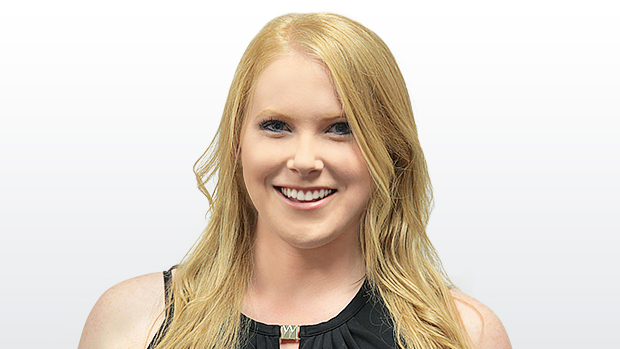 TORONTO – Hockey has a funny way of bringing all kinds of people together – even old rivals.
When Dominic Moore lines up for his first regular season game with the Maple Leafs this year on Saturday night, it will be across from the New York Rangers, the same team that drafted him back in 2000. To Moore's left will be Matt Martin, a former fourth-line stalwart for one of the Rangers' most hated foes, the New York Islanders.
"There were certainly a few [memorable] games back then," Moore reminisced with a laugh after the morning skate. "There was one at Nassau [Coliseum], it was a 6-5 game and they were up like [2-0] early and we ended up coming back and winning. Marty remembers that one too."
A lot has changed for both players since that tilt in February 2015, which featured two blown multi-goal leads by the Islanders to set up a Rangers victory. Martin would sign with the Leafs at the end of the following season, and that was Moore's penultimate year with New York in his second go-around with the team. He departed the organization in 2016 with 322 games to his credit, and totalling 31 goals and 51 assists. From there he spent a season with the Boston Bruins, appearing in all 82 games with 11 goals and 14 assists, before signing a one-year, $1 million contract with the Leafs as a free agent in July.
Whatever expectation he may have had about stepping into the fourth-line centre job unopposed in his second tour of duty in Toronto (he played 101 games for the Leafs from 2007-09) were quickly subverted by the emergence of rookie Miro Aaltonen in training camp and the resurgence of veteran Eric Fehr in preseason. Fehr ultimately won the opening night job in his home province of Manitoba. Now Moore will get an opportunity against his old team.
"I don't know if it's really worth talking about expectations," Moore said of sharing a job out of the gate. "I'm just preparing every day the best I can do to my job well, to play my game and focus on that."
More than anyone else on the Leafs, save for Martin, Moore is intimately familiar with the Rangers and how they burn opponents with their fast-paced transition game. New York dropped their season opener 4-2 to the Colorado Avalanche on Thursday, but their power play was solid at 2-for-6 and they outshot the Avs' 39-26.
Toronto's own special teams were on display early and often in Wednesday's 7-2 win over Winnipeg – the penalty kill was a perfect 8-for-8 while the power play was a solid 2-for-4. As Moore prepares to step in for Fehr, head coach Mike Babcock would prefer he doesn't hit Fehr's time on ice totals (15:13, 7:34 shorthanded).
"It's a good opportunity for [Moore]," Babcock said. "Fehr played real good the other night, his family was there, I think that's a real good thing. And he got to play a lot because we took so many penalties. I'm hoping Moore doesn't get to play so much…but he's a good pro and those guys are trying to work that out too."
When Babcock settles on which of Moore or Fehr will permanently hold the centre job remains to be seen, but in the meantime Moore is eager to get better acquainted with Martin and Connor Brown on his wings.
"[Brown]'s a very intelligent player," Moore said. "Haven't had a chance to play with him too much yet and there's always an adaptation when linemates get together. I look forward to continuing to do that because he communicates well too. [With Martin], I just have a lot of respect for him as a guy who can play a hard-nosed game and also make plays and has skill."
Brown himself is also new to this fourth-line role with the Leafs after he spent last season as a top-nine forward. An unflappable player on and off the ice, Brown isn't rattled by a little early inconsistency at centre for him and Martin.
"Fehr played great last game. I'm sure this was a predetermined thing to put Moorsy in tonight," he said. "But that's the really good thing about having two players like that who can play the same role. We're lucky to have that problem."
Leafs Ice Chips
- A victory by the Leafs on Saturday night would be their first over the Rangers at ACC since Nov. 8, 2014
- Calle Rosen will make his NHL debut Saturday on the blueline, skating on the Leafs' third pairing with Connor Carrick
- Auston Matthews scored against 24 of 29 opposing teams last season as a rookie, but the Rangers were one team he didn't light the lamp against. He had a great opportunity in overtime on Feb. 23 against Henrik Lundqvist, but the Swede halted his breakaway try.
- Moore came into the league the same year as Lundqvist, who is one of the few Rangers still remaining with the club from those early days. Even today, the pair remains close friends, and Moore isn't immune to being in awe of Lundqvist's continued longevity and success in the league (and internationally, too – he just backstopped Sweden to a world championship title last spring). "We stay in touch a fair amount," Moore said. "He's an incredibly competitive guy, the most competitive guy you'll meet. That just comes through in practice and the way he prepares and competes in practice. Those who know him and have seen it for years see it day in and day out and that's what makes him good."
- While New York handed the Avalanche too many odd man rushes in Thursday's loss and were victims of red-hot goaltending by Semyon Varlamov, they were strong in the faceoff circle, winning 64 per cent of draws. Tyler Bozak was the Leafs' best faceoff man in Winnipeg, winning 65 per cent of his draws, with Nazem Kadri (57.1 per cent) and Fehr (50 per cent) right behind him.
- At his morning press conference, Babcock touched briefly on the acquisition of goaltender Calvin Pickard on Friday in a trade with the Vegas Golden Knights. The Leafs swapped forward Tobias Lindberg and a sixth-round draft choice in 2018 for the 25-year-old netminder. "Once he cleared waivers [on Friday] it became a good move for us, Lou [Lamoriello] was able to get that done and we're in a better situation now because of it," Babcock said. "Our [other] guys in the minors, we've got to sort that out. We'd like them all to play in the American Hockey League and maybe if someone is looking for an American Hockey League goalie we can get that done as well."
- Saturday will mark Babcock's third season opener with the Maple Leafs since signing on as coach in 2015. Ahead of the opener, President and Alternate Governor Brendan Shanahan commissioned a new installation for the Leafs hallway that commemorates each of the Leafs' Stanley Cup winning teams behind the team's crest three words - Honour, Pride, Courage. "It's much different than it was three years ago when I arrived as far as the energy, but I think the passion for the team has always been the same," Babcock said. "We've done a real good job of trying to reconnect with our past, an Original Six team with great, great history, want to get back to our rightful place. We have to keep building the product on the ice so it matches the history."