Moore scores in OT to lift Devils over Habs
Defenceman John Moore scored in overtime to give the visiting New Jersey Devils a 3-2 come-from-behind victory over the league-leading Montreal Canadiens on Saturday.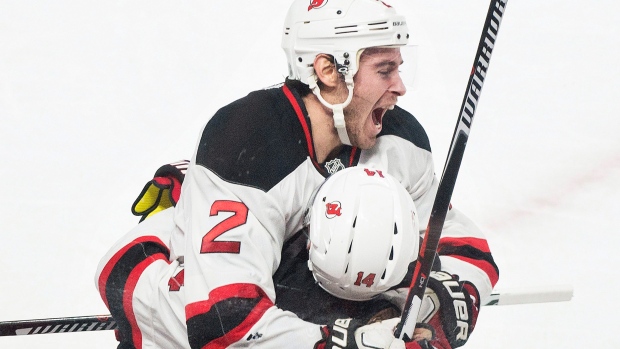 MONTREAL - One day after coming from behind to beat the Devils in a shootout, the league-leading Montreal Canadiens got to feel what it's like to give away points the exact same way.
In the second game of their home-and-series with New Jersey, Montreal blew a two-goal lead of its own and lost 3-2 in overtime at the Bell Centre.
On Friday, Montreal came back from a two-goal deficit to beat the Devils by the same scoreline.
"It's definitely disappointing," said Habs coach Michel Therrien. "When you're leading 2-0, you owe it to yourself to finish the job you started. And we weren't able to do that tonight.
"Details made all the difference on the two last goals tonight."
Leading 2-1 in the game's final minute, Montreal iced the puck while shooting for New Jersey's empty net. The Devils won the ensuing faceoff, and Kyle Palmieri fired home the game-tying goal past Mike Condon with 22 seconds on the clock.
"I tried to come out of the crease to take away the shot," said Condon, who got the start in place of the injured Carey Price. "I tried to track the shot but didn't do it very well. That's a save I have to make for my team. Put that one on me."
Condon stopped 28-of-31 shots in defeat.
In overtime, defenceman John Moore, who assisted on Palmieri's third-period goal, cashed in his own rebound at 2:31 to give New Jersey the victory.
"It was good," said former Hab Mike Cammalleri. "We stuck to a game plan that we thought was going to work. It took longer than you hope for but we got the two points we really needed."
The Habs (18-4-3) are now 4-0-1 in the second game of a back-to-back series this season.
Patrik Elias got the comeback started for New Jersey (12-9-2) when he deflected Adam Larsson's shot from the point between Condon's legs at 11:01 of the third to make it 2-1.
It's just the third game Montreal has lost this season when leading after two periods (11-1-2).
The Canadiens, however, looked like they would extend their four-game winning streak going into the final frame.
Alex Galchenyuk scored his first goal of the game in the second period and he added his second at 8:50 of the third, on the power play.
After a scoreless first period, Galchenyuk made it 1-0 at 9:06 of the second with his fourth goal in as many games. The second-line centreman deflected a Nathan Beaulieu shot past Corey Schneider, who never saw the puck.
Galchenyuk's four-game goal streak is the longest of his career.
"I've worked hard in practice and worked hard in games to get my offensive game going," he said. "I'm happy I'm able to chip in offensively."
Galchenyuk scored his second of the game in the third. Nine seconds into an interference penalty to Elias, the 21-year-old jumped on a loose puck in the crease after Schneider stopped Max Pacioretty's initial shot.
"At the end of the day, it doesn't matter," said Galchenyuk of his two-goal performance. "We lost the game. We could have won it, but it's a tough league. Things don't go your way sometimes."
In his first career game at the Bell Centre, Schneider made 30 saves.
Christian Thomas, recalled from the AHL's St. John's IceCaps on Thursday, made his season debut.
Notes: Carey Price, Brendan Gallagher, Alexander Semin and Torrey Mitchell were not in the Montreal lineup due to injuries. … Alexei Emelin was a healthy scratch. Greg Pateryn started in his place. … Bud Holloway was sent down to the minors prior to puck drop. … Pacioretty has at least a point in seven consecutive games at the Bell Centre.