Murray a forgotten Calder Trophy candidate
Pittsburgh Penguins goalie rarely gets mentioned in a rookie race being dominated by Patrik Laine and Auston Matthews.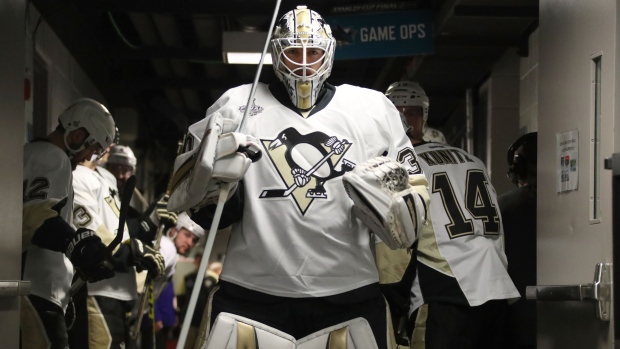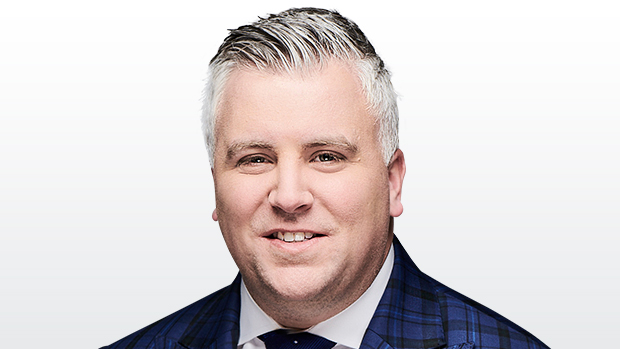 PHILADELPHIA — Maybe it's because he already has a Stanley Cup ring.
Maybe it's because he backstops the Pittsburgh Penguins, led by Sidney Crosby and Evgeni Malkin, who are duelling for the Art Ross and Rocket Richard trophies.
Or maybe it's simply because Patrik Laine and Auston Matthews have gotten enough ink to drown him out.
No matter the reason, with the debate almost exclusively centred on Matthews or Laine, Penguins goaltender Matt Murray has become the forgotten Calder Trophy candidate in a crowded Rookie of the Year class.
He deserves to be in that mix," Crosby said Wednesday. "He's been really good for us. He's just going up against some stiff competition with the way those guys are playing."
If anything, Matthews' current six-game point drought – during the most crucial stretch of the season – may only help to highlight Murray's candidacy.
Murray has picked up where he left off last spring, when he emerged from the minors in March after injuries to Marc-Andre Fleury and Jeff Zatkoff to calmly carry Pittsburgh to a fourth Stanley Cup.
Murray remains eligible for the Calder because he did not play in more than 25 regular- season games in any single previous season.
Despite meeting the criteria, Murray's playoff experience seems to cloud his rookie regular-season success. Last year, Chicago's Artemi Panarin captured the Calder as a 26-year-old and his previous eight professional seasons weren't held against him in voting by the Professional Hockey Writers Association.
"Under the rules, he's considered a rookie, so I don't think that should have any sway on people who do have votes," said Flyers' goaltender Steve Mason, who was the last netminder to win the Calder in 2009. "In my opinion, he should be mentioned among the other guys. He's having a solid year that, in any other year, he'd be getting more attention."
Murray, 22, is sixth in the NHL save percentage (.925) among goaltenders who have made at least 30 starts this season. Carey Price is seventh at .922. Mason won the Calder in 2008-09 with a .916 mark.
No team has a better points percentage with one goaltender in net than the Penguins do with Murray (.724). His 26-8-3 record is better than Sergei Bobrovsky (.722), Craig Anderson (.717), Devan Dubnyk (.708) and Braden Holtby (.708).
Murray has also been almost equally as good at home (.926) as he has been on the road (.924), which says something, considering the Penguins have been a rather mediocre road team this season.
"I think Matt has quietly had a stellar year for us," Penguins coach Mike Sullivan said Monday. "Game-in and game-out, he gives this team a chance to win.
"For the position that he plays, I think he's as good as it gets as a young goaltender. From that regard, if you're asking me if he should be in the conversation, I don't see why not."
Why hasn't he been? Only three goalies (Mason, Andrew Raycroft and Evgeni Nabokov) have won the Calder since Martin Brodeur in 1994. Sharing time in the Pittsburgh crease with Marc-André Fleury – he's made 38 starts to Fleury's 30 so far this season – could be another factor.
"It's less glamorous," Mason said. "People love goals."
And Laine is two goals off Crosby and Brad Marchand (35) for the league lead as an 18-year-old. Matthews, no slouch with 31 goals and 55 points, has also been remarkably consistent as the only player in the NHL to have at least one shot in all of his team's games this year.
Columbus' Zach Werenski is also chewing up 21 minutes per night on the Blue Jackets' blueline while ripping off 43 points in 68 games. Florida's Aaron Ekblad won the Calder two seasons ago with 39 points over a full 81 games. There is no shortage of worthy rookies this year.
"I just feel like goaltenders don't always get a fair shake because it's all about scoring and goals," Crosby said. "It's always flashier. That's probably been the case for a long time."
Penguins' defenceman Ian Cole said Murray's demeanour in net has partly contributed to his lack of award visibility. Murray doesn't have a giant personality. He wasn't available to comment on this story because he does not speak to media on game days.
"He just seems to quietly go about his business and win games for us," Cole said. "He's not making these flashy saves. He's not doing the double-pad stack with the glove waving everywhere. His numbers have been great, but he's just so calm, so solid in there. He's been fantastic for us.
"He certainly meets the [Calder] criteria and I think he's been good enough to win it."
Alas, Murray will almost definitely not win the Calder. Not with this crop of rookies.
But what he has done, following up his Stanley Cup win, is not lost on the Penguins or someone like Mason. It took Mason five seasons to match the expectations set during his rookie year - and that hardware wasn't as heavy as the Cup.
"It's not easy," Mason said. "He's really carried over from his playoff run. He's having a great year. He should be in the conversation.