Murray 'fully committing' to being an NFL QB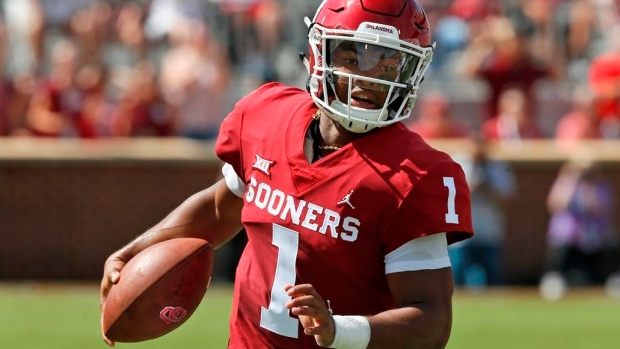 Heisman Trophy winner Kyler Murray has committed his future to football.
The former Oklahoma Sooners quarterback and 2018 first-round pick of the Oakland Athletics released a statement on Twitter declaring his intent to play in the NFL.
"Moving forward, I am firmly and fully committing my life and time to becoming an NFL quarterback," Murray wrote.
The ninth overall pick by the A's last summer, Murray has already signed a deal with the team for a guaranteed $4.8 million and was expected to attend the team's spring training in Mesa, AZ.
Earlier on Monday, A's president Billy Beane said the situation around Murray was still uncertain.
"I don't have any answers for you, and I probably won't until we've decided on the process," Beane said. "All I can tell you is it hasn't been decided and the conversations will continue."
Murray says he is following his heart to play football.
"Football has been my love and passion my entire life," Murray wrote. "I was raised to play QB and I very much look forward to dedicating 100% of myself to being the best QB possible and winning NFL championships...I eagerly await the opportunity to continue to prove to NFL decision makers that I am the franchise QB in this draft.:
Murray made no mention of the A's or baseball in his statement.
The NFL Combine is set to begin on February 26 with the 2019 NFL Draft scheduled for April 25 in Nashville.