Murray led Sens with humour, sarcasm and wit
Ian Mendes reflects on a decade of covering Bryan Murray as the former Ottawa Senators head coach and general manager becomes the first member of the team's Ring of Honour.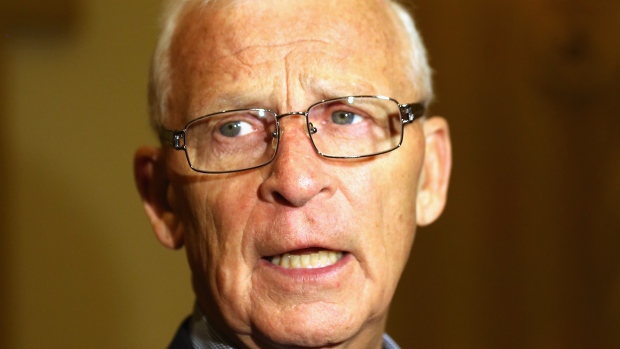 The date for me is easy to remember.
March 6, 2013.
That night, Ottawa Senators rookie David Dziurzynski was knocked out cold in a fight at the Air Canada Centre by Frazer McLaren in one of the ugliest incidents in recent memory.
But prior to that game, I witnessed another scary moment – this one involving Senators general manager Bryan Murray.
I was set to do a live television hit from the 100 level of the arena and Bryan had agreed to join me as a guest. We were positioned up the stairs behind the visitor's goal and Bryan came out of the tunnel to see me.
He needed to climb a bunch of stairs to reach me. About halfway up, he tripped and started to fall. I can still see the whole picture playing out in my mind in slow motion. Bryan tried to brace himself, but he didn't make it in time – his glasses went flying and before I could intervene, he was down and out in a row of seats. He ended up with a nasty cut on the side of his cheek from the edge of one of the armrests.
Senators PR man Brian Morris witnessed the whole thing and quickly ran to get the team trainer. For a couple of minutes, we both sat there in stunned disbelief as Bryan tried to regain his composure.
Gerry Townend, the team trainer, came by and immediately asked Bryan what happened.
"Ian pushed me. I didn't see it coming," he said with a smile, helping to defuse the situation.
And so as Gerry helped to clean up Bryan, we were now just a couple of minutes to air. I gave Bryan the option of skipping out on the interview. Given the circumstances, I would understand if he was too flustered to conduct a Q & A with me on live television.
Instead, Bryan happily agreed to do the interview. "Just make sure your cameraman angles me so he gets my good side," he requested.
And so Bryan did that interview with me that night. The audience at home couldn't see his injured cheek as he gave me an excellent nugget of news on Jason Spezza's recovery from back surgery.
That was typical Bryan Murray. No matter the circumstances, he almost always went out of his way to help out the media covering his team.
***
When he took over as head coach from Jacques Martin in the summer of 2004, Bryan represented a sharp change from his predecessor. Don't get me wrong; Jacques was always accessible to the media and more than gracious with his time. But Bryan brought a different dynamic to the job: a sarcasm, humour and wit that he was willing to share with us on a daily basis.
With no team to coach because of the lockout in 2004, Bryan had ample time on his hands when he first took over the job. He even organized a training camp for the local media and put us through the paces in September of that year. (When he realized I was replacing Martin Havlat on his third line, he probably regretted the decision of holding the camp altogether.)
Around that time, Bryan also agreed to spend some time with me in his hometown of Shawville, Que. We met in a little pub and then Bryan took us on a full tour of his hometown. He showed us the high school where he was a teacher and the sporting goods store where he used to work. He was beaming with pride about his hometown, always making sure to point out different landmarks to my cameraman.
He talked so much about his whole life coming full circle. All he wanted to do was to end it by bringing a Stanley Cup back home.
After the lockout ended, the Senators quickly became the class of the Eastern Conference. And it seemed as though the 2005-06 edition of the club might actually fulfill Bryan's championship desire.
The Senators faced the Lightning in the first round of the playoffs, and a bunch of the media was staying at the same hotel in Tampa as the team. On a night off in between games, we were down in the hotel lobby bar watching some out-of-town games. Bryan stopped by with a couple members of his coaching staff and he decided to order pizza for everybody. We all sat there watching playoff hockey together and he was more than happy to talk shop with the media. There's not a lot of coaches who would willing to do that with the media in the regular season, let alone during the Stanley Cup playoffs.
In the next round, even as things were slipping away against the Buffalo Sabres, Bryan kept his sarcasm and wit. Every day, Dominik Hasek would skate and look like he was ready to return to the Senators, but he never would because of an adductor injury he sustained at the Olympics.
On the morning of Game 4, with the Senators trailing 3-0 in the series, Bryan took to the podium at the arena in Buffalo. He was asked the obligatory question, "Bryan, who is your starting goalie tonight?"
"Dominik Hasek," Bryan said flatly, without even the slightest hint of a smile. He had us going for a few seconds, which in the age of Twitter would have been long enough for us to send out a tweet confirming the news. The assembled media was in utter shock, as the long-awaited return of Hasek was finally happening. But after a long pause, Bryan broke into a laugh and said, "Just kidding. It's Ray Emery."
***
When he shifted upstairs to perform his duties as general manager, Bryan remained as accessible as ever.
In his early days as general manager, he even agreed to do a segment with me where we would answer e-mailed questions from fans during the intermission of Senators broadcasts. Obviously, we vetted these questions beforehand with the PR department, but Bryan always wanted to make sure that he was speaking directly to the fans.
After his Senators were swept in the first round by the Pittsburgh Penguins in 2008, I was sent to cover the Penguins in their next series against the New York Rangers. Pittsburgh jumped out to a 3-0 lead in that series as well, spurring me to try to figure out what the Penguins' secret was to their playoff success.
So I sent Bryan an e-mail asking if he could help explain the Penguins' dominance from a tactical standpoint. He sent me a very long and thorough note, explaining exactly what he thought was going on – and in particular with the Penguins power play. He was a fountain of information and opinion and was usually willing to share.
During the 2010 playoff series against the Pittsburgh Penguins, I did an interview with Bryan before Game 1 in Pittsburgh. The Senators won that game 5-4, but then dropped the next three contests. Before Game 5 in Pittsburgh, I told him, "Hey – you haven't lost a game in this series when you've chatted with me pre-game." So he agreed to another interview with me that night and sure enough, Matt Carkner scored in triple overtime to extend the series.
I saw Bryan near the team bus at the old Mellon Arena and I said, "I guess I'm your good luck charm."
He responded by saying, "We've got a date before Game 6."
And before Game 6 back in Ottawa, he agreed to do another one-on-one interview with me. As the Senators roared out to a 3-0 lead in that game, I actually thought to myself, "Holy cow. Maybe I am Bryan Murray's lucky rabbit's foot."
I was already imagining having a one-on-one with him in Pittsburgh before Game 7 and being the only reporter with an exclusive conversation with the Senators general manager. While I was busy plotting my line of questioning, however, the Penguins scored four unanswered goals and finished the series in Game 6.
Obviously, there were some instances when Bryan wouldn't return my texts or e-mails. But for the most part, he was great at getting back to us in the media. After Eric Gryba had a controversial hit on Lars Eller in the 2013 playoffs, there were rumours swirling around that the Senators defenceman was going to be suspended.
I had a live radio hit to do in the afternoon and so hoping against hope, I shot Bryan a text to see if he could provide me with any little piece of information to use.
"We're not going to have him for Game 2. I know that for sure," he wrote. And with that, I had a small bit to go with.
Bryan was also extremely helpful at board of governors meetings, GM meetings and other NHL events that I had to cover along the way. The worst was the lockout of 2012, where I spent about seven or eight weeks on a sidewalk in Manhattan covering the usually non-existent labour negotiations.
The information was often hard to come by some days, but as luck would have it, Bryan was a Senators representative at a league meeting in early December. I saw him leaving down the hallway and using a side exit. (Note: Many NHL executives turn into David Copperfield at league events. They literally vanish when they don't want to speak to the media. During the lockout, everyone had a muzzle on, fearing they would say something that would get them in trouble or compromise negotiations).
Bryan thought he had outsmarted us, but I was able to walk outside and down two city blocks in Manhattan to track him down. He told me he couldn't tell me anything on the record, but he was nice enough to share some background information on what the meeting was about so I wouldn't look like a complete moron when I was on live television.
Having a general manager like this is invaluable to a beat reporter. Accessible, informative and honest are three trademarks you'd love to have in an executive.
I also appreciated that Bryan was okay with criticism – as long as he deemed it fair. If I said something negative about the Senators on the radio or television, I never had to worry about him freezing me out. On more than one occasion since I switched over to TSN radio, Bryan challenged me on something that was said in my timeslot or a question that I asked him on the air. I know for a fact that he didn't appreciate one time when I asked him about Paul MacLean's job security, but I felt like it was a pertinent question. He was caught off-guard by the question and gave a rather ominous answer about the future of his head coach.
He chided me at the rink a couple of days later, but he understood that sometimes, we had to ask tough and uncomfortable questions. He always appreciated those of us who showed up to the rink and did our jobs honestly.
When he stepped aside as general manager last spring, I sent him a note of thanks for all the help he provided me over the years. He responded with a nice note in kind, saying that he always felt my coverage was fair and balanced in this market.
And as I think back to the last decade of covering the Senators, I couldn't have done it without Bryan's cooperation as general manager.
***
The final story I want to pass along has nothing to do with Bryan as a coach or general manager of the Senators. It's about him wanting our community to be a better place.
In the fall of 2013, a young hockey player named Brett Nugent was paralyzed from the neck down in a freak accident during a Junior B game. Brett was playing for the Shawville Pontiacs at the time, so the story hit especially close to home for Bryan.
I was asked to emcee a fundraiser for Brett in March of 2014 and we gathered a bunch of items for a live auction. Bryan had agreed to donate an item on behalf of the Senators and when I went to the rink to pick it up, he invited me into his office.
There, he proceeded to scrounge around everywhere – grabbing whatever items he could and putting them into a bag. An autographed team jersey. Some pucks. He went into his desk drawer and pulled out his season tickets and started ripping out pairs for me to take.
"What else can I do here?" he asked me. "There's got to be more I can give."
I'll never forget the look of genuine concern on his face. The general manager of an NHL hockey team wanting to do whatever he could for a Junior B hockey player.
Bryan was so disappointed that he couldn't attend the event because the Senators had a game out of town that night and he was travelling with the team. He sent me a long e-mail that he wanted me to read at the event, a personal message from him and his wife Geri. When I read the note aloud to the crowd inside the community centre on the night of the fundraiser, the place erupted with cheers.
Bryan may not have delivered a Stanley Cup to his hometown, but you'd never know it from that audience. In so many ways, that's what I'll always think about when I remember his time with the Senators.