Murray, Maatta, Jeanneret show fight against cancer spans hockey community
Each year NHL arenas turn their rink-board advertisements lavender and messages run on television and on video screens promoting "Hockey Fights Cancer," a campaign to raise awareness and donation money.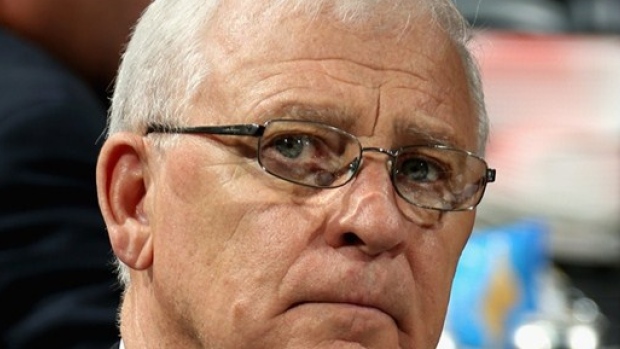 TORONTO - Each year NHL arenas turn their rink-board advertisements lavender and messages run on television and on video screens promoting "Hockey Fights Cancer," a campaign to raise awareness and donation money.
Within the past month as the campaign has been going on, cancer has been front and centre all across the hockey world. Pittsburgh Penguins defenceman Olli Maatta recently underwent surgery to remove a cancerous tumour in his thyroid gland, Buffalo Sabres announcer Rick Jeanneret last week announced he's throat cancer-free and on Thursday night Ottawa Senators general manager Bryan Murray revealed he has stage 4 colon cancer.
During the Sabres' "Hockey Fights Cancer" night Nov. 7, GM Tim Murray paid tribute to his uncle. In a taped video message, he said: "I'm Tim Murray, general manager of the Buffalo Sabres, and I fight for Bryan Murray."
The hockey community has been pulling for Murray since this past summer when the Senators announced he had cancer and would be undergoing treatment immediately. In an interview on TSN with Michael Farber, Murray explained that "there is no cure at this point for me" and just hope chemotherapy gives him more time.
Murray, 71, urged men to get colonoscopies, as having one could have detected his cancer earlier. Farber, himself a cancer survivor after beating it in 2011, said the response to the interview has been gratifying.
"The best message I received was from a guy who said, 'Yeah, I just called for my colonoscopy,'" Farber said. "Another 51-year-old said, 'Yeah, I'm arranging that this week.' Maybe something really good comes out of it."
Maatta's tumour was discovered as part of a pre-season physical. He was able to continue playing until having surgery to remove it Nov. 4 and returned to practice with the Penguins on Thursday in Toronto.
There was an 85 per cent chance the tumour was cancerous, and the 20-year-old said so matter-of-factly about finding that out: "It was cancer. But you know what? That was expected. It doesn't change anything."
Maatta's poise throughout this process, including not being able to tell anyone about the tumour for some time, has come as no surprise to his teammates.
"He's a strong guy mentally to go (through) what he's gone through and handle it the way he has," captain Sidney Crosby said. "I think as a teammate you're always there to try to support him. But it's nice to see when somebody handles it that way. It's incredible.
"We're there for him, but he seems to be doing a pretty good job of getting through a lot of different things and handling them well."
After the operation, the Penguins said Maatta would return within four weeks. Coach Mike Johnston said Thursday the Finnish defenceman would be able to return within the next five or six days.
Pittsburgh winger Pascal Dupuis said he couldn't imagine going through a similar situation when he was 20 years old.
"He's a strong guy and definitely we've been trying to support him as a team," Dupuis said. "It's more power to him. He handled that like a big man."
Over the summer, Jeanneret was diagnosed with throat cancer and had to take a leave of absence from Sabres broadcasts. The 72-year-old St. Catharines, Ont., native has been doing Buffalo TV or radio since the franchise's second season in 1971-72.
Jeanneret performed a special ceremonial puck drop along with legendary Buffalo Bills quarterback Jim Kelly, who's now cancer-free, last week at First Niagara Center when the Sabres hosted the Edmonton Oilers on "Hockey Fights Cancer" night. It was then that he said he was cancer-free, and on Friday the team said he'd return to the airwaves Saturday to call the first period of the Toronto Maple Leafs' game at the Sabres.
"The time seems right to slowly begin transitioning back to work," Jeanneret said in a statement. "My doctors have told me I'm cancer free and I'm feeling well enough to get back in the booth, even if it's only on a limited basis for the time being."
Philadelphia Flyers forward Wayne Simmonds used "Hockey Fights Cancer" month to tell his story, how his nana died of breast cancer in 1995 and how it affected him. The Toronto native wrote a first-person essay for Sports Illustrated's website about how he always wears a Blue Jays hat because that was a bond with her.
Simmonds wrote that "Hockey Fights Cancer" has come a long way in his seven seasons in the NHL.
"I remember everyone would wear lavender ties. Then we organized hospital visits, we hosted families at games, we used lavender stick tape. Every year there are more activities to get involved in, and more ways for us players to show our support and help increase awareness," he wrote for SI. "We see all sorts of people fighting cancer, including young kids. It makes me take a step back and realize that win or lose, compared to what they're going through, I'm just playing hockey.
"I'm lucky to get to do what I love every day. It's a lot easier to go into the corner and take a cross-check than it is to be in the hospital fighting for your life."
---
Follow @SWhyno on Twitter