Murray steps down as Senators GM
After more than 600 wins behind an NHL bench and five stops around the league, Bryan Murray stepped down as general manager of the Ottawa Senators on Sunday.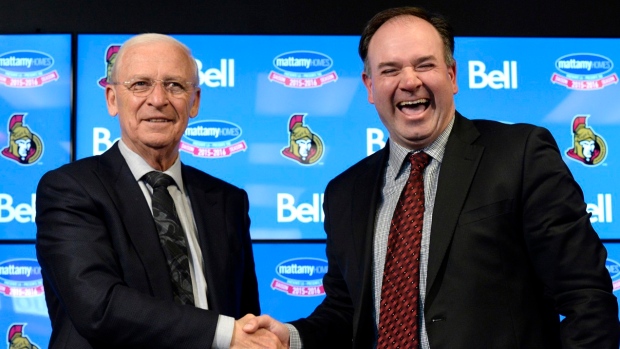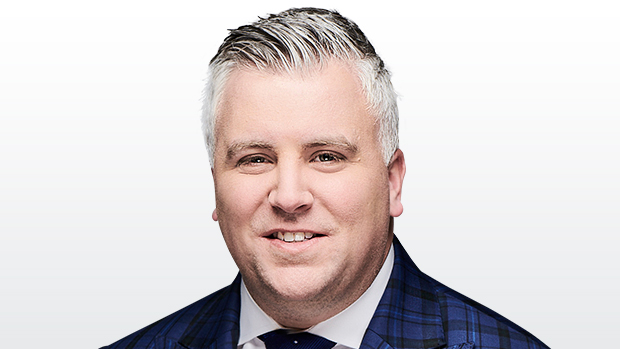 The journey began in 1979 with a deal between Bryan Murray and his wife.
A former gym teacher in his small hometown of Shawville in the Ottawa Valley, Murray pleaded with his wife, Geri, for a one-year shot at coaching in the WHL all the way in Regina.
"She said, 'Yeah, that's great. Leave me alone here in Shawville for the year.' And I did," Murray recounted Sunday with a chuckle. "We ended up having a long career out of it. Geri has been unbelievable. But my two girls and my two grandchildren deserve more time, and I'm going to try and give it to them as best I can."
Some 37 years later, after more than 600 wins behind an NHL bench and five stops around the league, Murray stepped down as general manager of the Ottawa Senators on Sunday.
Pierre Dorion, Murray's protege and assistant GM, was named his successor.
Murray, 73, will remain on staff in Ottawa as a senior advisor to hockey operations. He said his medical situation, battling Stage 4 colon cancer, did play a role in the decision to step aside.
"I think it's a combination of age, medical, time in the league," Murray explained. "There is never a right time … I'm leaving after a disappointing year and I think that's maybe the hardest part. I enjoyed every minute of it. There were days that were challenging, frustrating, maddening. Some days you weren't very happy. It's all based on team performance."
An emotional Dorion fought back tears as he talked about the influence of Murray after the sudden passing of his father, top Maple Leafs scout Pierre Dorion Sr., in 1994 at the age of 49.
Dorion, now 43, joined the Senators in 2007 as chief amateur scout. Murray elevated him to director of player personnel in 2009 and eventually assistant GM in 2014 when Murray's nephew, Tim, left to become GM of the Buffalo Sabres in 2014.
Before that, Dorion spent 11 seasons with the Canadiens and another two with the Rangers.
"Having Bryan Murray in my life has filled a personal need no one else beside my dad could have filled," Dorion said. "In the past nine years working together, there were many lunches and many conversations, and it was always about doing the right thing.
"Bryan has been the biggest influence in my private and professional life. Please don't be fooled here, I am stepping into big shoes."
By and large, there will not be an enormous day-to-day change for Dorion, as Murray had given him much of the reins over the past year or two while Murray battled for his health. Dorion acknowledged he was allowed to do "much more" than other assistant GMs, including contract negotiations.
"All he'd ask me is 'How's it coming along?' He'd say 'Oh, you're not giving him that amount of money, Pierre,'" Dorion said. "He knew exactly what he was doing."
Both Dorion and Murray expressed belief in the future of the Senators. Dorion mentioned "blue chip prospects" in first-round picks Colin White and Thomas Chabot as the way of the future.
Adding a "Top 6 or even Top 3 forward is definitely something we're looking at," Dorion said.
Dorion will also have a few difficult decisions to make in short order. He will need to decide on duties for assistant GM Randy Lee and a new title senior advisor Daniel Alfredsson.
More pressing, he will have to deliberate on the future of coach Dave Cameron. Dorion said he will be meeting with Cameron and the coaching staff and "a decision will follow." The Senators will conduct exit interviews with each player beginning on Monday.
"In the upcoming weeks, we'll have a chance to discuss it," Dorion said. "There will be hard conversations tomorrow, as the product on the ice has to be better."
Murray coached the Senators to 100 wins over two seasons, leading Ottawa to the Stanley Cup final in 2007. But since relinquishing his coaching duties, the Senators have burned through five coaches in nine years. It is one of Murray's big regrets of his tenure.
"Being an old coach, I'm probably more critical than other general managers. I see a lot of stuff system-wise that bothered me. What we tried to do here was given opportunity to guys so often that were in the organization. They seemed to be guys that couple step up and fill the role," Murray said. "I've been disappointed in a couple hires that we've had. Maybe we were too quick on them. Maybe we were too focused on the playoffs being the end-all, be-all here. I think back to guys like John Paddock and Cory Clouston, guys like that that were in the organization, and it didn't work. And I'm disappointed about that."
There will be plenty of time to pick apart Ottawa's lost season, to chart the course forward under Dorion. Sunday was about paying homage to a truly honest and well-respected hockey man after nearly four decades in the game.
Murray admitted he'd always been so caught up in "there's always next year," telling owner Eugene Melnyk frequently, "well, I'll stay for one more year." The time had come.
"I just felt after much discussion, it was time to pull the plug," Murray said. "I'd like to think I had respect, I treated people fairly, I communicated well. I loved the game. I put a lot into the game - I think the time away from family on occasion was sometimes unfair. I hope I'm remembered as a pretty good hockey guy that was a decent person."
That was cemented long ago.
Contact Frank Seravalli on Twitter: @frank_seravalli