Murray trying to unload contract and goalie
If another team wants to trade for an Ottawa Senators goaltender, they had better be prepared to take on an additional contract from a forward that Bryan Murray is trying to move as well. As Ian Mendes of TSN 1200 writes, the Ottawa GM outlined his position ahead of next week's draft.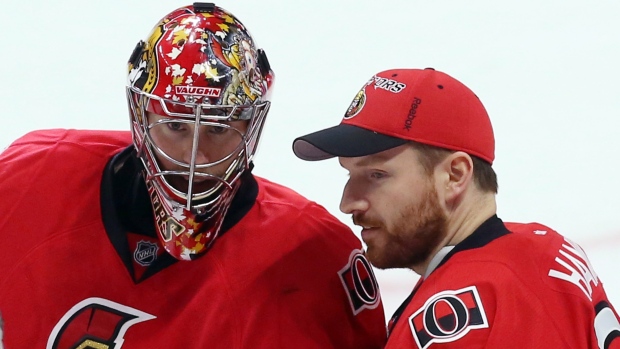 If another team wants to trade for an Ottawa Senators goaltender, they had better be prepared to take on an additional contract from a forward that Bryan Murray is trying to move as well.
Speaking to reporters in his final pre-draft availability on Thursday morning, the Senators general manager indicated that several teams have called about both Robin Lehner and Craig Anderson. And while the club is still not tipping its hand on which netminder is going to be moved, Murray did indicate that the goalie trade will likely include a player such as Colin Greening or David Legwand – veterans who likely won't have a role with the club next season.
"Well that's what I'm trying to do. To make sure that when we talk to teams about the goaltending that we are adding another piece to it and it is because of contract," Murray told TSN 1200. "We might take something a little less because of that, but we think that a couple of the guys that we are trying to move can play on other teams as well. We just happen to have a group of young guys now that have taken their spots."
Murray is aware that other goaltenders – such as Cam Talbot of the New York Rangers and perhaps Eddie Lack of the Vancouver Canucks – could also be on the market leading up to next week's NHL Draft in Sunrise, Florida and that could also impact his return on Anderson or Lehner.
"We've had a number of teams call and inquire about what the price would be and we've talked about parts that would be required. I know there are a couple of other goalies on the market and they will use that as a negotiating tool for themselves and maybe look elsewhere," said Murray.
But Murray ended his media session with reporters by saying he had a message for other general managers who might be in the market for a goalie this off-season.
"All I've been telling them is, 'If you want the best one, you better call Ottawa,'" said Murray. "We have the best guy to trade."
The Senators will enter the draft with the intention of moving one of their goalies, but Murray was reminded that he went into the 2014 Draft in Philadelphia with a similar intention to trade Jason Spezza. That deal was not finalized at the draft and happened a few days later with the Dallas Stars. The Sens general manager insists that he will not feel panicked if he leaves Florida next weekend with Anderson, Lehner and Andrew Hammond still in the fold.
"I have no problem with that. If they come to camp the top two guys will play and the other guy will have to play in the minors or go on waivers and that's just the way it's going to be. But I really think we'll have a decision made by then," he said.

Murray also said some progress was being made on the status of their five pending RFAs – Mika Zibanejad, Mark Stone, Jean-Gabriel Pageau, Mike Hoffman and Alex Chiasson – the latter two having arbitration rights. While some would like to see the Senators lock up young stars like Stone and Zibanejad to long-term contracts in the six, seven or eight-year range, Murray poured cold water on that idea by suggesting those scenarios are not on the negotiating table at this point. But I believe that at some point – whether it's before the draft or training camp – that something will happen in the goaltending area.
"I don't think any of them want to do that – they're not there yet. Mika and Mark in particular we have to see what their upside really is," explained Murray. "You don't commit to the young player unless he's come in and just knocked the doors off the arena by scoring great numbers of points or playing like a superstar. These are good, useful players and we probably won't go that route with them at this point in time."
Murray also said they remain interested in retaining pending UFA forward Erik Condra. But unless he can move one of those other contracts like Greening or Legwand – possibly as part of the goalie trade – they may not be able to fit him back in.
"If we aren't able to make any moves it will be difficult to bring him back. If we are able to make a move or two, then hopefully we can sign him," said Murray.