Namajunas retains UFC strawweight title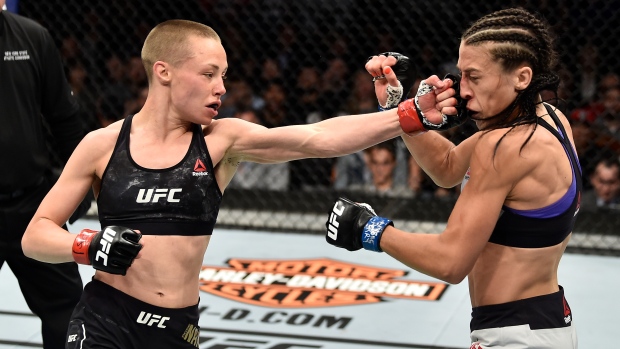 NEW YORK — Rose Namajunas made it 2 for 2 against Joanna Jedrzejczyk and defended her 115-pound championship with a unanimous decision victory in the co-main event of UFC 223 on Saturday night.
Namajunas (9-3) defeated Jedrzejczyk in the first round of their first match in November to win the strawweight championship. The 25-year-old Namajunas had to go the five-round distance at Barclays Center to win 49-46 on all three scorecards.
Namajunas was a passenger on the bus attacked by UFC star Conor McGregor this week inside the loading dock of the arena. The melee — which sent McGregor to court and scrapped three fights on the card — shook up Namajunas.
Jedrzejczyk (14-2) and Namajunas appeared deadlocked through four rounds. Namajunas' lead left leg absorbed so many punishing kicks it turned bright red, but she bloodied Jedrzejczyk with a series of stiff shots to the face. Jedrzejczyk's right eye was about swollen shut in the fifth but she still landed some jabs that kept her hope alive of regaining her championship.
Namajunas took down Jedrzejczyk with 30 seconds left and the crowd roared in the waning moments of a sensational championship fight UFC needed following one the rockiest weeks in the company's 25-year-history.
Jedrzejczyk threw her arm around Namajunas for a hug at the end of the bout.
Billed as "Thug," Namajunas was soundly booed as the challenger in the first fight at Madison Square Garden. But she left to cheers and a champion and was clearly the people's choice as she walked to the octagon five months later in Brooklyn. She shared a long embrace and a kiss with fiancee and training partner, Pat Barry.
Then she went to work.
Namajunas controlled the first two rounds, tagging Jedrzejczyk in each one with hard rights. Jedrzejczyk smiled after she socked in the mouth and scraped and sliced Namajunas' leg with such ferocity that it looked like the champ ran through a thorny poison ivy patch.
Namajunas, who preaches the power of positivity over trash talking, proved her first win was no fluke.
"I'm just better, man," she said.