Report: George plans to leave Pacers in 2018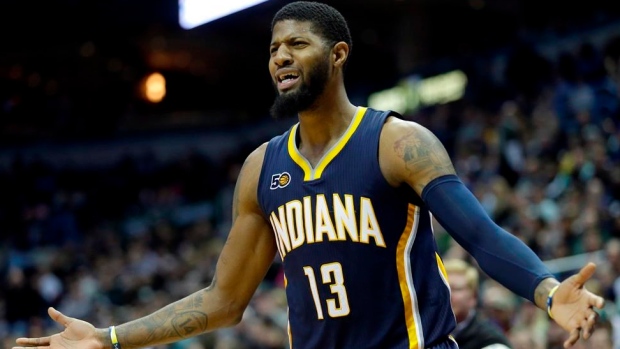 Three days after the forward committed to the team for the upcoming season, Paul George may soon be West Coast-bound.
According to The Vertical's Adrian Wojnarowski, sources say that the Pacers' All-Star has told the team he plans on leaving in 2018 for free agency, preferably to head to the Los Angeles Lakers.
George can sign a contract with the Lakers worth upwards of $130 million and as a native of Southern California, Wojnarowski says it would represent a homecoming for the 27-year-old. League sources told The Vertical that George wanted to be forthcoming with Pacers' management of his plans and not leave them with any confusion regarding his intentions.
He did not ask management for a trade, but Wojnarowski says striking up a deal with the Lakers during the 2017-18 season would make the most sense for the Pacers, otherwise the team risks losing their biggest star for nothing.
According to Wojnarowski, in the past 24 hours, Pacers' president of basketball operations Kevin Pritchard has become more aggressive in pursuing trades for George. League sources told The Vertical Pritchard has yet to show an inclination to engage the Lakers, but has discussed deals with several teams – including the Cleveland Cavaliers – in which the expectation of teams would be that George is a "one-year rental." Wojnarowki says according to league sources, the Pacers are asking for a substantial package of talent and draft picks for their star forward and trade talks could extend until Thursday's NBA draft – or beyond.
George, a four-time All-Star, had a strong season in 2016-17, averaging 23.7 points, 6.6 rebounds and 3.3 assists and led the Pacers to the playoffs. However, because he wasn't named to an All-NBA team in the spring the Pacers lost out on the chance to offer him a five-year, $207 million Designated Player Veteran Exception. The max contract the team can now offer George is a five-year, $177 million extension.