Spurs' Parker expects to miss 4-5 months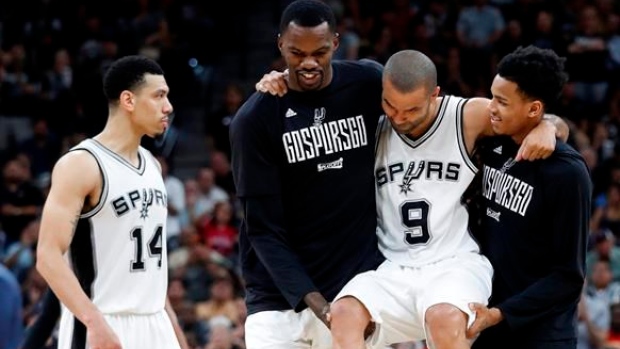 San Antonio Spurs' point guard Tony Parker told Argentinian TV station LPG TV that he expects to miss four to five more months recovering from the ruptured left quadriceps suffered during last year's playoffs.
The 35-year-old had successful surgery to repair the injury on May 5 and four to five months would give Parker a return timetable of around Christmas, but January is a more likely return for the six-time All-Star.
"[The quadriceps] is OK. It's OK. It's getting better and better. I'm starting to run like a little bit. I'm walking pretty well. I think it's still going to be a long process. It's still going to take like another four or five months but I am very happy in with the progress. I am in advance in my rehab," he told the Argentinian television station.
Parker averaged career-lows last season with 10.1 points per game on 46.6 per cent shooting and 4.5 assists per game, but had raised that to 15.9 points on 53 per cent shooting in eight playoff games before the injury.
The Spurs have a solid contigency plan in place for Parker's prolonged absense as the team re-signed point guard Patty Mills in the offseason. Mills averaged 9.5 points per game and 3.5 assists on a career-high 21.9 minutes per game last season.