NCAA Primer: Championship spots, bowl eligibility on the line as rivals clash
Each week, TSN.ca takes a look at the top storylines in NCAA football and gives you all you need to know heading into Saturday's action to Win The Day. In the week of college football's regular season teams will put their rankings, bowl eligibility, Heisman hopes and conference records on the line against their biggest rivals. You can watch a full day of action across the TSN networks.
Mike Hetherington, TSN Digital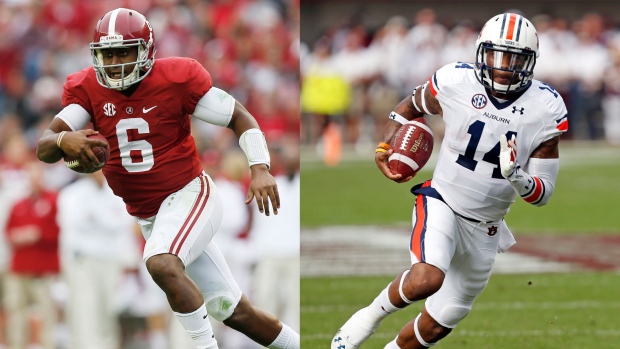 Each week, TSN.ca takes a look at the top storylines in NCAA football and gives you all you need to know heading into Saturday's action to Win The Day.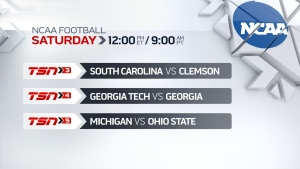 Clemson hopes Watson can end South Carolina's recent dominance on TSN3
Both in-state rivals have been ruled out of championship games and South Carolina head coach Steve Spurrier said his team would treat this game as their state championship.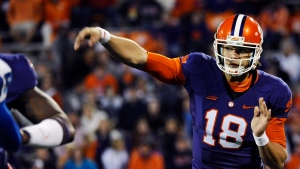 And why not? The Gamecocks have won five straight games over the Tigers.
This year - in what the two schools have named the 'Palmetto Bowl' - Clemson hopes to have freshman quarterback Deshaun Watson in the lineup to change their fate. Watson missed three straight games with a knee injury before returning two weeks ago, only to sprain his knee in the second quarter of Clemson's loss to Georgia State.
Watson is considered a phenom, but has only played three full games this season. Though only playing for bowl position and pride, experience for Watson in big games as a freshman could help the 19-year-old down the stretch.
No. 18 Georgia Tech aims to take down in-state rival No. 10 Georgia on TSN4
Georgia Tech has already secured their spot in the ACC Championship against top-ranked Florida State, but now have an op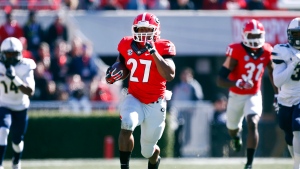 portunity to ride into that game with momentum with a win.
Standing in their way is the rival Georgia Bulldogs, who are undefeated at home this season and enter as 13-point favourites. The Bulldogs will continue to lean on freshman running back Nick Chubb to carry their 13th-ranked rushing attack (with star Todd Gurley lost for the season) and improve their top-10 ranking.
Like their neighbours, Georgia Tech also relies on their ground game to defeat opponents, ranking fourth overall in the FBS. Yet unlike Georgia, the Yellow Jackets use dual-threat quarterback Justin Thomas to fuel their ground assault. Thomas has 1,396 passing yards this season and a team-best 827 yards on the ground.
Georgia will miss out on a chance to represent the East in the SEC Championship after the Tigers defeated Arkansas on Friday.
Michigan makes final attempt to become Bowl Eligible against No. 6 Ohio State on TSN5
If Michigan falls short of an upset win against the rival Buckeyes, they will miss out on bowl season for the first time since 2009.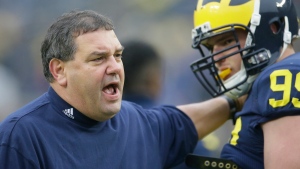 Saving themselves from that feat will not be easy however, as Ohio State has reeled off nine straight wins and are 21-point favourites on Saturday.
Ohio State will be looking to run up the score on Michigan and prove themselves worthy of a College Football Playoff spot. Ohio State has already booked their ticket to the Big Ten Championship game, where they will meet the winner of Minnesota and Wisconsin.
For Michigan, a loss is expected to seal the fate of head coach Brady Hoke and open an offseason coaching search. A win may only delay that fate until after a Bowl game.
Florida out to stun questionable No. 1 Florida State in Muschamp's final game on TSN3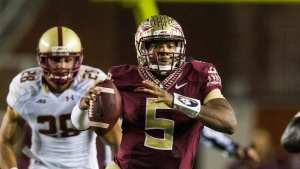 Florida State is undefeated, yet the manner in which they've won games has many questioning how good this team really is.
The Seminoles having been playing with fire; falling behind early or failing to put away teams with significantly less talent en route to wins. Again last week, Florida State narrowly edged unranked Boston College with a last-minute field goal.
College Football has taken note - Though the Seminoles are ranked first in the AP Top 25, they're ranked third in the playoff rankings behind one-loss Alabama and Oregon. A loss Saturday or in the ACC Championship would almost certainly drop them out of the playoff picture.
Expect the Gators to be playing with emotion in Will Muschamp's final game as head coach.
Florida State has won 26 straight games. Their last loss came two years ago this weekend - against these Gators.
No. 10 Michigan State out to improve ranking against struggling Penn State on TSN5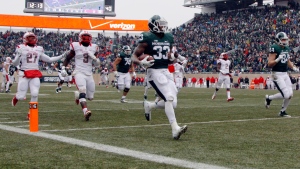 Michigan State has been eliminated from the Big 10 title contention by Ohio State, but the 10th ranked Spartans are rolling with two straight blowout wins over B1G newcomers Maryland and Rutgers. Now the Spartans look to close their season with a win over a conference staple in Penn State.
Despite heading for Bowl season in their first eligible campaign since the NCAA levied sanctions on the program, the Nittany Lions have had a disappointing campaign behind sophomore Christian Hackenberg (eight touchdowns, 14 interceptions). Their once promising start of four straight wins was derailed by four straight losses.
However, Michigan State could face trouble in Happy Valley. The Spartans rank sixth in college football with 43.9 points per game but will line up against a Penn State defence that allows a fourth-best 16.2 points.
Auburn hopes to retain Iron Bowl, derail No. 2 Alabama's title hopes on TSN4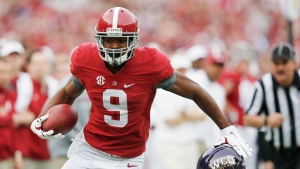 In the upcoming chapter college football's greatest rivalry, Alabama will try to get revenge for Auburn's stunning victory last year.
12 months ago, Chris Davis returned a missed field goal 109-yards for a touchdown to send the Tigers to the SEC Championship - and then the national championship - ending Alabama's title hopes.
This year, Auburn sits 15th and too far back to reach the college football playoff, while Alabama sits at the top once again (ranked first in the college football playoff rankings, third in AP Top 25).
With three loses - all in the SEC - Auburn has been eliminated from SEC Championship contention, but a win Saturday would also likely eliminate Alabama. For the Tigers, that might be enough of a prize.
Mariota out to clinch Heisman against Oregon State's leaky defence on TSN1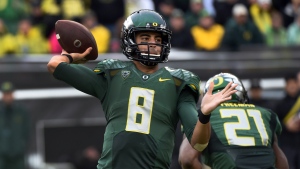 Oregon State upset sixth-ranked Arizona State just two weeks ago and will try to do the same against No. 2 Oregon this week.
The problem? They'll have to outscore the Ducks and Heisman favourite Marcus Mariota.
The Beavers have allowed 27 or more points in eight straight games and Mariota is looking to improve his Pac-12 record for total touchdowns in a season - currently at 42, one better than Matt Barkley's previous mark - and boost his Heisman resume.
Mariota and the Ducks enter Saturday night as 19.5-point favourites with a massive over/under of 67. Oregon State can score points - they average 26.3 per game - but can they stop Oregon from scoring against them?
The Ducks' run of six games with 42 points or more says it's unlikely.