Neal's scoring keys Knights' golden start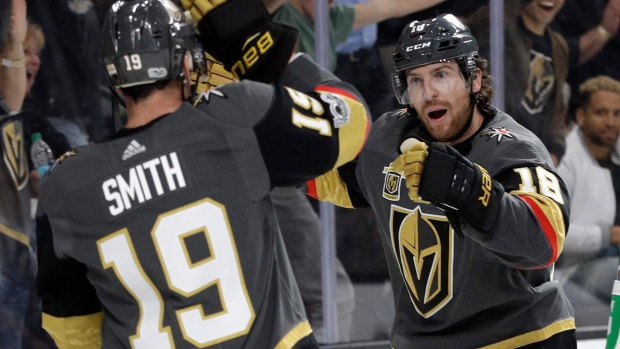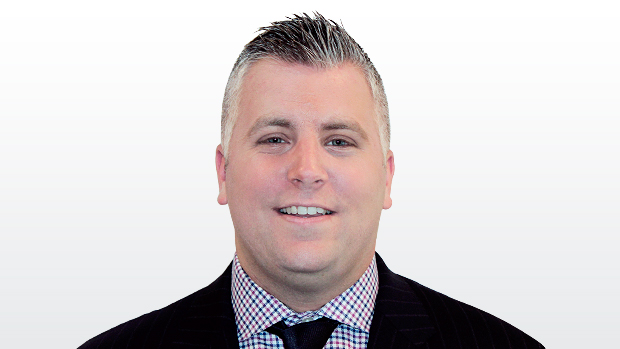 Before Tuesday night's emotional home opener, Vegas owner Bill Foley spoke to his new team and asked them to embody the Golden Knight creed of "never give up, never give in" and the promise to "protect the unprotected."
The Golden Knights did just that, standing behind the real heroes from last week's tragedy – the many different first responders – during pregame introductions.
After a perfect tribute that left tears rolling down the faces of at least one of the Golden Knights players, it was time to somehow shift to hockey.
Vegas answered with a stirring four goals before the game was 11 minutes old.
At the centre of it all was James Neal, who has been, well, their Knight in shining armour.
Neal has all three of the Golden Knights' game-winning goals as Vegas became the first NHL expansion franchise to open with three consecutive wins.
Not bad for a player who missed almost the entirety of training camp as he continued to recover from a grisly off-season hand surgery that required rods and pins.
"He'll probably make that a habit of missing training camp, skating for a couple days and coming out and dominating," Vegas coach Gerard Gallant told reporters, laughing.
Neal, 30, has five of Vegas' eight goals this season. It took him 14 games last season with Nashville to net that many – a total he eclipsed in two games and one period with Vegas.
The last player with five or more goals in an expansion team's first three games was Quebec's Real Cloutier in 1979-80 – though even that is a little bit of a different story since the Nordiques played the previous season together in the WHA.
Neal said he has never had a better start to a season, not even when he scored 40 alongside Sidney Crosby in 2011-12.
The bigger question is: How did Neal even end up in Vegas?
Predators GM David Poile certainly didn't want to lose Neal for nothing in June's expansion draft, especially not after Neal was such a big part of the team's run to the Stanley Cup Final. He averaged 26 goals per season over his three years in Nashville.
Poile attempted to broker an expansion draft consideration trade with Neal up until a few hours prior to selection time, but was unable to find the right price to direct Vegas GM George McPhee away from Neal or toward another player.
Plus, Neal would soon be on the wrong side of 30, was entering the final year of his $30 million contract with no guarantee he would remain in Nashville, and no one knew the full extent of Neal's fractured hand or how long it would keep him out of action.
This was a player who kept his glove on his right hand going through the post-series congratulatory line during the Stanley Cup Final because he couldn't shake hands. Neal broke his hand in Game 1 of the Western Conference final against Anaheim and scored the overtime winner that night.
"He had to get it shot up every game just to be able to play," Poile said on June 14.
There was doubt in Vegas during training camp that Neal would be ready for the opener in Dallas. He scored both of the Golden Knights' goals, including the first in franchise history, in their 2-1 win.
All eyes will now be fixed on what McPhee does with Neal, the team's only true recognizable star skater, as the season progresses. Will he become trade bait for the Golden Knights on their quest to meet Foley's promise of playoffs within three years? Will he re-sign for the long-term to stay in Sin City? Neal is already shaping up to be the premier rental player on the trade market ahead of TradeCentre on Feb. 26.
Neal is one of only four players to score in each of an expansion team's first three games, including Billy Harris with the New York Islanders in 1972, Kent Douglas with the California Golden Seals in 1967 and Larry Keenan with the St. Louis Blues in 1967 - with Wednesday marking the 50th anniversary of that first-ever Blues game.
"Honestly, I'm just trying to get to the good areas," Neal told reporters Tuesday night. "I have been put in a good spot. We have some great players. I pride myself on scoring goals. I want to put the puck in the net."
After Wednesday night, the Golden Knights will be one of at least three teams still perfect in the standings.
"The Real Deal" Neal's 45 per cent shooting percentage (five goals on 11 shots) isn't sustainable, neither is his torrid pace. Hometown leader Deryk Engelland will not score with regularity. Fleury will not be able to maintain his ridiculous .963 save percentage or 1.32 goals-against average.
The Knights will not stay gold forever, but their golden start is easily the NHL's best storyline to kick off 2017-18.
"Just enjoying it, really," Neal told reporters. "What happened was so close and affected so many people and it's terrible. Like we have said before, we will do everything possible to start the healing process and bring positive light, have an emotional team on the ice and we have been doing that since day one."
Contact Frank Seravalli on Twitter: @frank_seravalli