Neil: I've turned down offers, want 'right fit'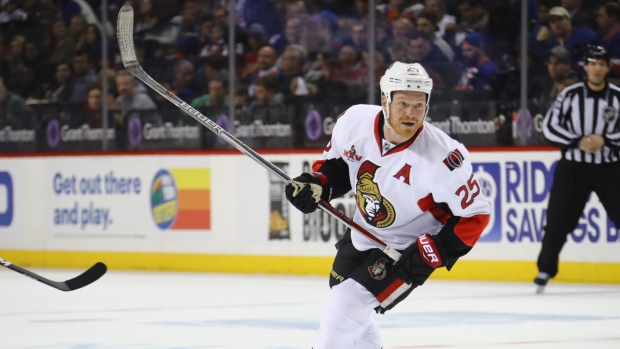 Chris Neil said Friday he's turned down both one-year, one-way deals and professional tryouts as a free agent this off-season.
The 38-year-old who has spent his entire 15-year NHL career with the Ottawa Senators said he's looking for the "right fit" in a team to continue his playing career with.
"I've had some opportunities to go to some other teams and play, it just hasn't been the right fit for my family," Neil told TSN 1200 Radio Ottawa. "I think I've been very blessed to play as long as I have and so I'm able to sit back, and if there's the right fit for me, great. If there isn't, I'm also looking to spending time with my family."
"This is probably the first September in 20 years I haven't had a place to go and it wasn't from a lack of teams or interest. So I think for me, just being the right fit and obviously we're still talking with some teams and we'll go from there."
The Senators told Neil after the season he would not be re-signed by the franchise. He blamed head coach Guy Boucher for making the decision.
"I have a lot of respect for [assistant general manager] Randy [Lee] and [GM] Pierre [Dorion] … I think, if it was up to them, I'd be back," Neil told The Ottawa Citizen's Don Brennan in June. "But they kind of put it in the coach's hands and that had a lot to do with it. For whatever reason, Guy never really gave me the chance to show I can play. Even before I got hurt, I was a healthy scratch for a couple of games and I saw the writing on the wall. I feel I've got stuff left to do. I feel I can still play and contribute."
Neil scored one goal and posted three assists in 53 games with the Senators during the regular season in 2016-17. He was dressed in only two playoff games as the Senators reached the Eastern Conference Final.
The veteran, who owns 112 goals and 250 points in his career, said he's looking for a chance to play with a contender this season is part of what he's looking for in a team.
"For me, it's if I do want to play, I gotta feel where the right fit is, whether it's opportunity or getting a chance to play and contribute and that's a big factor in my decision," Neil said.
Neil added he's staying in shape and open to joining a team after the season starts, should an opportunity arise.
Drafted in the sixth round of the 1998 NHL Entry Draft, Neil owns 2,522 penalty minutes over his career.