Nelson's big night leads Islanders past Hurricanes
Brock Nelson had two goals and two assists, Johnny Boychuk added a goal and two assists in his Islanders debut, and New York beat the Carolina Hurricanes 5-3 on Friday night. Key free-agent acquisition Mikhail Grabovski had a goal, Travis Hamonic also scored one and John Tavares had three assists in his return after injuring his knee during the Olympics.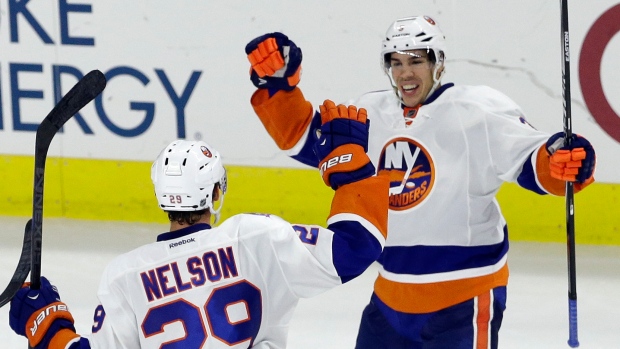 RALEIGH, N.C. - These New York Islanders didn't look much like the team that finished last year in last place.
Which makes sense: So many of the contributors Friday night weren't with them when last season ended.
Johnny Boychuk had a goal and two assists in his Islanders debut, leading them past the Carolina Hurricanes 5-3.
Brock Nelson began his second NHL season with two goals and two assists, but three other Islanders who played key roles in this one weren't around for the end of last year.
Free-agent signee Mikhail Grabovski had a goal, trade acquisition Jaroslav Halak made 21 saves, and John Tavares had three assists in his return after injuring a knee during the Olympics.
"This is a big starting point for us, the new faces contributed, and that's why they're here," Nelson said. "If we get more than a couple guys on the score sheet, we're going to be a pretty good hockey club."
Travis Hamonic also scored a goal for the Islanders, who scored twice on the power play.
Boychuk — picked up from Boston last week for draft picks — and Nelson scored 1:48 apart in the first period.
Nelson later added a deflected goal off a Boychuk shot in the second to put New York up 3-0 and in control of this matchup of the Metropolitan Division's two worst teams last year.
"Johnny came in and just kind of fit in right away," Tavares said.
Eric Staal, Nathan Gerbe and Chris Terry scored third-period goals while Cam Ward made 21 saves for the Hurricanes.
New coach Bill Peters said losing his NHL head coaching debut felt "not great right now, actually" because Carolina "took a couple of penalties that put us behind the 8-ball, couldn't kill them, and gave them momentum."
Carolina briefly made this interesting, making it 3-1 just 1:25 into the third when Gerbe deflected Justin Faulk's slap shot past Halak.
But Grabovski restored the Islanders' three-goal lead at 5:11 after he was left alone in front of Ward, and Hamonic made it 5-1 with 7:41 remaining. Staal's goal came with 1:34 to play.
"We were trying to use the momentum," Staal said. "When you get one, you feel the energy coming in the building, and the crowd's into it. ... (Grabovski's goal) was tough."
Andrej Sekera added two assists for the Hurricanes, who are ushering in a new era: Jim Rutherford — the only general manager the club had known since it moved from Hartford in 1997 — stepped aside during the off-season to make way for protégé Ron Francis, then took the GM's job with Metropolitan Division rival Pittsburgh.
Francis fired Kirk Muller after 2 1/2 seasons and brought in Peters from Detroit's staff. The roster was mostly left intact, though two key faces were missing: Jordan Staal (broken leg) and Jeff Skinner (concussion).
The Islanders had eight players on the roster making their debuts — and so many of them did so much of the work in this one.
Halak, brought in to replace Evgeni Nabokov, was at times spectacular in goal. Grabovski, signed to a four-year deal after a 13-goal season in Washington, scored his momentum-changing goal when the Hurricanes were caught in a line change.
That came after Boychuk had a hand in each of the first three goals.
He blasted a slap shot between Ward's pads for a 5-on-3 goal with 2:54 left in the first.
"It's not like I'm going to sauce it through the middle of the ice," the notoriously heavy-shooting Boychuk said. "I'm probably not that kind of guy."
He later assisted on Nelson's goal with 1:06 remaining in the period.
Tavares took a pass from Boychuk and slipped a cross-ice pass between Faulk's legs to Nelson, who beat Ward high to make it 2-0.
The Islanders pushed the lead to 3-0 with 12:22 left in the second when Boychuk uncorked a power-play shot that clipped Nelson's knee and got past Ward.
NOTES: C Ryan Strome added two assists for New York. ... Carolina has lost five of its last six openers, and has given up five goals in three of its last four openers. ... The Islanders improved to 11-21-10 in openers. ... The teams meet again Saturday night in Uniondale, New York.
___
Follow Joedy McCreary on Twitter at http://twitter.com/joedyap