New and familiar faces take part in Canada's women's camp
As TSN's Tessa Bonhomme writes, Canada's national women's team's training camp is a good chance for young talents like 17-year-old Sarah Potomak to get noticed and a chance for vets like Hayley Wickenheiser and Caroline Ouellette to lead the way.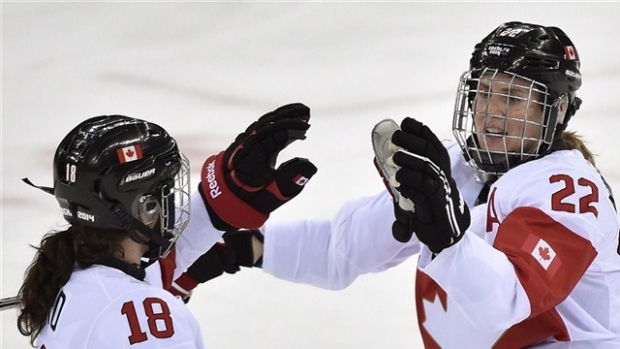 In a year where big names like Meaghan Mikkelson, Meghan Agosta, Catherine Ward, Jayna Hefford and Charlene Labonte have been missing off the Canadian Women's team roster, there are many new faces are being introduced to Canadian hockey fans.
The national women's team is holding training camp in Blainville, Quebec this week - part of Hockey Canada's preparation for the World Championship from March 28 to April 4 in Malmo, Sweden.
While the camp roster includes 10 players from last February's gold medal-winning Olympic team and 15 from the team that won the Four Nations Cup last November, it's a good chance to get the girls who aren't playing in NCAA or CIS to get in more high tempo, competitive practices and games.
And with players from both collegiate programs are on the ice, youngster Sarah Potomak is the star of the show here. She's the youngest girl on the roster - just 17 - and has already impressed many - including general manager Melody Davidson - with her talent.
Potomak, who will play for the University of Minnesota next season, represented Canada's National Under-18 team at the World Championship in Buffalo earlier this month and led the tournament in scoring with five goals and nine points in five games.
---
Eleven months after an Olympic year filled with adversity and triumph, many of Canada's seasoned vets took a year to step away from the game.
But Hayley Wickenheiser and Caroline Ouellette - two of Canada's most decorated Olympians - aren't ready to hang them up just yet.
Wickenheiser, Canada's all time scoring leader, feels they still have a lot to offer to the game.
"I think that there's always goals you want to achieve," she said Tuesday. "You always want to be better as a player and you want to play the game."
Leadership is always an important factor on the world stage. Ouellette captained Team Canada in Sochi and learned from many great Canadian captains earlier in her playing days. She and Wickenheiser understand their veteran presence is still valuable to the team.
"Every Olympic year is difficult on (all) athletes," Ouellette explained. "We had a great season last year, but there are always new players afterwards, so I always think it's important to have leadership in the room in that transition year."
And opportunites are presented to younger players, with a shot to prove their worth and potentially knock off some veterans for a spot on the team. This year more than ever, Oullette and Wickenheiser will have to fight to keep their respective spots on this roster.
"I think there will always be young players who are going to push the envelope and break in to make the team," said Wickenheiser. "As a veteran player you have to do everything you can to stay on top of your game and trust in your confidence and experience to get the job done and perform on the ice."