News and Rumours: Sharp on the Move?
There are still plenty of free agent and trade rumours still swirling around the NHL. What will the Blackhawks do with Patrick Sharp and Johnny Oduya? Will Blues blueliner Kevin Shattenkirk be on the move?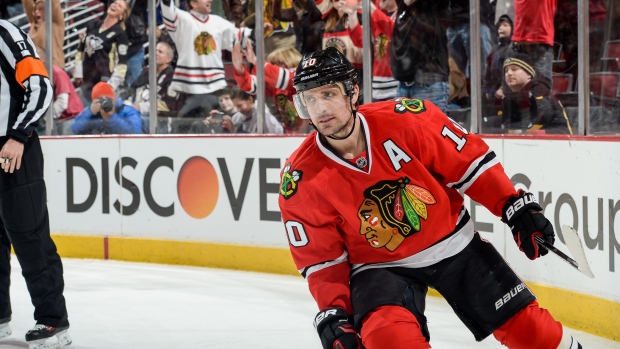 Sharp Shooting
Ever since the Chicago Blackhawks raised the Stanley Cup a few weeks ago, trade speculation has surrounded forward Patrick Sharp. Even though the Blackhawks parted ways with talented young forward Brandon Saad, it appears that general manager Stan Bowman is still listening to offers on the 33-year-old as a means to alleviate cap stress.
Could Sharp be a fit with the Montreal Canadiens? On TSN Radio 690 Montreal , TSN's Aaron Ward said on that he "would not count out general manager Marc Bergevin of making another move." Bergevin said he is confident that the club will re-sign restricted free agent Alex Galchenyuk, who he hopes will eventually be used as a centre. If Galchenyuk is shifted over to the middle, this would leave Montreal with only Max Pacioretty on the left side making the Canadiens very much in the market for a left winger.
Sharp posted just 16 goals and 43 points in 68 games last year with the Blackhawks, his lowest offensive output in eight years (barring an injury-riddled 2012-13 that saw him miss 54 games). Sharp comes with a cap hit of $5.9 million over each of the next two seasons.
Oduya Now?
Johnny Oduya is one of the higher profile defencemen still available after two days of free agency and it is unlikely that the 33-year-old will return to the Blackhawks due to salary cap issues. However, the steady Swede is planning on being patient with his decision, especially to see if Chicago can free up any cap room through trades.
The Blackhawks are in desperate need of defencemen with only six on their current roster and will need to bolster their blue line whether they can afford a new contract for Oduya or not.
Oduya recorded two goals and 10 points in 76 games last season and played a big part in helping Chicago win its third Stanley Cup in six seasons.
Shattenkirk on the move?
The New York Rangers, Boston Bruins and Philadelphia Flyers are still in the market for a defenceman, but according to TSN Hockey Insider Darren Dreger, they shouldn't count on the availability of St. Louis Blues defenceman Kevin Shattenkirk.
Shattenkirk will be due for a significant pay raise from his current $4.25 million a season when his contract expires in 2017. With the Blues already committed to long-term deals with defencemen Alex Pietrangelo and Jay Bouwmeester, Shattenkirk could be sacrificed to ease cap strain. With Thursday's trade of T.J. Oshie to the Washington Capitals, the Blues have at least for the time being freed up enough cash to make a money-saving deal in the near future unlikely.
The 26-year-old Shattenkirk tallied eight goals and 44 points in 56 games with last season.
Looking for a fresh start
Alex Semin still remains unsigned after being bought out by the Carolina Hurricanes. However, Semin's agent, Todd Diamond, insists that there has been interest from several NHL teams. Semin tallied just six goals in 57 games last season and also watched his ice time fall to an average of 15:55 per game, his lowest total since his rookie season in 2003-2004 with the Capitals.
Signing Semin to a short, cheap deal could pay off. Semin has had four 25+-goal seasons in his career, including one 40-goal campaign with the Caps in 2009-2010. His shooting percentage fell to just 6.5 per cent last season - almost half his career rate. Perhaps, a change of scenery from a 'Canes team that hasn't made the playoffs since 2009 could be the tonic to reinvigorate the Russian's career. The Pittsburgh Penguins are still in the market for a winger, while the Florida Panthers and New Jersey Devils could also use a scorer. Semin could present a low-risk, high-reward proposition for any of these teams.