Next-man-up mentality keeps Leafs on winning track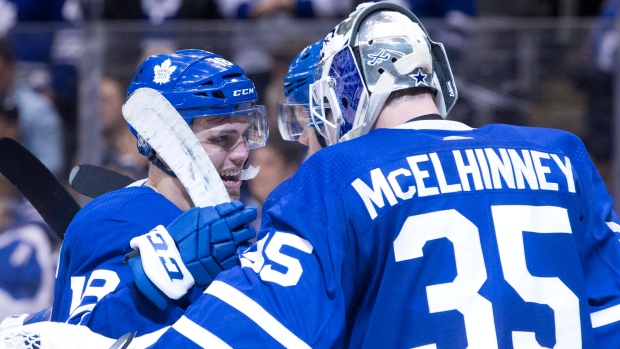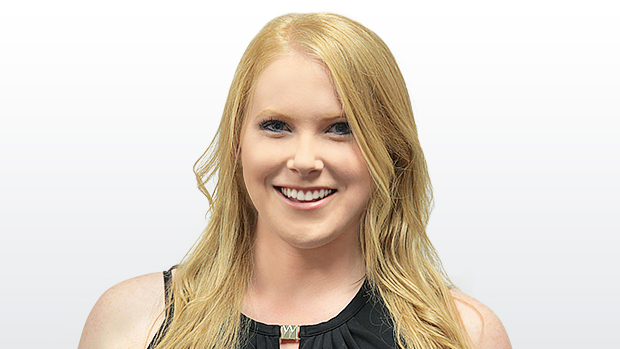 TORONTO – The Maple Leafs have been chasing down the Boston Bruins in the standings for months, and on the same night those injury-riddled Bruins shut out the Tampa Bay Lightning, so too did the injury-riddled Leafs shutout the Montreal Canadiens, 4-0. It was the fourth consecutive win for the Leafs, who were playing their third game in four nights. Toronto moved to 43-22-7 on the season, five points back of Boston with two fewer games remaining.

Takeaways

No excuses, play like a champion

A spate of injury and illness has stolen one player after another from the Maple Leafs' lineup, but their next-man-up attitude has kept them right on track in the face of them.

Against the Canadiens, Toronto was without top centre Auston Matthews, starting goaltender Frederik Andersen, top-four defenceman Nikita Zaitsev and the team's most versatile winger Leo Komarov. But no matter who's in or out, the Leafs have found the contributions they need, most notably from back-up goaltender Curtis McElhinney who has replaced the injured Andersen for the last two and a half games (all victories).

On Saturday, the Canadiens controlled play in the first period at 60 per cent possession, with the Leafs not really hitting their stride until the second period. Toronto had the Canadiens pinned in their own end for minutes on end, forced into taking penalties that the Leafs would turn into a pair of power play goals.

The home team was dominant at both ends of the ice, with McElhinney leading the way – Saturday's 33-save performance was his third shutout of the season, and he even earned the fifth assist of his career (and first since 2015-16) on a goal by Kasperi Kapanen.

It was McElhinney who dished the puck initially to Travis Dermott on the play, who then hit Kapanen in stride with a terrific stretch pass that he potted behind Charlie Lindgren. But it wasn't always an easy night for McElhinney, who had to be on his toes a couple times in the second period when the Leafs got too fancy and sent errant passes into the slot for the Canadiens to fire back on the goaltender.

McElhinney said after the game this is the most comfortable he's ever felt in his career, and credited the reps he's taken in practice against such a highly skilled team that's helped him to this point.

Mike Babcock said he expected Andersen to be able to return to action for the Leafs on Tuesday against Tampa, but also said McElhinney had "done a phenomenal job for us to say the least" in the starter's absence.

Johnny wants a spot

It was a long road for Andreas Johnsson to play in his second NHL game on Saturday, going from the 202nd overall pick in 2013 to skating on the Leafs' top scoring line with William Nylander and Zach Hyman.

In his debut against Dallas last Wednesday, Johnsson's fourth-line wasn't deployed often once Toronto was trying to claw back from a deficit, so Johnsson had plenty of motivation to perform when he returned to the lineup.

He made the most of a promotion from that fourth line, not only playing a solid overall game, but tallying his first NHL goal in the third period. He was the fourth player who has scored his first career NHL goal with Toronto this season (Travis Dermott, Andreas Borgman and Justin Holl were the others).

From puck drop, Johnsson was back-checking well in the neutral zone but wasn't all that noticeable in the offensive zone early on. That changed in a hurry once the second frame began - he had a couple good power play shifts taking Auston Matthews' vacated spot with Nylander and was creating one chance after another around the net.

While he has the ability to be a playmaker, Johnsson is really at his best when he's getting to the crease and making things happen from there. That's what generated his goal – Johnsson simply kept throwing pucks on Lindgren until one finally took a fortuitous hop off his pad and went in.

Johnsson's ear-splitting grin after the fact wouldn't disappear until the final buzzer, and even then he said the celebration was more than he had dreamed it would be. That confidence Johnsson has always had to shoot the puck will continue to come for him over time at this level, and with his skating ability, Johnsson has the potential to be a good player long-term for Toronto.

With the Leafs dealing with injuries the way they are now, Johnsson would be wise to take hold of all the chances he can get and make it hard for Babcock to send him back to the AHL. He finished the night with a team-high seven shots on goal in 13:38 time on ice.

Can't win for losing

For 15 seasons and 951 games, Tomas Plekanec pulled on a Canadiens sweater. Saturday was the first time since he was traded on Feb. 25 that Plekanec faced his old club, while still looking for his first point in blue and white.

To mark the occasion, Babcock started Plekanec's line with Kapanen and Dominic Moore, and they jumped out with a good first shift that included a solid scoring chance for Plekanec from the hashmarks.

As is the case generally for the fourth line, they had it tough in the first as the Leafs only unit that didn't get at least one offensive zone start. When Toronto turned on the jets in the second period, that line got rolling and was able to generate more offensively.

Plekanec was instrumental in that frame to setting up what would have been Kapanen's second goal of the game by creating havoc in the crease and tying up the Montreal defence. But Plekanec's aggression around Lindgren forced the Canadiens to challenge the score for goaltender interference and the goal was overturned.

It was frustrating for Plekanec, who may not have garnered that elusive first point in his eighth game with the Leafs, but knowing he was having an impact and was important to the set up would have offered some much-needed confidence.

Plekanec finished the night plus-one with two shots, and at 50 per cent in the faceoff dot.

More power to you

For weeks prior to these last nine games, the Leafs were as baffled as everyone else by how anemic their power play was. Toronto went through a 10-game stretch where they scored just four goals with the man advantage, and before that the man advantage was streaky at best.

But that was then; the Leafs' power play has been on fire since late February. That continued in earnest on Saturday, aided by the Canadiens taking egregious penalties and giving Toronto three power plays in the first 40 minutes.

William Nylander scored on the first one late in the first period to put Toronto up 1-0, busting a 13-game goal drought that dated back to Feb. 12 against Tampa. That was also Nylander's first power play goal in over two months (Jan. 8 against Columbus) and only his ninth extra man point of the year.

It's been quite a drop off for Nylander, who's 25 power play points led the Leafs last season. His power play unit has been without Auston Matthews for stretches this time around which has certainly hurt its success, but even when Matthews has been healthy that group hasn't gotten nearly the same momentum at the Leafs' top unit.

On their third power play chance of the night, Nazem Kadri potted another goal with a nice tip in front of Lindgren. It was his Leafs-leading 10th power play goal of the season, and 28th score overall. The Leafs have now scored at least one power play goal in each of their last five games, and have converted on eight of their last 11 opportunities.

Next game

The Leafs hit the road again for a meeting with the Tampa Bay Lightning on Tuesday. Babcock said he expected both Matthews and Andersen to be able to return by then, which would mark the first time Matthews has played since injuring his shoulder on Feb. 22.