NFL Free Agency Blog: Buccaneers reportedly attracting lots of free-agent interest because of Brady
Thursday marked the second official day of NFL free agency. Check out TSN's free agency blog to recap the latest signings, news and rumblings.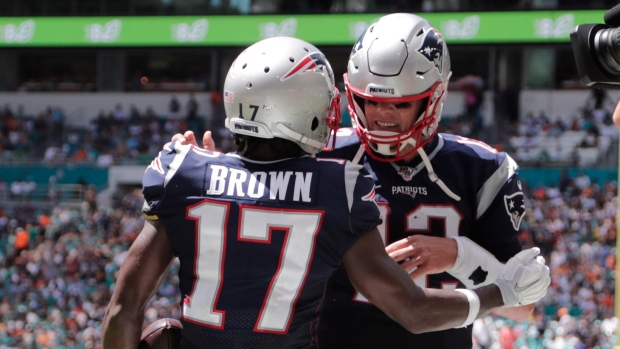 Thursday marked the second official day of NFL free agency. Check out TSN's free agency blog to recap the latest signings, news and rumblings.
---
Lots of players reportedly want to join Tampa Bay because of
Tom Brady
The Tampa Bay Buccaneers have never seemingly been a hot spot for free agents, but that has reportedly changed now that the team has Brady in tow.
This is otherwise known as the NFL version of the LeBron effect... https://t.co/MrWkbIxYYO

— Adam Schefter (@AdamSchefter) March 19, 2020
According to ESPN's Adam Schefter, after getting word that the Bucs had landed Brady, a plethora of free-agent players have reached out to Tampa Bay letting the team know that they want to play there.
Could
Antonio Brown

join Brady in Tampa?

The former star wide receiver, who currently find himself out of the league after being cut by both the Oakland Raiders and New England Patriots last season, in addition to his on-going league battles, may also be an option for the Bucs as NFL Network's Tom Pelissero reports that teams that were interested in Brady in free agency were under the impression that the quarterback wanted Brown to come with him wherever he landed.
Just mentioned on @nflnetwork: The NFL says Antonio Brown's status remains under review. If he's cleared to play, would the #Bucs sign him? Other suitors were under the impression Tom Brady wanted AB to come with him. It'd give Brady a WR group of Mike Evans, Chris Godwin and AB.

— Tom Pelissero (@TomPelissero) March 18, 2020
Pelissero notes, however, that before a possible reunion between Brady and Brown can take place, Brown still has to be cleared to play again by the NFL.
Rams release Gurley and Matthews
The Los Angeles Rams have cut running back Todd Gurley, the team officially announced on their Twitter account.
According to ESPN's Adam Schefter, Gurley was due an additional $10.5 million and the cut spares the team from paying the amount
The team is also cutting LB Clay Matthews, according to NFL Network's Mike Garafolo.
Winston does not go to Washington
Jameis Winston could be on the move after the Tampa Bay Buccaneers. But, according to ESPN's John Keim says Washington will not be the destination.
Suspended WR
Josh Gordon

reportedly intends to play this season

Former Pro Bowl wide receiver Josh Gordon, who was suspended indefinitely last December for violating the NFL's policies on performance-enhancing substances and substances of abuse, intends to play during the 2020 season, per ESPN's Jeremy Fowler.
Source: Suspended WR Josh Gordon intends to play this season, commissioner Goodell will handle his reinstatement attempt. Could be a process because of his history but he wants to take necessary steps to sign as an unrestricted free agent and play. https://t.co/wp7Y3ossRb

— Jeremy Fowler (@JFowlerESPN) March 19, 2020
The suspension is the fifth in eight years for Gordon. He was also suspended indefinitely in December of 2018.
Rams reportedly looking to trade
Todd Gurley II

and possibly

Brandin Cooks

The Los Angeles Rams want to trade three-time Pro Bowl running back Todd Gurley II and possibly even wide receiver Brandin Cooks, too, according to NFL Network's Michael Silver.
Earlier on @nflnetwork... @richeisen and I discussed the Rams' willingness to trade RB Todd Gurley and/or WR Brandin Cooks pic.twitter.com/nZ72zHhytm

— Michael Silver (@MikeSilver) March 16, 2020
The Rams are reportedly looking to get out of the four-year contract worth a reported $60 million that they signed Gurley to in 2018, per Silver. Gurley rushed for just 857 yards last season.
Cooks, who had just 583 receiving yards in 2019, signed a five-year deal worth a reported $81 millions with the Rams in 2018.
Giants get McCoy
The New York Giants have agreed to terms on a deal with backup QB Colt McCoy, according to NFL Network's Mike Garafolo
Browns get Nelson
Wide receiver J.J. Nelson is joining the Browns for one year at $1 million after spending the last two years with the Rams