NFL Injury Report: Jaguars' Fournette inactive vs. Colts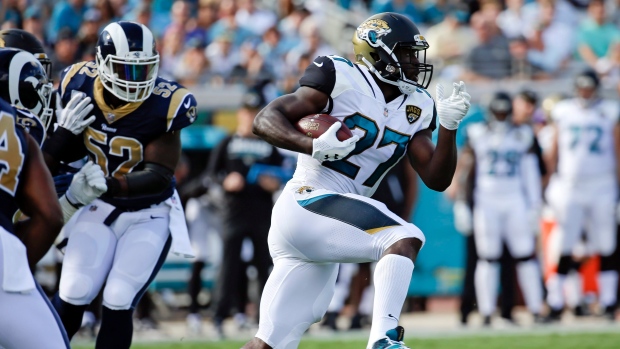 Keep up to date with all the latest injury news and inactive player reports ahead of Sunday's slate of action across the NFL.
---
Tennessee Titans
According to reports from ESPN's Adam Schefter, the Tennessee Titans are expecting to have both tight end Delanie Walker and running back DeMarco Murray available for their game against the Cleveland Browns Sunday.
Walker was listed as questionable with a calf injury while Murray was questionable with a hamstring injury.
---
Baltimore Ravens
After originally reporting Jeremy Maclin was expected to play for the Baltimore Ravens when they take on the Chicago Bears Sunday, NFL Network's Ian Rapoport is reporting Maclin will sit out Sunday after tesing his shoulder ahead of the game.
---
Buffalo Bills
Wide receiver Jordan Matthews is expected to be available for the Buffalo Bills Sunday against the Tampa Bay Buccaneers, according to a report from Rapoport.
Rapoport reports Matthews will play with a special glove to protect his thumb, but his return is coming two weeks earlier than first expected.
---
Carolina Panthers
Wide receiver Kelvin Benjamin and centre Ryan Kalil will both play for the Carolina Panthers Sunday when they take on the Chicago Bears, according to Rapoport.
Benjamin has been battling a knee injury while Kalil has a neck injury.
---
Jacksonville Jaguars
The Jacksonville Jaguars announced star running back Leonard Fournette will be inactive Sunday against the Indianapolis Colts, nursing an ankle injury.
Fournette will be out with an ankle injury with a bye week looming for more rest.
---
New York Giants
The New York Giants are expected to get one of their ailing wide receivers back Sunday, with Rapoport reporting Sterling Shepard set to return, according to Rapoport.
Shepard is returning from a short absence battling an ankle injury.