NFL protests: 2 distinct visions of patriotism clash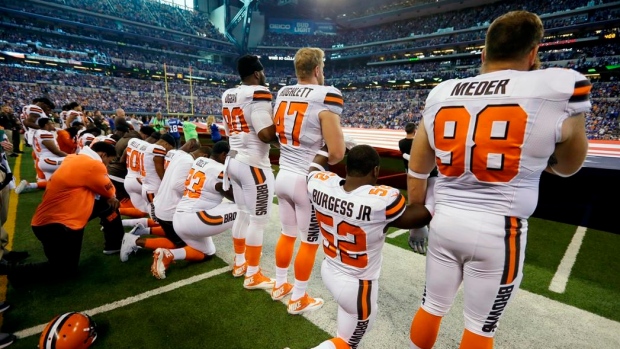 WASHINGTON — A truck flying a giant American flag swooshed by a parking lot where a pro-Donald Trump rally was being held in the dying days of the last presidential election. A local Republican boss noticed the flag and made a political forecast.
That driver will be voting Republican, predicted Bob Sutton, the party chair in Florida's Broward County, who asked rhetorically: "When you see a U.S. flag, who do you associate it with?"
He was bang-on. The driver made abrupt U-turn, came back the other way and drove his fluttering Old Glory into the biker-bar parking lot hosting a Trump party.
That same week, a vastly different ode to American patriotism was being penned by an African-American writer. CNN's John Blake credited the outgoing president, Barack Obama, for helping him find a new way to celebrate America: as a land of fighters for change.
He wrote that he'd always avoided standing for the national anthem, whose original verses celebrated the capture of runaway slaves. To Blake, patriotism was the language of white America, one he didn't speak, until Obama popularized a version different from the flag-on-the-porch, hand-on-the-heart, pin-on-the-lapel variety predominant in white, conservative America.
These two visions are now clashing at America's 50-yard line.
A quintessential gathering spot of U.S. civic life, pro football, last weekend became the point of contact where these forms of patriotism collided, as scores of mostly African-American players took a knee during the anthem, joining police-brutality protesters after President Trump referred to them as, "sons of bitches."
In some venues, spectators booed. T-shirt sales spiked for one Pittsburgh Steelers player who saluted the anthem alone. A year earlier, sales had spiked for Colin Kaepernick, who started the NFL police protests.
That illustrates the existing market for two types of American patriotism: Trump's and Obama's.
Obama articulated his in different speeches, including in Canada's House of Commons, where he quoted Pierre Trudeau saying nations are not to be admired as pyramids, but of objects of constant improvement.
He offered a more detailed explanation in Selma, Ala.
On the 50th anniversary of a blood-soaked march for voting rights, Obama described the people who trudged in the face of police batons and hostile public opinion, as quintessential American heroes.
His American patriot fights for change — with protesters following the pioneers, revolutionaries, abolitionists, suffragettes, baseball's Jackie Robinson, the gay-rights activists also beaten bloody and the disrupters who created jazz, blues, rock and roll.
"What could be more American than what happened in this place?" Obama said in Selma. "That's America. That's what it means to love America... That's what it means when we say America is exceptional.
"For we were born of change."
Some political scientists have tried giving names to these types of patriotism.
In a 2007 paper, Leonie Huddy and Nadia Khatib, identified three varieties: symbolic patriotism (celebrating flags and anthems), uncritical patriotism (which they linked to authoritarianism) and constructive — the kind that seeks change.
It's no accident this clash is unfolding in football stadiums.
NFL football is at the political epicentre of American sport. It's not only the most-watched in the country; but in a politically segregated America, where the left and right inhabit individual cocoons, separated by class, race, and urban-rural divides, pro football is the place everyone meets.
A study by market-research company Scarborough found in 2013 that golf, college football and NASCAR fans skewed heavily Republican. American NHL fans were mostly Republican. NFL fans were closest to the centre, with a tiny GOP tilt. On the other side, NBA basketball, soccer, and tennis fans leaned Democrat.
The leagues have responded accordingly to the anthem-kneeling controversy.
On that left-to-right continuum, NBA stars piled onto Trump and had a White House visit cancelled; the NFL was split; and on the right, the NHL's champion Pittsburgh Penguins said they would still visit the White House, while NASCAR declared its drivers were forbidden from protesting.
The trendline is inseparable from race.
The NBA comprises 74 per cent black players, the NFL 68 per cent, Major League Baseball (which had one prominent anthem-protester) eight per cent. The NHL has a smaller percentage of black players and NASCAR recently got its first black driver in 11 years.
What about the politics of anthem protests?
A poll by Quinnipiac after protests started last year showed just nine per cent of Republicans and 30 per cent of whites supported them along with 74 per cent of blacks and 63 per cent of Democrats. Overall, the national approve-disapprove rate was 38-54.
Americans overwhelmingly see themselves as patriotic with 89 per cent of respondents this year telling Gallup pollsters they were extremely, very or somewhat proud of their country, although there are clear enthusiasm gaps, with whites 23 per cent likelier to be extremely proud.
One famous sports commentator urged a more generous definition of patriotism.
"Martin Luther King was a patriot. Susan B. Anthony was a patriot. Dissidents are patriots... Schoolteachers and social workers are patriots," Bob Costas said on CNN. "And yet...(in every baseball game) the Yankees honour a military guest... There's never a schoolteacher...
"Patriotism comes in many forms. And what has happened is it's been conflated with a bumper-sticker kind of flag-waving and the military only, so that people can't see that in his own way, Colin Kaepernick, however imperfectly, is doing a patriotic thing."