NFL refutes report Elliott is eligible to play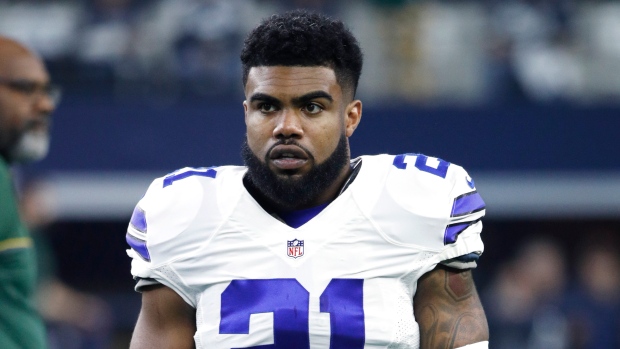 A report published by Pro Football Talk earlier on Saturday said that Dallas Cowboys running back Ezekiel Elliott is still eligible to play despite the NFL announcing this past week that his six-game suspension over domestic violence allegations is back on. On Saturday night, Brian McCarthy, PR employee for the NFL, shared the following statement from the league, which appears to be aimed the report from Pro Football Talk:
"The suspension of Ezekiel Elliott remains in place. The order from the district court is administrative and does not in any way change the appeals court's order vacating the preliminary injunction. Any reporting to the contrary is inaccurate and misleading."
Pro Football Talk cited a source that says United States District Court Judge Amos L. Mazzant, who originally issued the injunction preventing the league from suspending Elliott, has informed the NFL and NFLPA that he will not lift the injunction until there is a ruling on Elliott's petition for rehearing. Attorneys for the Cowboys star have indicated they intend to ask for another hearing before the federal appeals court that cleared the way for the NFL to reimpose his suspension.
According to Pro Football Talk, Elliott remains eligible to play until a petition for rehearing is filed and resolved
This season, Elliott has rushed for 393 yards and two touchdowns for The Cowboys who are off this week with a bye.