NHL adding more concussion spotters
The NHL is revamping its concussion monitoring system for the upcoming season. Deputy Commissioner Bill Daly says the league will have four concussion spotters watching all games from a centralized location in either Toronto or New York, as well as spotters at each game to check for visible symptoms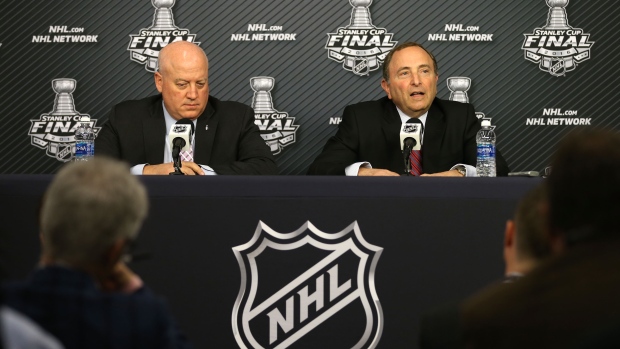 WASHINGTON — The NHL is overhauling its concussion monitoring system.
Deputy Commissioner Bill Daly said the league will have four concussion spotters watching all games from a centralized location in either Toronto or New York, as well as spotters at each game to check for visible symptoms. Those spotters will have the authority to have players removed from games.
"It's a pretty major revamp from what it was last year," Daly said Wednesday. "We're going to have both those (remote and on-site) spotters, plus you have the clubs' medical staffs. We're just building in reinforcements, really, to make the system work better."
Previously, there had been team-affiliated concussion spotters in each arena and they could recommend to medical staffs but not require players be removed from a game.
Daly said the new concussion policy goes into effect for the eight-team World Cup of Hockey, which begins Saturday in Toronto, and that the NHL will release more details closer to the start of the regular season.
"Players get removed for visible signs, and that'll be mandatory removal and that'll be done at the league level," Daly said.
Daly said the concussion spotters will work out of the department of player safety and report to the chief medical consultant and lawyer Julie Grand.
The NHL is in the midst of a concussion lawsuit filed by former players alleging that it had the resources to better prevent head trauma, failed to properly warn players of such risks and promoted violent play that led to their injuries.
Some other things Daly touched on Wednesday before a World Cup of Hockey exhibition game between Sweden and Team Europe:
STRICTER TESTING: The NHL and NHLPA agreed to implement stricter drug testing for the World Cup in conjunction with the World Anti-Doping Agency. Daly said players were subject to testing during pre-tournament training camps and that three randomly-selected players from each team will be tested after each game.
"I wouldn't say it's exactly like the Olympics, but it's pretty close to what the Olympic program was," Daly said. "The list for which we test for is broader in this tournament than it is during the regular season."
SMALLER GOALIES: Changes to goaltending equipment will be incremental as Daly said he expects new, slimmer pants to be ready for the start of the season but that chest protectors won't be because of manufacturer delays. The NHL would push to implement that smaller upper-body equipment midseason, Daly said, but added that he didn't know the NHLPA's view on that idea.
OLYMPIC TALK ON HOLD: Daly said there was "radio silence" on the topic of NHL participation in the 2018 Olympics in Pyeongchang and expects the league and Players' Association to meet with the International Ice Hockey Federation during the World Cup.
___
Follow Stephen Whyno on Twitter at http://www.twitter.com/SWhyno