NHL concerned by rise in goalie concussions
An increase in the number of concussions resulting from shots off the mask has prompted the league to expedite expanded testing on goalie masks, TSN Senior Hockey Reporter Frank Seravalli writes.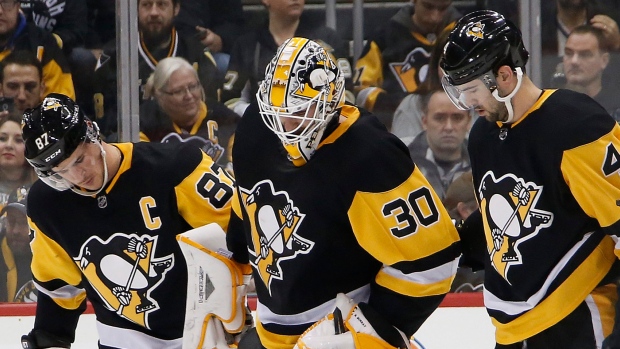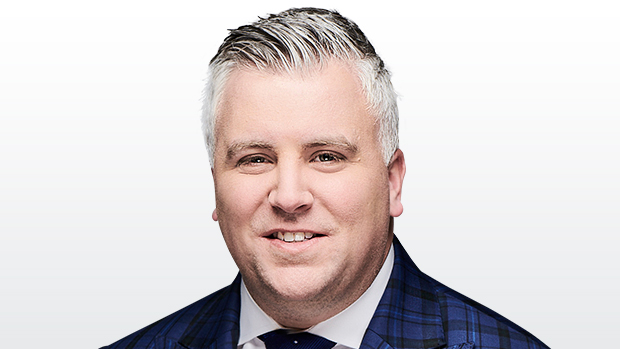 Corey Crawford is scheduled to return to the Chicago Blackhawks' net on Thursday night for the first time since Dec. 23, 2017 – a span of exactly 300 days.
The 53 games Crawford missed, including the first six this season, is believed to be one of the longest concussion-related absences by a goaltender in the history of the NHL.
His injury is part of an alarming trend affecting NHL netminders.
Last season, 13 goaltenders sustained 15 diagnosed concussions – as confirmed by their NHL teams and reported by local media sources. That's the exact same number as the previous three seasons combined.
"I think when you hear numbers like that, it is concerning and it definitely makes you give some thought as to why," said Kay Whitmore, the NHL's vice-president of hockey operations and goaltender equipment. "We are taking steps to look into the causes and effects of these [concussions], but a lot is still unanswered. Is this a one-year anomaly? More than that? We have to look into the why."
Two goalies have already been diagnosed with concussions this season. Pittsburgh's Matt Murray suffered his second in as many seasons Oct. 8 and Vancouver Canucks prospect Thatcher Demko was injured during the preseason. Murray is expected to return Thursday night when the Penguins visit the Toronto Maple Leafs.
The big change seems to be an increase in the number of concussions resulting from shots off the mask. Of the 15 concussions last season, 10 were as a result of shots off the helmet, while two came from collisions. One came from a stick to the mask, one was a result of a backup being hit on the bench without a helmet, and one was unknown (Crawford).
Carey Price sustained the most high-profile concussion as a result of a shot off his mask when he was staggered by Philadelphia Flyers defenceman Shayne Gostisbehere's blast on Feb. 20. He was shaken up on the play but not removed from the game for examination by a concussion spotter. Price finished the contest, and then sat out the next 31 days after the Habs revealed he suffered a concussion.
Perhaps most surprising is that at least four of the 10 concussions caused by shots were from "friendly fire" in practice. That is what sidelined Steve Mason and Michael Hutchinson in Winnipeg last season, as well Murray and Ottawa's Mike Condon.
"Guys are just shooting faster and harder than they ever have before," said Andrew Hammond who missed 11 games in 2015-16 after taking a shot off the mask. "Everyone is a butterfly goalie now, unlike before. They're so good down low. You have to get the puck up to score, and unfortunately a goalie's head is right in the way."
There were a combined 189 man-games lost due to goaltender concussions last season. The most missed in any of the previous five seasons was 53.
In response to the increase in concussions, the NHL has expedited expanded testing on goalie masks.
Currently, the masks NHL goalies wear must only pass a safety standard test, which was established in 2014-15. But that test only measures how a mask physically holds up to pucks shot at 75 mph or collisions, not the impact of shots on the head.
That is the next step in the evolution of testing.
Energy transfer testing will examine how each manufacturer's mask holds up to pucks shot at high speeds from all directions, measuring the impact on the head from each manufacturer using a sensor-equipped dummy inside the helmets.
Whitmore hopes to commence testing in the next four to six weeks, with the objective to discuss preliminary results with league officials in San Jose at the NHL's All-Star meetings.
In the NFL, there is information clearly posted in locker rooms to inform players which helmet brands test best, giving players the opportunity to make informed decisions about which one to wear. The NHL intends to deliver the same information to goaltenders.
"We are committed to doing whatever it takes to improve the safety [of goaltenders]," Whitmore said. "We want to make sure that mask technology keeps up with players' stick technology. At the end of the day, the eye test [appearance] and the feel test [comfort] may win, but we want to give players more info to make a more educated choice."
By and large, mask technology hasn't changed much in the last 20 years. Denser foam has been added by some mask manufacturers and others have increased Kevlar or resin reinforcement in the outer shell. That has led some goaltenders, like Hammond, to switch brands to feel more comfortable.
Hammond, who is currently playing for the AHL Iowa Wild, says it's not unusual to see two or three shots ring off a mask in a practice. Pittsburgh defenceman Olli Maatta downed Murray last season with the Pens; coach Mike Sullivan would not say who or what felled Murray in practice earlier this month. Demko was drilled in the mask in Canucks training camp and hasn't felt right since.
Hammond believes that the increase in "friendly fire" headshots comes not from a lack of respect, but as a byproduct of an uber-competitive environment.
"Some guys just don't know how to let their foot off the gas. They are fighting every day to try and make it and stay in the NHL," Hammond said.
There is no question the Blackhawks have been extra mindful of their shot placement since Crawford rejoined the team in late September.
"I think that goes without saying," Jonathan Toews told reporters. "As long as you know it's him in the net, you're [shooting] down there."
The origin of Crawford's concussion remains unclear, though Crawford has said it didn't occur in the final game he played on Dec. 23, when he exited after he allowed three goals on seven shots in fewer than 14 minutes of work.
Minimizing goalie concussions is a difficult task. Goalies are always in the line of fire.
The cause of concussions last year ranged from the fluky, such as Hutchinson catching a redirection on the chin in a routine morning skate shooting drill, to the hazards of the position, like Marc-Andre Fleury getting blindsided by Detroit's Anthony Mantha last October in a legal collision that cost him 25 games.
That was Fleury's third concussion in three seasons, totaling 38 games out of the lineup.
"The thing is, we don't protect ourselves [from collisions], because you're watching the puck all the time," Fleury said in September. "You see where it's at, then you don't see guys coming from the side. I think the blindside is the worst. You can't protect or see them."
All of this has Fleury concerned about his long-term health, a hazard of the position just coming into better focus.
"I do think about it," Fleury said. "This last one lasted a little longer than the previous ones, so I'm still thinking about it. Every day you wake up, you don't feel great, you're dizzy. It's disturbing."
2017-18 Goalie Concussions
Goaltender
Time
Cause

Jonathan Bernier

, COL
13 games
Shot in game

Mike Condon

, OTT
3 games
Shot in practice

Corey Crawford

, CHI
47 games
Unknown

Marc-Andre Fleury

, VGK
25 games
Collision in game

John Gibson

, ANA
1 game
High-stick in game

Andrew Hammond

, COL
12 games
Errant stick on bench

Michael Hutchinson

, WPG
6 games
Shot in practice

Michael Hutchinson

, WPG
5 games
Shot in game

Chad Johnson

, BUF
2 games
Shot in game

Steve Mason

, WPG
7 games
Shot in game

Steve Mason

, WPG
20 games
Shot in practice

Al Montoya

, MTL
24 games
Shot in game

Matt Murray

, PIT
9 games
Shot in practice

Carey Price

, MTL
13 games
Shot in game

Tuukka Rask

, BOS
2 games
Collision in practice
Contact Frank Seravalli on Twitter: @frank_seravalli​