NHL dealing with spate of spears to the groin
Edmonton Oilers forward Leon Draisaitl became the latest player to inflict pain on Tuesday night when he pitchforked Sharks forward Chris Tierney.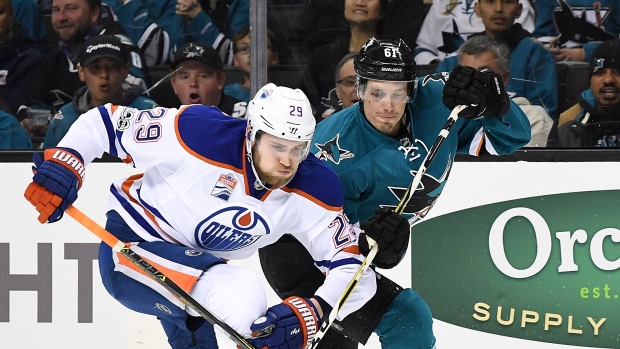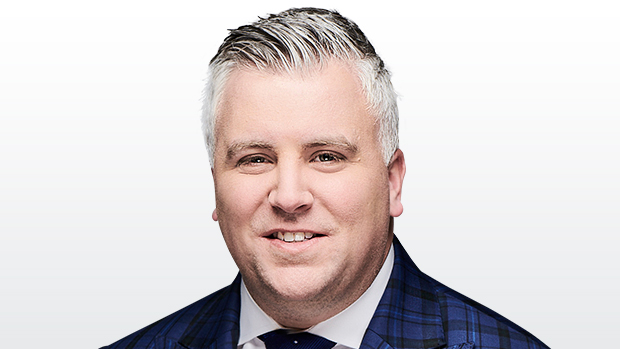 BROSSARD, Que. - Sometimes, Steve Ott said, these things happen by accident.
Of all the opponents to accidentally spear in the groin, Zdeno Chara would probably not be high on anyone's list. But that's who Ott caught with a crotch shot last October – on the first shift of a game, no less.
"I wasn't out there going 'Oh, I'm gonna spear Chara,'" Ott said, laughing, on Wednesday. "The puck got chipped in. I went to brace myself, my arms were out. He kind of let off. I followed through, thinking I'm pre-bumping, and I speared him right in the [groin]."
A scrum ensued. Ott and Chara were each given two-minute minor penalties for unsportsmanlike conduct. Ott said he apologized and nothing more was made of the incident.
"It wasn't dirty or malicious," Ott said. "I didn't have any intent to hurt him. That's a situation that just happens sometimes."
The same can't be said for every stick to the groin, especially recently. Ott couldn't put his finger on why, but spears to the family jewels appear to be a growing trend – with at least four high-profile cases earning scrutiny in the last month.
That kind of stick work is one of the few on-ice incidents that can make 19,000 fans of both teams groan in unison in an arena.
Why is this happening so often in a sport that prides itself on a "code" and on-ice policing?
"It's hard to say," said Ott, the Canadiens' 14-year NHL pest. "Things happen out there."
Edmonton Oilers forward Leon Draisaitl became the latest to inflict pain on Tuesday night. He pitchforked Sharks forward Chris Tierney in the pants halfway through Game 4, earning a five-minute major and ejection in the process.
The NHL's Department of Player Safety announced Draisaitl will have a supplemental discipline hearing on Wednesday. He may escape with a fine rather than suspension, though the one thing weighing against him is the idea that Draisaitl's dirty play was born of frustration in a lopsided 5-0 game.
That was the second spear below the belt in these playoffs. Canadiens defenceman Andrei Markov stuck Rangers forward Rick Nash where the sun doesn't shine with 25 seconds to play in Game 1 at the Bell Centre. Markov received a 10-minute misconduct on the play.
Earlier this month, Boston's Brad Marchand was suspended for the final two games of the regular season for a deliberate spear to the groin of Tampa Bay's Jake Dotchin. It cost Marchand $109,756 in fines and a shot at his first career 40-goal season.
On March 21, Sidney Crosby was spared supplemental discipline – and even a penalty – for his jock poke on Buffalo's Ryan O'Reilly from behind.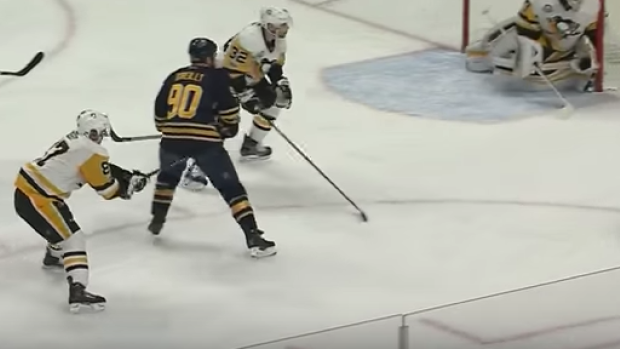 Crosby said he apologized to O'Reilly, who was his teammate at the recent World Cup of Hockey for Team Canada, saying he didn't mean to catch him in a "terrible spot."
"It looks terrible," Crosby told reporters then. "It's funny for you guys, but for him, not so much. I know him. I've played with him on different teams. There's no history there. I wasn't trying to do anything. I tried to put my stick kind of near him and got him in a terrible spot. I told him that. He probably doesn't believe me."
It's difficult to believe because that was at least the sixth time cameras captured Crosby spearing an opponent in the groin, according to videos posted by Yahoo Sports.
There have almost been too many crotch shots to count over the years, from Corey Perry to Crosby to even Ott. Part of the reason they may be on the rise is a realization from players that they may not be as stringently penalized as other deliberate attempts to injure.
For instance, New Jersey's Stephen Gionta sent Ottawa's Mark Borowiecki to the ice writhing in pain in 2015, but only received a fine for his actions.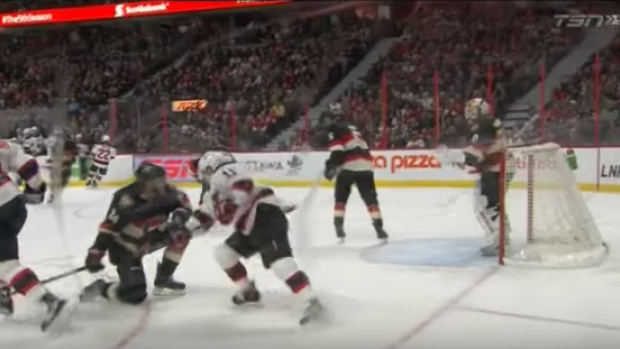 The NHL's general managers, as stewards of the game, recommended a fine a few years back, followed by a suspension for repeat offenders. That hasn't been enough to deter players, regardless of the code that supposedly exists between them.
"Playing hard out there, burying someone, playing clean, that's one thing," Ott said. "You never want to see a guy get dinged."
Contact Frank Seravalli on Twitter: @frank_seravalli