NHL Hall of Famer Modano joins Tiidal Gaming Group
Josiah Cohen, TSN.ca Staff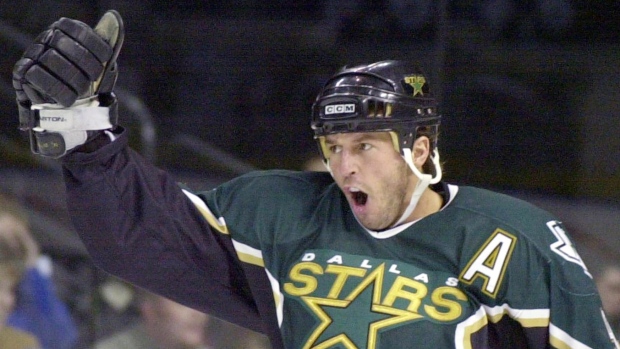 NHL Hall of Famer Mike Modano has joined Canadian esports organization Tiidal Gaming Group, the parent company of Lazarus Esports, as an investor and brand ambassador.
"I am excited to join the fantastic team at Tiidal Gaming," said Modano. "The explosive growth in esports, and the broader impact of gaming on entertainment is remarkable. When considering the engagement levels, shifting attention of younger demographics and the global nature of the space, it is impressive and cannot be ignored."
Modano was drafted first overall in the 1988 NHL Entry Draft by the Minnesota North Stars. He won the 1999 Stanley Cup with Dallas and finished as the franchise's all-time leader in points, goals, and assists. A veteran of 22 seasons, Modano was selected to eight NHL All-Star Games and has the most points by an American-born player (1,374) in NHL history. He was named to the Hall of Fame in 2014.
"We are thrilled to welcome hockey icon Mike Modano to our group," said Charlie Watson, CEO of Tiidal Gaming. "Mike has had a long and storied career as one of the NHL's greatest players and he couldn't join us at a better time as he moves into his future as a sports executive. Having competed at the highest levels, Mike can not only serve as a mentor to our professionals, but he will be a big part of our push to continue building Lazarus Esports into a global brand."
Tiidal Gaming, founded in 2010 under the team name SetToDestroyX, was Canada's first esports group. Lazarus competes across a wide variety of esports, such as Counter-Strike, Fortnite, and PlayerUnknown's Battlegrounds. It has also made a distinct foray into the sports side of esports, sponsoring players such as Michael Skimbo, one of the most decorated Madden competitors of all time, and David "JrPens91" Roebuck, the runner-up at the 2018 NHL Gaming World Championship.
The addition of Modano is the latest in a series of high-profile move by Tiidal. In March, Lazarus, in particular its Counter-Strike and League of Legends teams, partnered with the SheIS. The SheIS Collective seeks to support and help raise awareness for women in sports and esports. The relationship includes Lazarus esports teams wearing co-branded apparel and SheIS partnership on all world events.
On April 3, Tiidal announced the appointment of Jeffery L. Orridge as chairman. Orridge previously served as commissioner and CEO of the Canadian Football League, becoming the first black commissioner of any major professional sports league in North America. Before joining the CFL, Orridge was the executive director of CBC Sports and the general manager of its Olympic Division.