NHL moves all-in on sports gambling
Commissioner Gary Bettman announces deal to make MGM Resorts International the league's first official sports betting and resort partner, Frank Seravalli writes.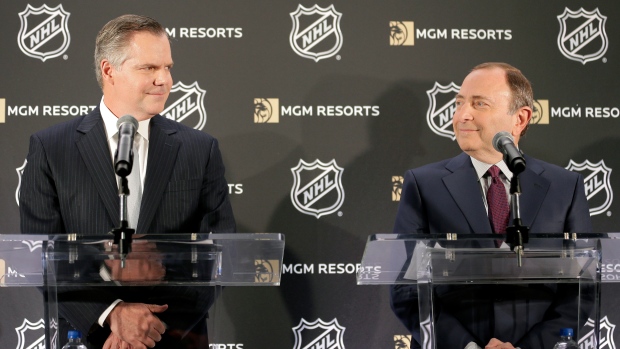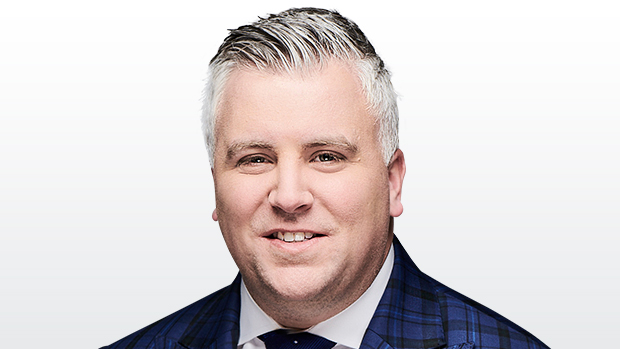 The National Hockey League is all-in on sports gambling in the United States now after years of fighting the spread of legalized betting in courts.
Commissioner Gary Bettman announced a multi-year partnership with MGM Resorts International on Monday, making MGM the league's first official sports betting and resort partner. The NBA executed a similar deal with MGM Resorts International in July.
Bettman cited the U.S. Supreme Court's landmark May ruling that struck down a 1992 federal law banning commercial sports betting in most states as reason for the NHL's about-face.
"The world changed and we're adapting to it," Bettman said.
As part of the partnership, MGM Resorts will have access to the NHL's intellectual property – including use of logos and branding to promote to consumers – and eventually proprietary real-time data that will be generated by the NHL's player tracking systems.
Bettman said the NHL hopes to make player tracking data available in time for the start of the 2019-20 season.
The data won't be exclusive to MGM Resorts and is believed to be the same information that will be available to national and regional broadcasters for use in-game.
However, MGM Resorts is hoping that access to exactly how fast Connor McDavid is skating on a particular night or how hard Dustin Byfuglien is shooting the puck will be a valuable tool for bettors.
"Data is the key," MGM Resorts chairman and CEO Jim Murren said. "The more data a [bettor] has, the better. That data has to be trusted. It has to be specific. It has to be endorsed. It has to be real-time. We've seen the power of data outside the United States; look at the World Cup in the U.K. and Europe … The more data you can have on an individual athlete on his or her skills, the more connection a fan will have to that athlete."
Bettman said he was not concerned about any potential impact on hockey's integrity in the wake of this partnership. He said the NHL monitors all games for potential red flags, such as significant line shifts, through a third party data company like Sportradar.
Bettman emphasized the NHL also "trusts" MGM Resorts as a first partner based on previous collaborations. MGM Resorts owns 42.5 per cent of T-Mobile Arena, home of the Vegas Golden Knights.
"I've never worried and don't worry about the integrity of our game," Bettman said. "It has been strong even when the majority of gambling was not through legal sportsbooks."
Industry experts have reported that the legalization of gambling in the U.S. could be worth as much as $216 million per year to the NHL. Bettman scoffed at that notion, saying the "amount of revenue is secondary" to fan engagement and fan connectivity.
Players will receive an equal 50 per cent of the revenue generated by this MGM Resorts partnership, as it counts as hockey-related revenue under the Collective Bargaining Agreement. The NHL will not, however, receive a cut of MGM Resorts' hockey take.
Hockey wagering represents a very small part of the Vegas sportsbook action. According to multiple reports, the NHL is the least bet on of the four major professional sports. Bettman said previously it is "less than one per cent," but gaming commission filings indicate it is closer to four or five per cent or $100 million of the total Vegas handle.
By getting on-board with sports gambling, the NHL has paved the way for something like the inclusion of in-arena lounges where fans could place real-time bets on the action they're watching in states where sports gambling is legal. That possibility currently exists only in Nevada, New Jersey and Delaware, but many more states are on the way.
Bettman said he does not believe that concept will become reality because fans of the Golden Knights and Devils can already place bets in real-time without leaving their seat using mobile phone apps.
Canadians will not see any impact or change on the fan experience through this partnership as betting on hockey is still governed on a provincial level through the lottery system. Single-game wagering remains unavailable, legal hockey betting exists only in parlay (multi-game) form.
"The clubs in Canada have been working with the lotteries, who control gambling on a provincial basis," Bettman said. "As the law evolves, you'll see our evolution in dealing with it."
What fans will not be seeing, according to Bettman, is a shift in team injury reporting. Those hoping for an NFL-style detailed injury report are out of luck.
"I'm not sure we have any interest in changing our reports," Bettman said. "Our players tend to play hurt. We're comfortable with the way things are because it's important for the long-term health of our players. We don't want them targeted when they're playing injured."
Contact Frank Seravalli on Twitter: @frank_seravalli