NHL POY: Tarasenko vs. Laich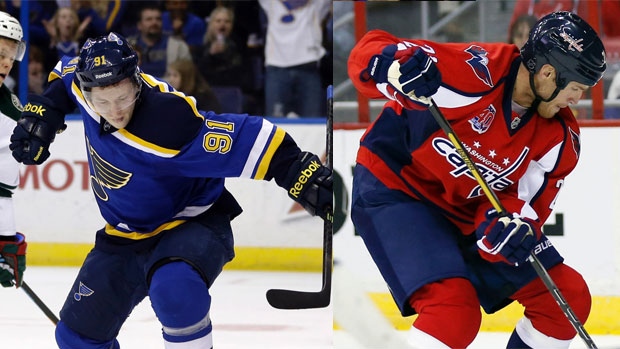 While the NHL regular season has come to an end an annual tradition is ready to get underway at TSN.ca.
The NHL Play of the Year showdown kicks off today with a pair of dazzling finishes going head-to-head.
The first match-up of the Round of 32 pits a breakout young gun against a wily vet as St. Louis sniper Vladimir Tarasenko takes on Washington's Brooks Laich.
Tarasenko enjoyed a breakout 2014-15 campaign by topping the 35-goal plateau, but it was his unbelievable dangles and finishing touch that earned him the spotlight.
The Russian dropped jaws all over Madison Square Garden by taking the puck just over centre and walking through four Rangers defenders to break in alone. As if splitting two pairs, Tarasenko dangled an unbelievable finish right around a stretched Cam Talbot.
Laich didn't cover nearly as much ground as Tarasenko, but he earns points for his work in close quarters.
Taking a pass just past the hash marks, Laich eluded defensive hassling from Kevin Bieksa to break in on Ryan Miller with little room on his forehand. He didn't keep the puck for long however, as he lifted a perfect wrister over Miller and under the bar to complete a stellar solo effort.
You can watch the highlights and make your decision here (http://poy.tsn.ca). Every vote counts, so watch all the plays and take part in the TSN.ca Play of the Year Showdown. Voting runs from 7pm to 4pm every day. Let us know who you voted for via Twitter, Facebook and Hubub.