NHL reaping the benefit of expanding talent pool
An intriguing spread of hockey skill from all over the globe has impacted far more than just goaltending, Travis Yost writes.
Last season, I wrote a piece about how an influx of European talent had drastically changed the landscape at the goaltending position.
It's a trend has been as prominent as any other in the league, largely because some of the league's most capable goaltenders of the last decade – Tuukka Rask and Henrik Lundqvist immediately come to mind – were European imports. It has been a fantastic development for the league. The diversification of the position definitely had a net negative impact on the number of Canadian goaltenders across the NHL, but it's hard to argue that the position isn't as talented and capable as it's ever been.
The piece that intrigued me on the goaltending side was how the European imports only ate into Canadian representation in NHL nets. Over the last 25 years, Canadian goaltending representation dropped from about 70 per cent to about 35 per cent, while European representation moved from about 15 per cent to about 45 per cent. U.S. goaltending has stayed flat in that timespan, hovering around the 20 per cent mark.
I was thinking this weekend about whether or not that relationship would also be true on the skater side. I couldn't help but notice that the NHL's scoring race seems to be as densely populated as ever with non-Canadian talent, and the data bears that out. Just look at where some of the league's most prominent scorers are coming from: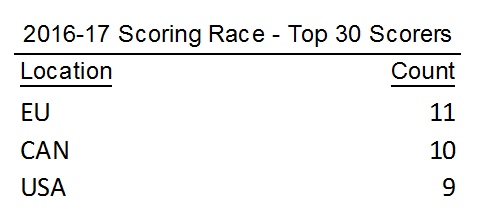 That's about as even a split as you could possibly achieve, though it should be noted that two of the league's best scorers (and best players) are both Canadian – Edmonton's Connor McDavid and Pittsburgh's Sidney Crosby.
Knowing how the goaltending position had changed, I was curious about whether or not we've seen the same progression at the skater level – a bunch of talented European players coming in and playing bigger roles (especially at the forward position) to take minutes away from some of the less productive Canadian skaters who were entrenched in those roles just a couple of decades ago.
The data suggests that it's different here, though. Marrying the Hockey Reference database against the current state of NHL scoring, we see that both U.S and European skaters have made big progressions – again, at the expense of Canadian attackers.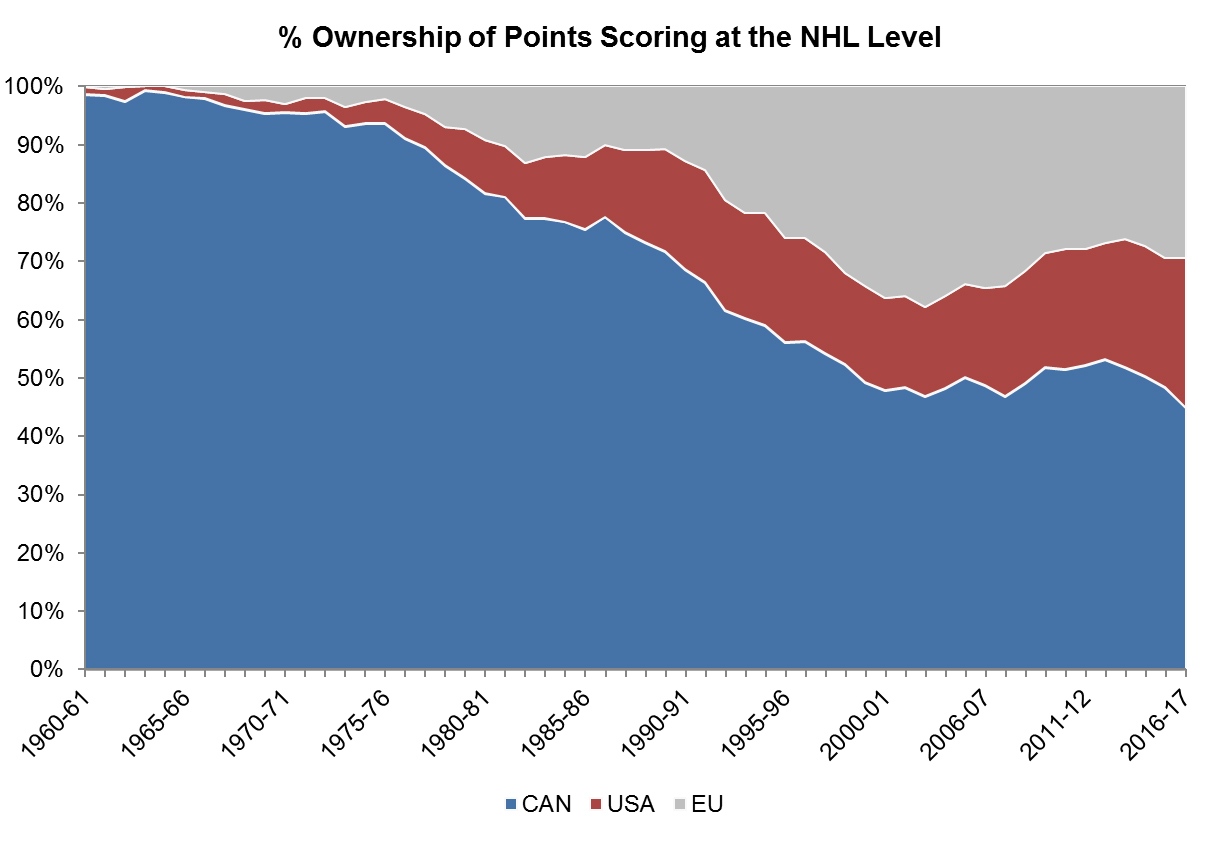 This trend looks a bit different than the one we saw with goaltenders. Both American and European skaters are now responsible for a significantly larger share of the points pool than they were 20 or 30 years ago. Canadians now own just 44 per cent of total league scoring – the lowest number they have seen since the NHL was established.
Is this worrisome if you are a Canadian hockey fan? I don't think so. At some point in the foreseeable future, these trend lines are going to flatten, and what you will see is that Canada is still the biggest distributor of NHL-level talent (probably by a fair margin).
At the same time, I do think there's sort of an established misconception about how the NHL has changed. It's not just an arrival of European goaltenders that's created diversity around the league. It's also critical positional development in both European and American ranks, one that's created an intriguing spread of talent hailing from all areas of the globe.
Ultimately, if you are a fan of hockey played at the highest level it's exactly the type of trend you want to see. The game is growing globally, and while Canada's still king, the league is starting to reap the benefits of expansion in other areas of the world.