NHL won't budge on current concussion protocol
Deputy NHL commissioner Bill Daly says the same standard is expected to be applied evenly to every player the day after Connor McDavid was removed from a game for mandatory testing.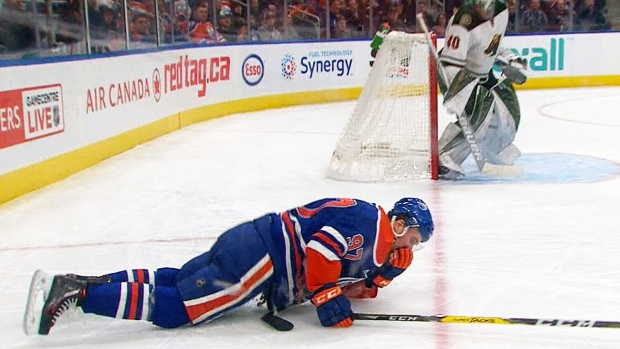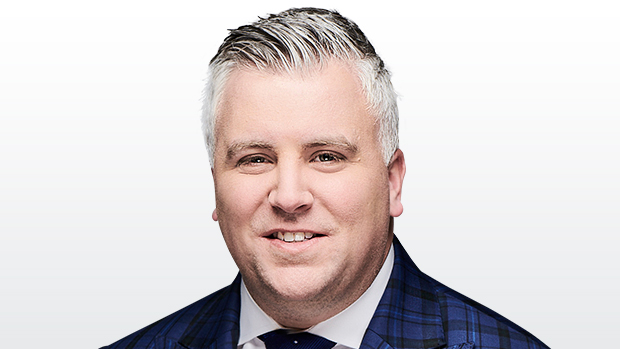 Get used to it.
Though the Edmonton Oilers were unhappy that captain Connor McDavid was removed from Sunday night's game to undergo mandatory concussion testing, the NHL said Monday that's the way it will be — whether it's during a 5-on-3 power play in Game 27 of the regular season or Game 7 of the Stanley Cup final.
The same standard is expected to be applied evenly to star or scrub, whether it's a gruesome or harmless looking sequence.
"We have no intention of changing the standards that are employed based on the situation in the game or season," NHL deputy commissioner Bill Daly said Monday.
Daly said the NHL's 30 GMs were "told that in no uncertain terms" in meetings last month.
McDavid told reporters he was "pretty shocked" to be pulled from the game with 6:28 to play in the second period. Tangled up with Minnesota's Jared Spurgeon, McDavid face-planted into the ice without his arms to break his fall. His chin hit the ice first, but he quickly rebounded to resume and finish the shift.
McDavid's first instinct was to touch his mouth. By doing so, McDavid unknowingly triggered a mandatory removal from the game for examination, as outlined in the NHL's 2016-17 Concussion Protocol — even if momentarily checking to see if he lost any teeth was a natural reaction.
A player who "clutches his head" or is "slow to get up" after his head hits the ice is one of the four signs that concussion spotters are looking for, according to the official protocol. The other three signs are "lying motionless on the ice," "motor incoordination/balance problems" and "blank or vacant look."
For this season, the NHL implemented the use of Central League Spotters, certified athletic trainers with clinical experience working in elite-level hockey who watch games from the Player Safety Room at league headquarters in New York.
Though there are also in-arena concussion spotters hired by the NHL, only the Central League Spotter communicates with a club's medical staff if a player requires removal and evaluation for a concussion. In other words, the Central League Spotter — watching from New York — was responsible for removing McDavid from Sunday night's game while working in conjunction with those in the arena.
The Oilers are not alone in their frustration that the protocol has been inconsistently applied. Oilers coach Todd McLellan specifically mentioned that Ducks forward Ryan Kesler was slow to get up after a collision during Saturday's game in Edmonton, but he was not removed from the game.
Others pointed out that Zack Kassian and Kurtis Gabriel each landed haymakers during a fight in the same game on Sunday night, yet neither were removed for further evaluation.
If a player is "punched in the head (including any part of his face) by an ungloved fist during a fight," the protocol calls for mandatory removal and testing, but only if he exhibits signs of being "slow to get up" or "clutches his head."
That would leave the interpretation up to the individual spotter, who is not necessarily a doctor or neuropsychologist, watching television camera angles from New York.
"It remains a work in progress, but yes, we are comfortable with how the new protocol is working," Daly said. "It's always better to err on the side of caution."
McDavid joined Rangers goaltender Henrik Lundqvist as the second prominent player to criticize the protocol in recent weeks. Lundqvist was forced to enter a game in November after teammate Antti Raanta was removed for testing. He allowed two goals in five minutes after entering a tied game cold.
McDavid said not every time a player touches his face is for the same reason. Unfortunately for a star like him, cameras are always trained on him, watching his every move - unlike maybe some of his teammates. He will always be in the eye of the spotter in New York.
"I hit my mouth on the ice. You reach up and grab your mouth when you get hit in your mouth," McDavid told reporters. "I think it's a pretty normal thing … they took that as something it wasn't … Obviously, the [concussion] spotter thought he knew how I was feeling. He pulled me off."
Nonetheless, Daly said while the concussion protocol language may change in the future as the program continues to evolve, no changes are planned currently.
"Eventually it will happen in a critical playoff game and it will be difficult, but the priority is the player and we're doing the right thing," Jets coach Paul Maurice told a Toronto radio station Monday. "The thing we've talked about is if it's your goalie and it's in the third period and he has to leave - that would be tough, but it's the right thing. They'll err on the side of caution and I think they should."
Contact Frank Seravalli on Twitter: @frank_seravalli