Hammond goes from Hamburglar to Nomadic Netminder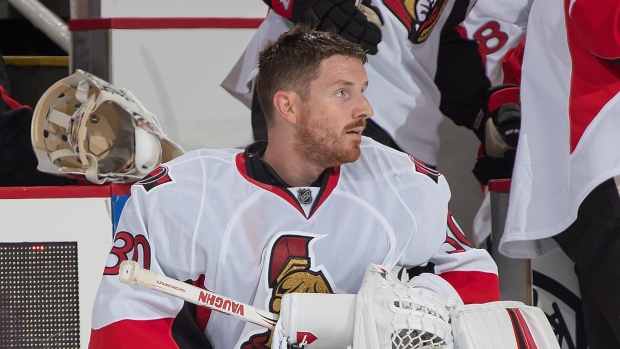 Few understand the unpredictable nature of the goaltending position better than Andrew Hammond.
As a result, the 29-year-old netminder is heading into the 2017-18 campaign with a new personal motto and mindset for a season that could be filled with irregularities.
"My only expectation is to be comfortable with being uncomfortable," Hammond said with a laugh. "I know I'm going to be living out of a hotel for most of the year, so the quicker I become being comfortable with being uncomfortable, the more success I'll have and the more I will enjoy it."
Hammond freely admits he has no idea where he fits into the Senators goaltending picture, even though he's in the final year of a contract that will pay him $1.5 million. The club appears set at the NHL level with Craig Anderson and Mike Condon ready to handle the duties. The organization has also promised veteran netminder Danny Taylor a job with their new AHL affiliate in Belleville, Ont., which leaves only one other spot available there.
Hammond is being considered for that role, but it could just as easily be given to a younger prospect like Chris Driedger or Marcus Hogberg.
So Hammond could end up in the ECHL or be loaned to another organization. At this point, he has no clue which city he'll call home next month.
"I'm pretty aware of the situation here now," Hammond admitted. "All you can do is know that you're under contract and focus on being the best goaltender you can be and being an asset to the organization."
Hammond earned the "Hamburglar" nickname while backstopping the Senators to an improbable playoff run in spring 2015. Two short years later, his moniker could just as easily be changed to the "Nomadic Netminder" as he searches for some stability in the crease.
In fact, Hammond's status is so murky that his head coach isn't even 100 per cent sure he'll be utilized as planned during Tuesday's preseason game in Toronto. The original plan was for Hammond to play the second half against the Leafs at the Air Canada Centre after Condon starts. However, during his Tuesday morning press conference head coach Guy Boucher hesitated slightly when pressed on his goaltender deployment for the road contest, admitting that Hogberg may also enter the equation.
That means Hammond could be squeezed out tonight – which would be the perfect illustration for where he sits with the organization.
Last year at this time, Hammond was firmly entrenched as the backup netminder to Anderson. But Hammond was dealing with a nagging hip and groin issue. Instead of treating it with surgery in 2016, he opted for a more conservative rehabilitation method. That plan backfired, as he suffered a groin injury during a game in Calgary in October.
He returned for a start in December, only to be sidelined with a high ankle sprain. In hindsight, Hammond believes the injuries were all related to his hip. In March, he finally relented and underwent hip surgery and has pronounced himself 100 per cent healthy here in training camp.
"The first injury in Calgary set me back quite a bit and was tied to this. From there, I never really got healthy and back to square one. It was a tough year and it was frustrating," he said.
Despite the numerous injuries and being forced down the depth chart, Hammond's attitude and body language remains upbeat. He displays the same demeanor when dealing with a reporter now as he did during the height of his unfathomable Hamburglar run, in which he posted a 20-1-2 record for the Senators.
"Don't get me wrong – it's not the easiest thing," he said. "At times last year, things were tough to take and this summer too. But then you have to realize what I'm doing for a living."
As he conducted a lengthy interview with TSN.ca, Hammond's eyes darted two stalls over to his right, where Condon was being peppered with questions from members of the media. But there is no jealousy as Hammond looks at the man who essentially stole his job with the Senators. Instead, Hammond looks at his teammate for inspiration.
Condon was on the NHL scrap heap last season and was only acquired by Ottawa after Hammond was injured and Anderson took a leave of absence to be with his wife, who was battling cancer. As Hammond points out, the unpredictable nature of the goaltending position means a lot can change in the months ahead.
"Hey – lots can change. You look around and the guy sitting next to me, Mike Condon, was pretty much in the same situation I am in now, so everyone knows how quickly things can change," Hammond said. "That's something I can look at as motivation."