How McPhee held GMs 'hostage' to acquire assets
Golden Knights GM took full advantage of his once-in-a-lifetime opportunity to build an NHL team from scratch, Frank Seravalli writes.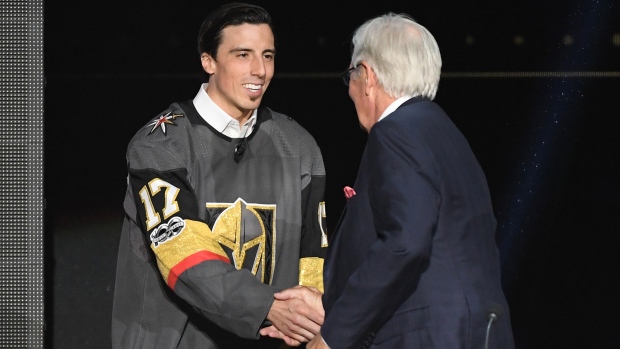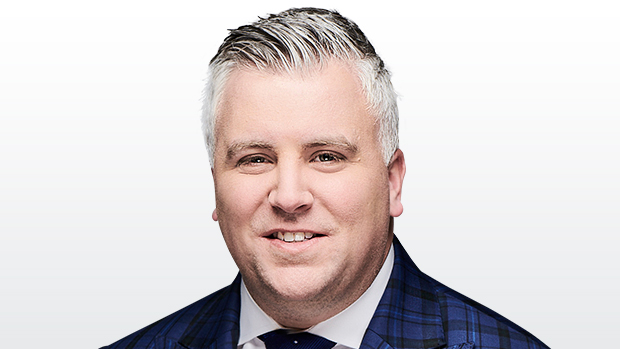 LAS VEGAS — Marc-Andre Fleury emerged from backstage wearing a storm grey Golden Knights sweater, his first in 14 years without a Penguin, and his trademark megawatt smile exploded.
Any trepidation Fleury had about the introduction to his new hometown disappeared when T-Mobile Arena rose to its feet with a roaring standing ovation.
Las Vegas' latest headline act from Quebec had landed on The Strip.
"I definitely wasn't expecting that, to have such a warm welcome," Fleury said. "It was so crazy."
Fleury was the penultimate selection revealed in Wednesday night's expansion draft, giving Vegas a face under the 'V' in the Knight's helmet.
It was a magical moment months in the making. Fleury's relocation to Sin City was sealed when he agreed to waive his no-movement clause to complete an agreement between Pittsburgh and Vegas on March 1, more than a month before he went out and won nine of the 16 games required for the Penguins to hoist their second straight Stanley Cup.
"It was time," Fleury said. "I'm thankful for this opportunity to be in Vegas, a new team, a new organization. Just by the crowd tonight and the way our team is starting, I like it. I'm really excited about it."
The NHL's 31st franchise was born exactly 364 days after commissioner Gary Bettman announced the expansion, a year full of careful plotting, planning and preparation. Vegas is alive and kicking now.
No one breathed more a sigh of relief than the league's other 30 general managers. The entire hockey world came to a standstill as the Golden Knights assembled.
"I'm just glad this is over," one NHL GM said Wednesday. "I feel like I was just held hostage for the last two weeks."
Time will tell how these Golden Knights fare on the ice, as they begin their chase to fulfill owner Bill Foley's proclamation to deliver a Stanley Cup within six seasons.
Vegas will not be challenging for the Pacific Division title in 2017-18, but they promise to be competitive. The inaugural Golden Knights certainly won't be confused with the 1992 Ottawa Senators, 1993 San Jose Sharks or 2000 Atlanta Thrashers.
"Vegas paid $500 million to get in and they deserved the opportunity to be competitive right out of the gate," said Carolina president Don Waddell, who drafted those Thrashers.
Unlike previous expansion drafts, the NHL's first in 17 years was different. Not only is there a salary cap involved, but Waddell said there were no "what ifs" this time with the league only expanding by one.
The protection format was the most stringent in history. Gone were the days of current Nashville GM David Poile, then in Washington, signing a 41-year-old financial planner in Bernie Wolfe to a contract in 1992 to expose the former goalie, even though he hadn't played in the NHL since 1979.
"This time they got it right," said Poile, who has witnessed every NHL expansion since 1967 in Philadelphia, where his father, Bud, was GM. "They did it fair. Las Vegas is clearly going to have a very competitive club.
"All of that is to say maybe the league and the owners should have been a little fairer to past expansion teams," Poile said, chuckling.
But even Vegas GM George McPhee wasn't sure this would play out the way it did. He said in an interview with TSN last November that he wasn't banking on much being available to him. The running joke inside the Vegas offices among scouts after mock drafts was "Hey, did you see our third line? We've got about five of them."
"I wish the expansion draft was a little more favourable," Foley told TSN in November on the night the Golden Knights got their name.
McPhee said he was expecting a "mass redistribution of players." That redistribution never occurred, mostly because McPhee refused to let it.
Taking advantage of his once-in-a-lifetime opportunity to build an NHL team from scratch, McPhee made some managers feel like they were "held hostage" because he not only held firm on his task to "harvest assets" if they wanted to protect certain players, he also paralyzed the entire league's trade market leading up to the freeze before the protection lists were due.
Only one trade with expansion impact occurred: Tampa Bay trading Jonathan Drouin to Montreal for Mikhail Sergachev, who was exempt from the draft and allowed the Lightning to protect another forward.
According to sources, McPhee did it by not agreeing to side deals with teams unless they also pledged to not make deals with other teams. He lined most deals up early, essentially closing off the other escape or pressure-relief valves for those teams, restricting their ability to find help elsewhere - and then in turn the rest of the market.
The end result was an unprecedented collection of valuable future assets.
No NHL expansion team has ever gone into their first entry draft with more than one first-round pick. The Golden Knights will have three picks ­– all inside the Top 15 – with Nos. 6, 13 and 15 overall. He acquired 10 total picks from 2017 through 2020 over 10 trades.
It's why McPhee is now in the early running to follow Poile as GM of the Year.
"George knew exactly what he wanted to do," Poile said Tuesday. "He is going to be applauded and his staff is going to be applauded for what they've done."
Scoring will be at a premium, but McPhee was able to squeeze 45 goals out of Florida alone, nabbing Jonathan Marchessault and then Reilly Smith in a trade.
But McPhee and the Golden Knights picked defencemen as their currency of choice. After the minimum requirements of 13 forwards, nine defencemen and three goaltenders, Vegas used all four 'wild card' selections on blueliners.
He ended up with a young core to build around, including Shea Theodore, Griffin Reinhart and Colin Miller, but also a few assets that can be flipped. The Golden Knights are expected to explore trading Marc Methot and Alexei Emelin, who could end up being footnotes in Vegas history as Knights for a weekend.
Vegas is believed to already have a deal in place to move Trevor van Riemsdyk to Carolina, potentially as early as Thursday, when the trade freeze lifts at 8 a.m. ET.
That isn't to say there weren't some curious selections. Locker room favourite Chris Thorburn didn't play more than seven minutes a night last season for the Jets, but he was the pick from Winnipeg over a skill player like Marko Dano. But McPhee was able to move up 11 spots from his previously acquired pick from Columbus because the Jets endeavoured to keep Toby Enstrom in the fold.
Yes, McPhee could have potentially picked a roster built to win more in 2017-18. He could have also drawn a hard line and targeted players like 22-year-old Minnesota defenceman Matt Dumba. But the exercise was a chess match. Taking Dumba would have required making another selection for a forward.
McPhee was calculated, using all the leverage he could find. He helped bail out the Penguins in March, offering certainty to GM Jim Rutherford that Fleury's $5.75 million would be off the books. He picked players who will be long-term core players, players with expiring contracts who can be traded at next year's deadline and players who can be traded tomorrow.
"We had two objectives going in," McPhee said. "One was to put a team on the ice that would entertain and compete, one the NHL and Las Vegas would be proud of. The other was to acquire additional draft picks to help us achieve long-term success. I thought we were successful in doing both."
After 17 years in the NHL, McPhee didn't need to play nice and make friends. It was the rare opportunity to push all the pressure points with a no-holes-barred approach because the 72-hour window he was given was just about the only break his regime will get.
The Golden Knights are in the deep end of the pool now. McPhee will probably sleep comfortably knowing he squeezed almost every ounce out of what he said will go down as one of the glory years of his life.
The past year has been an incredible journey, but the fun is only now just beginning.
"It looks good," Fleury said. "I think we've got some good players. A lot of draft picks, also. I'm excited about it. I can't wait to get started."
---
OFFICIAL VEGAS GOLDEN KNIGHTS ROSTER
Forwards
Teemu Pulkkinen (Coyotes)
William Carrier (Sabres)
Cody Eakin (Stars)
Tomas Nosek (Red Wings)
Jonathan Marchessault (Panthers)
Reilly Smith (Panthers)*
Connor Brickley (Hurricanes)
Chris Thorburn (Jets)
Pierre-Edouard Bellemare (Flyers)
Nikita Gusev (Lightning)*
James Neal (Predators)
Mikhail Grabovski (Islanders)*
Brendan Leipsic (Maple Leafs)
David Perron (Blues)
Oscar Lindberg (Rangers)
Erik Haula (Wild)
Alex Tuch (Wild)*
William Karlsson (Blue Jackets)
David Clarkson (Blue Jackets)*
Defencemen
Luca Sbisa (Canucks)
Jon Merrill (Devils)
Brayden McNabb (Kings)
Jason Garrison (Lightning)
Deryk Engelland (Flames)
Jake Bischoff (Islanders)*
Colin Miller (Bruins)
Marc Methot (Senators)
David Schlemko (Sharks)
Griffin Reinhart (Oilers)
Alexei Emelin (Canadiens)
Clayton Stoner (Ducks)
Shea Theodore (Ducks)*
Trevor van Riemsdyk (Blackhawks)
Nate Schmidt (Capitals)
Goaltenders
Calvin Pickard (Avalanche)
Jean-Francois Berube (Islanders)
Marc-Andre Fleury (Penguins)
*Acquired via trade
---
Draft picks acquired by Golden Knights
1st round (2017) from Jets
1st round (2017) from Islanders
2nd round (2017) from Lightning
2nd round (2019) from Islanders
2nd round (2019) Blue Jackets
2nd round (2020) from Penguins
3rd round (2019) from Jets
4th round (2018) from Lightning
5th round (2017) from Hurricanes
6th round (2017) from Sabres