Lucic, Oilers furious after failed goalie interference challenge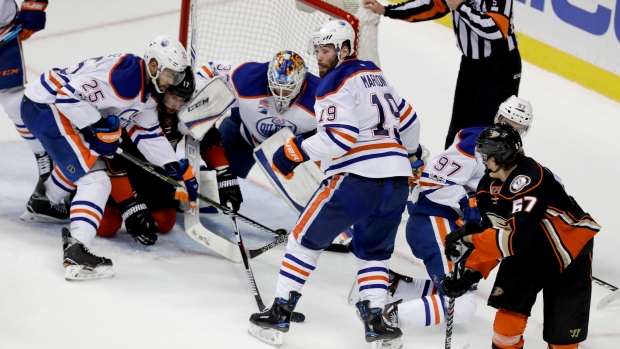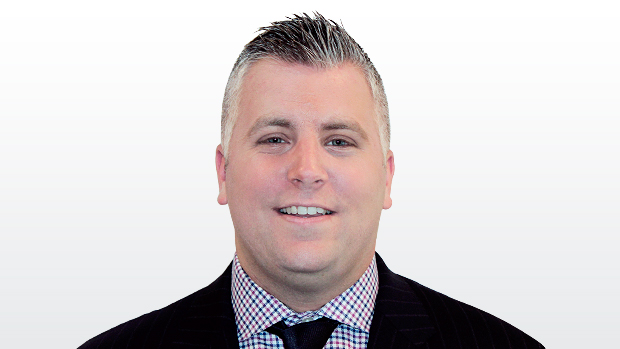 ANAHEIM, Calif. — The steam was almost visibly pouring from Milan Lucic's ears, his voice raising with anger as the game-tying goal sequence played through his mind as he spoke.
For the second game in a row, the Edmonton Oilers were on the wrong end of a controversial coach's challenge ruling for goaltender interference.
On Friday night, it was a game-deciding call, with officials Francois St. Laurent and Chris Rooney upholding Rickard Rakell's game-tying goal with 15 seconds to play in regulation that brought the Anaheim Ducks all the way back from a 3-0 deficit in a span of three minutes.
The NHL's Situation Room released a statement saying that the referees determined "that the actions of Darnell Nurse caused Ryan Kesler to contact Cam Talbot before the puck crossed the goal line," but the officials seemingly missed Kesler holding down Talbot's right pad with his hand as Rakell's shot when through his five-hole.
"A guy falls on the goalie and wraps his hand around the goalie's pad … I don't even know what goalie interference is anymore, to be perfectly honest," Lucic said, fuming. "It's an absolute joke that two good referees can't make the right call at the right time. Especially when the guy has two or three seconds to get up and he has his hand wrapped around the goalie's leg.
"The goalie can't get up to make a save and it's still a goal. Unbelievable."
Rakell's goal completed the latest three-goal comeback to force overtime in Stanley Cup playoff history, all coming in the last 3:16 of regulation. Corey Perry scored in double overtime to rob the Oilers of any semblance of justice.
Now, the Oilers will try to rebound from a gut-wrenching loss to stave off elimination and force a Game 7 on Sunday evening in Edmonton.
SEE STORY: Perry puts Oilers' dream season on the brink
Talbot said Kesler prevented him from making the save.
"I tried to get up but I didn't really have my one leg under me. I couldn't really get it off the ice," Talbot said. "I couldn't really bring it back underneath me. There's no way I could do that. I watched the replay and he has a chance to get up and it almost looks like he digs in over my pad and makes it look like he's just holding on."
Oilers coach Todd McLellan seemed as bewildered without a consistent standard across the board as to what constitutes goalie interference.
"You're asking the wrong guy. I don't know what interference is anymore," McLellan said. "Obviously Kesler was pushed in. There's no doubt about that. But we have a strong belief that he had wrapped his arm around Talbot's leg. I don't know what interference is anymore, so you'll have to ask someone else."
When the NHL's Situation Room was asked for more insight by TSN on Friday night, the league responded only with the statement referenced above, that the decision was made based upon Kesler being pushed by Nurse.
Ducks coach Randy Carlyle said he felt the decision hinged upon Nurse's push.
"To me, it was more about how our player got there. How did he get to the ice surface? How did he get tangled up with Talbot?" Carlyle said. "I clearly saw that once he was pushed into the goalie, then it's a whole different scenario. It's one of those that you're holding your breath and hoping they see it the same way."
The Oilers were also holding their breath in Game 4 on Wednesday night and came away feeling like they were punched in the gut. Perry appeared to make contact with Talbot's blocker as he tried to stop a shot from Ryan Getzlaf. That goal was also challenged, but was deemed good and legal. McLellan lost his timeout on that goal, the first Ducks goal of the game, thus leaving him without the ability to challenge the next goal which may have been offside.
Needless to say, the Oilers feel they've gotten the short end of the stick in the series. Oilers captain Connor McDavid said Talbot "didn't really have a chance to make the save."
"He's ultimately deciding the game," McDavid said. "There's not much that can really be said right now. It sucks. But we'll be back here Wednesday."
For the Oilers, this was the second game in a row in the second round. For the NHL, this was a train wreck that could be seen coming from 100 miles away, an issue that was simmering under the surface all regular season long.
What would the blowback be like if a similar controversy were to occur in the Stanley Cup final? It would be Brett Hull's skate in the crease in 1999 all over again.
The difficulty is the standard and consistency. The decision ultimately remains in the hands of the on-ice official, with coaching and guidance from the Situation Room, where each referee has a different view of exactly what constitutes goalie interference to them.
It leaves both sides shrugging their shoulders, with a pivotal playoff game seemingly decided on the flip of a coin.
"If someone knows [what goalie interference is], call and tell me," Lucic said. "Because it's a shame that we are where we are right now with a call like that."
Contact Frank Seravalli on Twitter: @frank_seravalli