Matthews, Marleau finding chemistry on the power play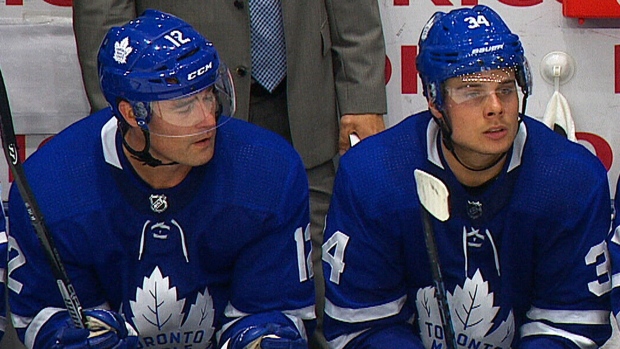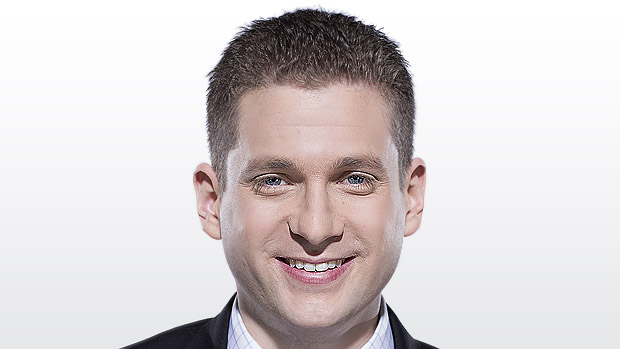 The Maple Leafs held a morning skate and practice (non-playing group) at the MasterCard Centre on Saturday. TSN reporter Mark Masters checks in with the latest news and notes.
- Auston Matthews and Patrick Marleau haven't skated together a lot in training camp as they've been in separate practice groups most of the time. But on Friday night the Calder Trophy winner and Toronto's prized free-agent acquisition got their first chance to play together in the preseason. "Its been fun to watch, that's for sure," said Marleau with a smile. "How strong he is on pucks, his vision, he's got a lot of great tools. But, what impresses me the most is probably how strong he competes for pucks." For Matthews, it's how the 38-year-old can still jet that catches his eye. "He can just flat out skate," Matthews said. "It's fun to watch. Once he gets going he's really good at pushing the D back and creating space for his linemates. He's a pretty exciting player to have on your team."
Marleau joined the Matthews power play unit on Friday alongside William Nylander, Leo Komarov and quarterback Morgan Rielly. Rielly scored on an end-to-end rush on the power play, but Toronto could not convert on its eight other man-advantage chances. "We need to spread the other team out a little bit more, maybe passing around a little too much," Marleau said. "We had some pretty good looks once we started focussing on shooting the puck and not trying to get too cute." Marleau was the man in the middle on the unit, which Matthews believes should be a nice fit. "He's really good at those little five, 10-foot passes," the sophomore centre noted. "Last night was our first go playing together so we're still kind of figuring it out. It's early."
- Roman Polak will sit out Saturday's pre-season game as he continues to work his way back from a fractured fibula. "I'm feeling pretty good on the ice," the 31-year-old insisted after skating with the non-playing group on Saturday. "I'm coming along. Still working, still rehabbing, but I'm doing everything on the ice with the boys, the practice stuff, I'll do everything." When will he be able to suit up in a game? "It's tough to say. I need to talk to the doctors, it's not only my decision, they need to clear me. But, I think I'm pretty close." Polak sustained the injury on April 15 so he just passed the five-month mark in his recovery. "There's still pain," the Czech Republic native admitted. "But I think it's probably going to be like that for the whole season, I just need to manage it."
The battle for the third-pairing jobs has been heating up with youngsters Travis Dermott, Calle Rosen and Andreas Borgman pushing hard alongside Martin Marincin. Does Polak, in camp on a pro tryout, fear he's running out of time? "I don't think the coaches or the GM will make the decision based on how I'll play in preseason games," he said. "I think they know me. I just need to be healthy. Why should I go out there and play the game when I'm 90 per cent and not 100 per cent. I want to be 100 per cent."
Babcock believes the battle on the blue line remains wide open. "Well, I think it's competitive for sure," the coach observed. "I don't have any answers for you so that must mean it's pretty competitive." As for Polak? "When Polie tells me he's ready to go, we'll go from there."
- Borgman has shown he's not afraid to mix it up physically. Among his highlights so far is a fight in Tuesday's game against the Ottawa Senators' Mike Blunden and a big hit on the Buffalo Sabres' Evan Rodrigues on Friday. "He's a bigger man than most of our guys on the back," Babcock said. "He's really evasive. We got to help him with understanding how we play and his stick a little bit … but we can't teach (212 pounds) … he's strong as an ox."
Borgman admits the smaller ice surface has been an adjustment. He's used to skating more with the puck, but here he has to make quicker decisions. He also said the different angles have taken some time to get used to. But all in all? "It's been going pretty good."
Like many Swedes, Borgman grew up idolizing Nicklas Lidstrom. But unlike others, he actually got some recent face time with the legendary Detroit Red Wings defenceman. Borgman played for Västerås in the 2015-16 season and was teammates with Lidstrom's son Adam. So, Borgman has chatted with Nicklas a few times although it has mostly been about life and not about hockey.
"The first time we met he was like, 'Hi, I'm Nicklas,' and I'm like, 'Yeah, I know,'" Borgman recalled with a laugh. "It was a weird feeling, but when I'm at his house he's like any other dad."
- Nikita Zaitsev will make his preseason debut on Saturday night paired ​with Jake Gardiner. The Russian missed the start of training camp to be at the birth of his second child. He also picked up a minor injury, which forced him to miss the first three preseason games. "I can't wait to start playing again," he said after the morning skate. Zaitsev will be reunited with Gardiner, who he ended last season with. "To play with him, it's so easy. He breaks it out, you can just give him the puck," Zaitsev gushed. What stands out about Gardiner's skating? "He's one of the best I've ever seen. He can do some crazy things when he skates. He's so talented with that."
Projected Leafs lineup for tonight's game in Buffalo
Forwards
van Riemsdyk-Bozak-Marner
Grundstrom-Fehr-Kapanen
Rychel-Moore-Johnsson
Soshnikov-Smith-Clune
Extra: Gauthier
Defencemen​
Gardiner-Zaitsev
Rosen-Carrick
Marincin-Valiev
Extras: Paliotta-Liljegren
Goaltenders
Andersen
Kaskisuo
Power play units
Gardiner
Marner-Grundstrom-Bozak
JvR
Rosen
Carrick-Johnsson-Kapanen
Rychel