With three Cups, Sid passes Super Mario as Emperor Penguin
Sidney Crosby lead the Penguins in scoring in his most productive Stanley Cup Final, with one goal and six assists, so it was fitting that the 2016-17 season ended with Game No. 87 of the playoffs and a second consecutive Stanley Cup heading to Pittsburgh.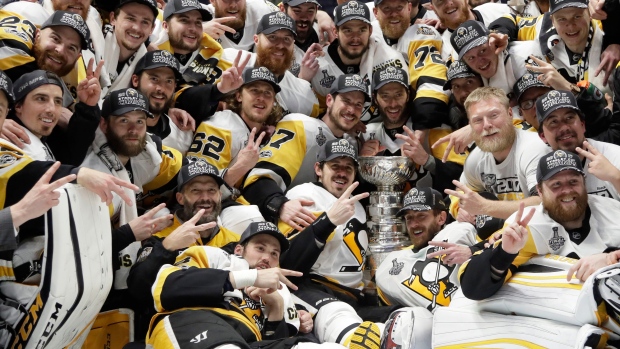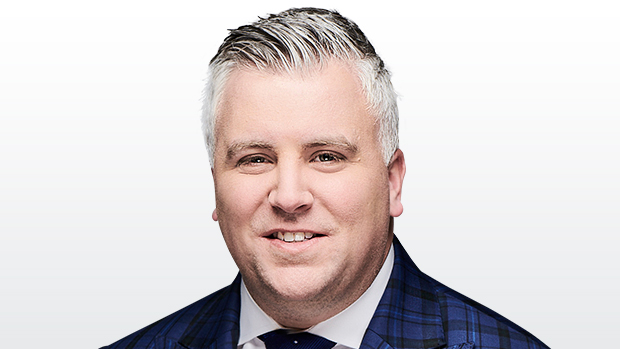 NASHVILLE, Tenn. — Move over, Super Mario.
Mario Lemieux said Sidney Crosby "just might do it" when he passed the torch to his protege in 2006 and it's official now: there's a new emperor Penguin in Pittsburgh.
Crosby one-upped his former landlord, teammate and now boss when he collected his third Stanley Cup from commissioner Gary Bettman on Sunday night in Music City, giving his reign one more than Le Magnifique.
Now, with his legacy cemented by his unique blend of skill and will, the only question is where Crosby fits among the handful of greatest players of all-time.
"I think now we can talk about him in those top two, three, four guys of all-time. He's in that group of guys for me," Penguins GM Jim Rutherford said, standing on the ice after the handshakes. "He's won three Cups now and he comes up big. You've got to get on the train with him or you're going to get run over."
We'll have some time to debate: Crosby doesn't turn 30 until 8/7/17.
What a 365 days it has been for Crosby: Two Stanley Cups, a World Cup of Hockey gold medal, World Cup of Hockey MVP and now two Conn Smythe trophies.
Crosby seemed genuinely surprised to be awarded the Conn Smythe as playoff MVP for the second spring in a row, as voted by 15 members of the Professional Hockey Writers Association. Only five other players have captured multiple Smythes and the last one to do it in consecutive fashion was - who else? - Lemieux in 1991 and 1992.
"I think this feeling right now, you can't match this," Crosby said. "You have a small window to play and to have a career, I feel fortunate. But I also understand how difficult it is, so you just want to try to make the best of it."
Along the way, Crosby overcame two diagnosed concussions and helped carry a team that faced plenty of adversity with star defenceman Kris Letang out and a controversial goaltending change from Marc-Andre Fleury to Matt Murray.
With one goal and six assists, Crosby led the Penguins in scoring in his most productive Stanley Cup final, so it was fitting that the 2016-17 season ended with Game No. 87 of the playoffs.
Patric Hornqvist, the very last pick in the 2005 Draft by Nashville in which Crosby went No. 1, broke a scoreless tie to net the game-winner with 1:35 left in a nail-biter regulation and deliver a 2-0 win for Pittsburgh and the final Stanley Cup of the NHL's 30-team era.
Hornqvist made incidental contact with Pekka Rinne - and the Predators challenged the goal - but it stood, with Hornqvist bouncing a rebound off Rinne's elbow and into the net from behind the goal line. Carl Hagelin added the empty-netter to make the Penguins just the second team to beat the Preds on home ice (9-2) this postseason.
"You know, we set out to try to go back-to-back," Crosby said. "We knew it was going to be difficult, but I think that's probably where the most joy comes out of, just knowing how difficult it is and how we overcame all of that."
Crosby handed the Stanley Cup to teammate Ron Hainsey first, the player who set an NHL record with 907 regular season games logged before appearing in his first playoff game when this journey began 59 wild nights ago.
Some 17,382 frenzied Predators fans watched on in stunned silence, but with appreciation for the greatest season in franchise history as the Penguins passed the Cup from one player to the next.
Despite country music star Luke Bryan crooning "I Don't Want This Night to End" from the rooftop of world famous Tootsie's Orchid Lounge across the street pre-game, Nashville's dream season ended two wins short of a world title.
The loss will sting, particularly decided by video review in a season full of controversy, but the Predators will be able to hang their first ever banner in October as Western Conference champions. They did so as the only No. 16 seed to make it to the Final.
"Our guys hearts are heavy right now," Predators coach Peter Laviolette said. "I'm proud of the team that we became. There was definitely growth to our team, from where we started to who we became, and who we are."
Nashvegas stole the hockey world's heart with more than 50,000 gold-clad fans turning Lower Broadway's neon-drenched honky tonks into hockey tonks before every game. It was a party unlike anything Lord Stanley had ever seen, proof that Nashville is no longer just an NHL novelty, but a true hockey destination.
Yet, Stanley's silver chalice is heading back to the Steel City for the fifth time. The Penguins joined the Edmonton Oilers as the only expansion-era clubs to win five Cups - and all five were earned on the road.
With the win, the Penguins not only became the first team to capture the hardest trophy in sports in back-to-back springs since the Detroit Red Wings in 1997 and 1998, but Crosby's squad is the first to repeat in the salary cap era.
It was a salary cap that Lemieux, then still playing while he owned the franchise, fought to help usher in - making it fitting that the Penguins are now one of two teams with three Cups since that 2004-05 lost season, which also brought them Crosby in the lottery.
"It was important for any small-market team to have the salary cap," a proud Lemieux said Sunday night. "We couldn't compete with the Rangers and L.A. and the big markets like Chicago and Detroit. The salary cap gave us a chance to spend to the cap and be able to play with the other teams."
They were somehow able to do it with a makeshift defence, becoming the first team in the last 11 years - since Rutherford's Hurricanes did it in 2006 - to hoist the Stanley Cup without a superstar defenceman. That defence either scored or assisted on seven of the last eight goals in the series, while holding Nashville to zero goals in the final two games.
"This one is pretty special, because we were dealing with a lot of adversity," Rutherford said. "We were pretty banged up. But we were dealing with a real gutsy, determined, talented group of guys. They were determined they were going to win."
A lot of the attention was taken off the defence with the Penguins' all-world forwards. Evgeni Malkin led the postseason with 28 points. Crosby pushed line mate Jake Guentzel to tie Dino Ciccarelli's rookie record for most points in one playoff (21), while Guentzel also led all skaters in goals (13) and game-winning goals (five).
But it was another rookie who served as Pittsburgh's backbone in the final two rounds. Murray took over for Fleury in the Eastern Conference final - after Fleury was yanked with one of the shortest leashes in recent memory - and promptly reeled off seven wins in 10 starts. He saved his best for Game 6, shutting out the Predators in consecutive games, accomplishing what Ken Dryden, Patrick Roy and Cam Ward could not to become the first to win a Cup in each of his first two years.
Murray got a little help along the way on Sunday night. Nashville's apparent first goal was waved off after referee Kevin Pollock said he was in the process of blowing play dead with his whistle. Murray never smothered the puck after Filip Forsberg's shot, leaving Colton Sissons an easy tap-in that was disallowed. Laviolette was livid, but could not challenge Pollock's call.
"Yeah, it's tough, but that's sports," Predators captain Mike Fisher said. "And there's human error in every sport. It wasn't on purpose."
Game 6 was a pure goaltender's duel between Murray and Rinne - the most riveting 0-0 game imaginable given the stakes - making the Cup clincher the only game of the series closely contested late in the third period. Murray made three critical saves to help Pittsburgh kill off a 5-on-3 power play in the third period, keeping Nashville to a fruitless 0-for-4 on the night.
Some 10 or 15 minutes after the Cup had been handed out and the party well underway with family and friends, Murray was doubled over on the bench, his tank completely empty.
After 213 games, Crosby's tank had a little more in it than everyone else. Crosby seized the moment. Again. Hockey's ultimate creature of habit was all smiles, mimicking a celebration he could repeat over and over again.
Quite a career, even if it's barely halfway home.
"He's a guy that just knows how to win," Mike Sullivan said, who is now 8-0 in playoff series as coach of the Penguins. "He's done it in all different venues, whether it be the NHL and the Stanley Cup to the World Cup to the Olympics. He has a willingness to go the extra mile, to control what he can, to be the very best, and he cares so much for this team and this organization helping us win. I have to believe that it would be hard to not have him in that conversation of the all-time greats."