Nike releases the Kyrie 7 "Ky-D" inspired by a classic KD sneaker
The Nike KD4 "Weatherman", originally released in 2011, is one of the most popular Durant sneakers ever released, and a similar design graces the Kyrie 7 "Ky-D."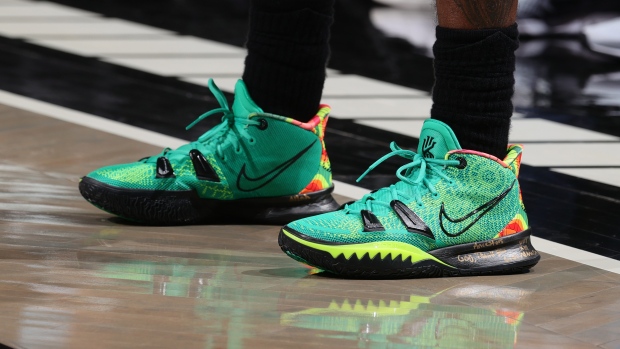 Nike is releasing a new version of the Kyrie 7 sneaker that borrows a classic colourway from Kevin Durant's signature sneaker line. The Nike KD4 "Weatherman", originally released in 2011, is one of the most popular Durant sneakers ever released, and a similar design graces the Kyrie 7 "Ky-D."
The design of the shoe is inspired by Doppler radar weather maps. The original KD4 "Weatherman" sneaker was made as a tribute to Durant's childhood dream of becoming a TV weatherman, and was only made available as a limited release.
The Ky-D sneaker is being pitched as a collaboration between Irving and Durant's sneaker lines, with each borrowing a popular colourway from the other for their own sneaker. In May, Nike released a version of the KD14 inspired by the Kyrie 1 "Dream."
Irving debuted the Kyrie 7 "Ky-D" in Game 1 of the Nets' first round series against the Boston Celtics, in the same game as Durant debuted his KD14 "Ky-D" sneaker.
The Kyrie 7 "Ky-D" released on June 5 for US$130, becoming available alongside the KD14 "Ky-D" which retailed for US$150.